Important News Briefs: New Data Reported in Prostate, Bladder, and Kidney Cancers

The recent 2012 Genitourinary Cancers Symposium featured a wealth of presentations on prostate, bladder, kidney, and other genitourinary cancers. Brief summaries of some of the oral and poster sessions are presented.
Exercise and Recurrence

Vigorous exercise has been shown to reduce cancer recurrence and cancer-related mortality in men with prostate cancer in several studies. A new study found that vigorous exercise for 1 hour three times per week exerts favorable changes on genetic expression in normal prostate tissue of men with early prostate cancer opting for active surveillance.1
"Our prior studies indicated that increased intensity and duration of exercise were linked to lower risk of prostate cancer recurrence or death. In the current study, longer duration of vigorous exercise was related to greater expression of genes involved in DNA repair and cell-cycle in the normal prostate tissue, which may act to protect against cancer progression," said senior author June M. Chan, ScD, University of California, San Francisco.
The study included 70 men diagnosed with low-risk prostate cancer who were managed with active surveillance. These men were previously enrolled in a trial of nutritional supplements and provided biopsy tissue at baseline. In the men who reported vigorous exercise at least three times per week (n = 23), 184 genes were differently expressed in normal prostate tissue vs those who did not (n = 47). Dr. Chan said that vigorous exercise included jogging, walking briskly, swimming, singles tennis, and other exercise that increases the heart rate consistently.
Upregulated genes included known tumor-suppressor genes, BRCA1, and BRCA2. Further, gene-set analysis demonstrated that cell cycle and DNA repair pathways were positively modulated in men who reported vigorous exercise at least three times a week vs those who exercised less. A separate analysis found no effect on genes and pathways in men who reported engaging in any type of physical activity (but not vigorous exercise three times per week) vs no exercise.
According to Dr. Chan, these findings suggest that a certain threshold of intensity or duration of exercise may be important in reducing the risk of prostate recurrence. Nevertheless, this was a small study, and further investigation is needed.
Risk of Fatal Adverse Events with Tyrosine Kinase Inhibitors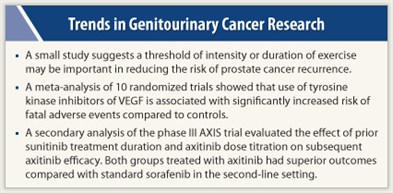 Use of tyrosine kinase inhibitors of vascular endothelial growth factor (VEGF), such as sorafenib (Nexavar), sunitinib (Sutent), and pazopanib (Votrient), is associated with a greater than twofold increased risk of fatal adverse events vs controls, according to a meta-analysis of 10 randomized trials including about 4,600 patients (more than 2,000 with renal cell carcinoma, the main indication for these drugs).2
The absolute risk of fatal adverse events was small, but the difference between the treatment arm and control arm was statistically significant (P = .02): 30 fatal adverse events were reported in 2,461 patients in the VEGF tyrosine kinase inhibitor arms vs 10 in 2,218 patients assigned to the control arm. The majority of fatal adverse events were due to hemorrhage; other causes included myocardial infarction, cardiac ischemia, sudden death, congestive heart failure, hypotension, pulmonary embolism, and ischemic stroke.
The risk was independent of tumor type and drug, but the meta-analysis included only one trial of pazopanib with a total of about 400 patients. Six trials of sorafenib and three trials of sunitinib were included.
"As these drugs become more commonly used for clinical purposes, oncologists should be aware of the risks associated with their use and must conduct rigorous monitoring to continue to improve patient outcomes," stated lead author Christopher J. Richards, MD, Beth Israel Deaconess Hospital, Harvard Medical School, Boston. The study was published recently in Journal of Clinical Oncology3 (see related news item on page 73).
Secondary Analysis of AXIS Trial

In the phase III AXIS trial of axitinib (Inlyta) vs sorafenib for second-line metastatic renal cell carcinoma, axitinib significantly prolonged median progression-free survival. In a secondary analysis presented by Brian Rini, MD, of the Cleveland Clinic Foundation,4 investigators evaluated the effect of prior sunitinib treatment duration and axitinib dose titration on subsequent axitinib efficacy.
As Dr. Rini reported, the new analysis demonstrated  similar outcomes and similar safety in titrated patients (those who failed to achieve therapeutic levels on standard-dose axitinib) and nontitrated patients. Both groups treated with axitinib had superior outcomes compared with standard sorafenib in the second-line setting.
These outcomes were similar to the main results of AXIS reported last year, with a median progression-free survival of 6.7 months for axitinib vs 4.7 months for sorafenib  (HR = 0.665, P < .0001).5
AXIS enrolled 723 patients with clear-cell metastatic renal cell carcinoma that progressed after one of four prior regimens (sunitinib, bevacizumab [Avastin] plus interferon alfa, temsirolimus [Torisel], or cytokines). They were randomly assigned to axitinib starting at 5 mg twice daily, with the option for dose titration or standard dose and schedule of sorafenib at 400 mg twice daily.
Dr. Rini said that the findings in titrated vs nontitrated patients were what he expected, given phase II pharmacokinetic trials that showed intrapatient variability in the ability to achieve therapeutic levels on standard-dose axitinib (5 mg twice daily).
This led to a strategy of dose titration to normalize plasma levels of axitinib exposure. In the study, criteria for dose titration included no toxicity greater than grade 2 for 2 weeks or more, blood pressure < 150/90 mm Hg, and no antihypertensive medication. At their discretion, investigators could titrate axitinib to 7 mg twice daily and then to 10 mg twice daily.
All patients randomly assigned to axitinib started at 5 mg twice daily; 25% experienced dose reductions for progression; one-third had no dose change; and doses were escalated in 37%. Of these, 17% were escalated to 7 mg twice daily, and 20% to 10 mg twice daily.
Patients with prior exposure to sunitinib of more than 9 months had a greater progression-free survival for both axitinib and sorafenib. ■
Disclosure: Dr. Rini has been a consultant for and has received research funding from Pfizer. Drs. Chan and Richards reported no potential conflicts of interest.
References
1. Magbanua MJM, Richman EL, Sosa EV, et al: 2012 Genitourinary Cancers Symposium. Abstract 189. Presented February 3, 2012.
2. Richards CJ, Je Y, Schutz FAB, et al: 2012 Genitourinary Cancers Symposium. Abstract 349. Presented February 4, 2012.
3. Schutz FAB, et al: J Clin Oncol. February 6, 2012 (early release online).
4. Rini BI, Escudier BJ, Michaelson MD, et al: Genitourinary Cancers Symposium. Abstract 354. Presented February 4, 2012.
5. Rini B, Escudier B, Tomczak P, et al: Lancet 378:1931-1939, 2011.
---