FDA Acts to Bolster Supply of Critically Needed Cancer Drugs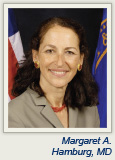 The FDA has announced a series of steps to increase the supply of critically needed cancer drugs and build on President Obama's Executive Order to help prevent future drug shortages. The President's order, issued last October 31, directed the FDA to take action to help further prevent and reduce prescription drug shortages, protect consumers, and prevent price gouging.
"A drug shortage can be a frightening prospect for patients, and President Obama made it clear that preventing these shortages from happening is a top priority of his administration," said FDA Commissioner Margaret A. Hamburg, MD. "Through the collaborative work of FDA, industry, and other stakeholders, patients and families waiting for these products or anxious about their availability should now be able to get the medication they need."
Proactive Steps

In response to the critical shortage of the cancer drug liposomal doxorubicin (Doxil) and rapidly declining supplies of methotrexate, the FDA took proactive steps needed to increase available supply for patients in the United States. For Doxil, there will be temporary importation of a replacement drug, Lipodox (another liposomal doxorubicin product manufactured in India), which is expected to end the shortage and fully meet patient needs.
For methotrexate, in addition to already announced actions, the Agency has approved a new manufacturer of a preservative-free formulation of methotrexate that is expected to further bolster supply and help avert a shortage of this lifesaving medicine. FDA expedited review of the application to help address this potential shortage. 
FDA also recently issued draft guidance to industry on detailed requirements for both mandatory and voluntary notifications to the agency of issues that could result in a drug shortage or supply disruption. Increased awareness of the importance of early notification has resulted in a sixfold increase in voluntary notifications by industry of potential shortages. In 2011, there were a total of 195 drug shortages prevented. Since the Executive Order last fall, FDA has prevented 114 drug shortages. ■
---