ASH 2011 Presentations Include Novel Agents and New Strategies in Leukemia, Lymphoma, and Myeloma

Attendees at the 53rd Annual Meeting of the American Society of Hematology (ASH), held recently in in San Diego, were able to choose from a wide range of interesting and important sessions exploring hematologic malignancies. In addition to The ASCO Post's regular news coverage from the meeting, many other presentations merit attention, including the following noteworthy reports.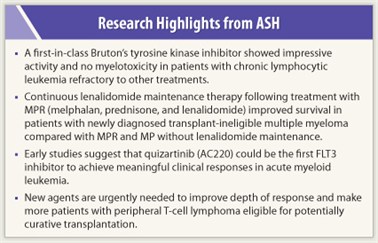 Novel Target for B-cell CLL
A novel inhibitor of B-cell receptor signaling achieved high rates of remission and was well tolerated in patients with chronic lymphocytic leukemia (CLL) who were refractory to at least two previous treatments, according to updated results of a phase Ib/II study presented by Susan O'Brien, MD, of The University of Texas MD Anderson Cancer Center, Houston.1 This agent, PCI-32765, represents the first in class of Bruton's tyrosine kinase (Btk) inhibitors.
"Given the increased efficacy over time seen with this agent, its lack of toxicity, and its lack of myelosuppression, these drugs promise to change the paradigm for the treatment of CLL," Dr. O'Brien said at a press conference. Phase III trials are planned.
Btk is a protein essential for CLL cell survival and proliferation that mediates B-cell receptor signaling involved in normal B-cell development. PCI-32765 is an orally administered irreversible inhibitor of Btk that induces apoptosis and inhibits cellular migration and adhesion in malignant B cells.
An earlier analysis of the multicenter phase Ib/II study showed good activity and tolerability in 61 patients with relapsed/refractory CLL after at least two prior therapies. At the ASH meeting, Dr. O'Brien presented longer-term follow-up of the study, with a median follow-up of 10.2 months for patients receiving a 420-mg daily dose of PCI-32765 and 6.5 months for those given an 840-mg daily dose.
Objective response rates in the 420-mg cohort increased from 48% after 6 months of follow-up to 67% at 10 months; objective response rate in the 840-mg cohort was 68% at 6.5 months median follow-up. Nodal partial

response was seen in 23% of patients (> 50% reduction in aggregate lymph node size), with residual lymphocytosis. Objective response rate appeared to be independent of molecular risk features. 
The treatment is well tolerated. Two patients discontinued PCI-32765 because of adverse events, and six patients had dose reductions. Grade 1 or 2 diarrhea, fatigue, nausea, and ecchymosis were the most frequently reported side effects.
Only 5% (3/61) have had disease progression on PCI-32765; 6-month progression-free survival was 92% in the 420-mg cohort and 90% in the 840-mg cohort. 
Continuous Lenalidomide in Transplant-ineligible Myeloma
Continuous lenalidomide (Revlimid) in combination with melphalan and prednisone (MPR-R) improved progression-free survival with a trend toward improved overall survival compared with MPR alone (melphalan, prednisone, lenalidomide induction without subsequent lenalidomide) in an interim analysis of a randomized, double-blind, phase III study (MM-015) of patients with newly diagnosed, transplant-ineligible multiple myeloma.2 Lenalidomide is not approved for this indication.

The study randomly assigned 459 patients to MPR-R, MPR followed by placebo, or MP plus placebo followed by placebo. In patients aged 65 to 75 years, median progression-free survival for MPR-R was 31 months, compared with 12 months in the MP arm (P < .0001), representing a 70% reduction in risk of progression for continuous lenalidomide vs MP in this setting. Induction with MPR alone achieved a progression-free survival benefit of 15 months vs 12 months for MP (P = .006). A trend toward improved overall survival was observed for MPR-R vs MP; 4-year overall survival was 69% for MPR-R vs 58% with MP.
Safety with maintenance lenalidomide was acceptable, with no evidence of cumulative toxicity. Rates of secondary primary malignancies related to treatment were 4% with MPR-R, 2.6% with MPR, and 1% with MP.
"These rates [of secondary primary malignancies] are below the expected rates in myeloma," said lead author Antonio Palumbo, MD, Chief of the Myeloma Unit, University of Torino, Torino, Italy.
Quizartinib: New FLT3 Inhibitor
Updated interim results of a phase II open-label monotherapy efficacy study of quizartinib (AC220), a new FLT3 inhibitor, suggest that this drug can achieve clinically meaningful responses in patients with both refractory and relapsed FLT3/ITD-positive acute myeloid leukemia.3 In an exploratory analysis, many patients who were treated with this agent were able to go on to hematopoietic stem cell transplant (HSCT).
The analysis included 62 patients treated with quizartinib once daily in continuous 28-day cycles until relapse, drug intolerance, or elective HSCT. Cohort 1 consisted of 26 patients aged 60 or older relapsed/refractory to first-line chemotherapy; cohort 2 comprised 36 patients aged 18 or older relapsed/refractory to second-line chemotherapy or HSCT.


Overall composite complete remission (including those with incomplete platelet or absolute neutrophil count recovery) rate was 46% in cohort 1 and 36% in cohort 2. Partial remission rates were 15% and 22%, respectively. Overall survival was longest in patients who achieved composite complete remission (median of 34.1 weeks).
"These encouraging efficacy results and an acceptable safety profile in this high-risk population support continued clinical evaluation of quizartinib in mono- and combination therapy," said lead author Jorge Cortes, MD, MD Anderson Cancer Center, Houston.
This study was singled out by Martin Tallman, MD, Chief of the leukemia service at Memorial Sloan-Kettering Cancer Center in New York, as important in acute myleoid leukemia. "Quizartinib is the newest FLT3 inhibitor to be introduced for acute myeloid leukemia. It is one of the first ones to induce complete response as a single agent," he stated.
Poor Outcomes for Peripheral T-cell Lymphomas
For the majority of patients with relapsed/refractory peripheral T-cell lymphomas (PTCL), outcomes are poor with systemic chemotherapy, characterized by brief remissions at best. A population-based study at the British Columbia Cancer Agency evaluated the spectrum of survival of patients with in relapsed and refractory PTCL in an effort to have a historical comparison to gauge the effectiveness of emerging novel therapies. With a median follow-up of surviving patients of 4 years, the researchers demonstrated that the majority of patients have a very short overall survival of 5.7 months and in many instances are too ill to receive any further therapy. No surprisingly, those patients that ultimately receive high-dose chemotherapy and transplantation have an improved outcome.4
In a multivariate analysis, familiar International Prognostic Index (IPI) factors such as elevated lactate dehydrogenase, poor performance status (> 2), and the number of extranodal sites > 2 were identified as prognostic factors for poor survival. A separate evaluation of patients with long-term survival (> 2 years) in the absence of transplant demonstrated that these individuals were more likely to have had a late relapse, skin-only relapse, good performance status (0 or 1), and a low IPI score (0 to 2). ■
Disclosure: Dr. Cortes receives research support from Ambit. Dr. Palumbo has received honoraria from Celgene. Dr. O'Brien receives research support from and is a consultant to Pharmacyclics.
References
1. O'Brien S, Burger JA, Blum KA, et al: The Bruton's tyrosine kinase (BTK) inhibitor PCI-32765 induces durable responses in relapsed or refractory (R/R) chronic lymphocytic leukemia/small lymphocytic lymphoma (CLL/SLL): Follow-up of a phase Ib/II study. 53rd Annual Meeting of the American Society of Hematology. Abstract 983. Presented December 13, 2011.
2. Palumbo A, Adam Z, Kropff M, et al: A phase 3 study evaluating the efficacy and safety of lenalidomide (Len) combined with melphalan and prednisone followed by continuous lenalidomide maintenance (MPR-R) in patients (pts) ≥ 65 years (yrs) with newly diagnosed multiple myeloma (NDMM): Updated results for pts aged 65-75 yrs enrolled in MM-015. 53rd Annual Meeting of the American Society of Hematology. Abstract 475. Presented December 12, 2011.
3. Cortes J, Pearl AE, Smith CC, et al: A phase II open-label, AC220 monotherapy efficacy study in patients with refractory/relapsed FLT3-ITD positive acute myeloid leukemia: updated interim results. 53rd Annual Meeting of the American Society of Hematology. Abstract 2576. Presented December 11, 2011.
4. Mak V, Connors JM, Klasa R, et al: Survival of peripheral T-cell lymphomas patients following relapse: Spectrum of disease and rare long-term survivors. 53rd Annual Meeting of the American Society of Hematology. Abstract 96. Presented December 11, 2011.
---