Unique Challenges of Cancer Care in India
A Conversation With Rajendra Toprani, MBBS, MS, MCh

In this installment of The ASCO Post's Global Oncology, guest editor Chandrakanth Are, MBBS, MBA, FRCS, FACS, spoke with Rajendra Toprani, MBBS, MS, MCh, Head of the Department of Head and Neck Surgical Oncology at HCG Cancer Centre, Ahmedabad, India. Dr. Toprani's areas of interest include oral, laryngeal, and thyroid cancers, as well as parotid tumors.

Chandrakanth Are, MBBS, MBA, FRCS, FACS

Rajendra Toprani, MBBS, MS, MCh
Background and Training
Please tell the readers a bit about your personal background.
I currently live in a city called Ahmedabad in the state of Gujarat in Western India that has a population of 7 million. 
I was born in Sholapur, a small city in ­Maharashtra, India, and I did my initial schooling there, near where my parents lived and also where my father used to work in a textile mill. In the early 1970s, we moved to Ahmedabad, where I completed my college degree.
Please tell us about medical school and your decision to specialize in oncology.
I earned my MBBS at NHL Medical College, which is a well-known medical college in Ahmedabad. The College is affiliated with five city hospitals, and during internship there, students also rotate through the various urban and rural health centers in the greater Ahmedabad area to gain exposure to community medicine.
While I was doing my MBBS during the internship, I developed an interest in general surgery. When I did my Masters in Surgery, I became interested in performing major surgeries. I was fascinated by the major and supra major surgeries that cancer surgeons were doing. Once I developed that interest, I used to visit the Gujarat Cancer Research Institute—one of the biggest regional cancer centers in India—to observe cases. I was lucky to get into the MCh program there and pursued that degree in surgical oncology.
Cancer in India
Please give the readers a sense of the rising cancer burden in India.
The cancer burden in India is increasing gradually because of the sheer population, which has exceeded 1.2 billion, with about 60% to 70% of the population living in underserved rural areas. The majority of cancers that have been reported in the population-based cancer registry are mainly from the cities, urban areas where patients report to one of the cancer centers or hospitals.
But I suspect many of the cancers in rural areas go unreported, as poor education and lack of awareness play a big role in cancers that go undetected until they are advanced. Moreover, people in rural areas encounter barriers to accessing the health-care facilities, which adds to the problem.
One other important thing: We have seen the effect of the Westernization of our lifestyle and food habits, which has led to an increase in colon cancer. In addition, increased obesity rates, late marriages, and less breastfeeding may be linked to a rise in breast cancer incidence.
India often follows the patterns seen in Western countries, usually 1 or 2 decades later. So, maybe after 10 or 20 years, we'll see the same spectrum of cancer cases that are seen currently in the United States.

— Rajendra Toprani, MBBS, MS, MCh




Tweet this quote



India has some unique patterns of cancer burden. Can you tell us a little about that?
Oral cancers are very common in India, which is directly related to the high incidence of tobacco chewing, a practice that is actually more common than tobacco smoking. We have a national proliferation of gutka—a chewing tobacco preparation available in small, colorful pouches that attract young people. It is a heady form of chewing tobacco made of crushed areca nut and nicotine and laced with thousands of chemicals. 
In the United States, the oropharyngeal cancers seen in the younger population are related less to smoking and alcohol and are mainly linked to the human papillomavirus (HPV). In India, however, we don't see a significant amount of HPV-related cancers, but we predict a rise in that trend in the next decade. India often follows the patterns seen in Western countries, usually 1 to 2 decades later. So maybe after 10 or 20 years, we'll see the same spectrum of cancer cases currently seen in the United States.
Language barriers present challenges to care in the United States. What about in India?
Well, to my previous point about patients coming from rural areas to a metropolitan city for care, language could be a barrier. It's important to note that India has more than 22 major languages and many hundreds of regional languages and dialects. But English is the major language used in biomedicine. In some of the states, the local doctors are able to connect with the population in the local language and dialect, but in a corporate hospital or the major tertiary care centers, where English is spoken, language is a barrier. 
That said, the different states in India are trying to address this problem. Interestingly, some of the states have started medical education in local languages, so that would be a big change in our country in the next decade or two. It's easier to build a hospital than it is to change cultural habits that date back centuries, but we are making progress.
Rising to the Challenges
Please shed light on the progress in cancer care you've seen over the course of your career.
When India's National Cancer Control Program was initiated in the 1970s, only a few regional cancer centers were set up by the government. They used to cater to the treatment of patients in the state or the surrounding districts, but they usually were located in the state capitals or other metropolitan cities. India has a vast rural population with infrastructure issues, making access to the major cancer centers difficult. Patients—most of whom were financially disadvantaged—had to spend a lot of time traveling to a cancer facility. Then there was the burden of housing and food, all of which added more barriers to care.
During the past decade, the government has been trying to establish rules for medical education that would require doctors to serve in the underdeveloped metropolitan or rural areas in the early period of their career. The primary and secondary health-care centers have been equipped with extra sonography and mammography units, and a growing number of facilities are dedicated to chemotherapy. More radiation centers are being developed according to the public-private partnership model. So, we've seen growth and distribution of oncology services around the country, in historically underserved areas; that has increased access to care, which ultimately will create better health outcomes for all Indians, not just city dwellers.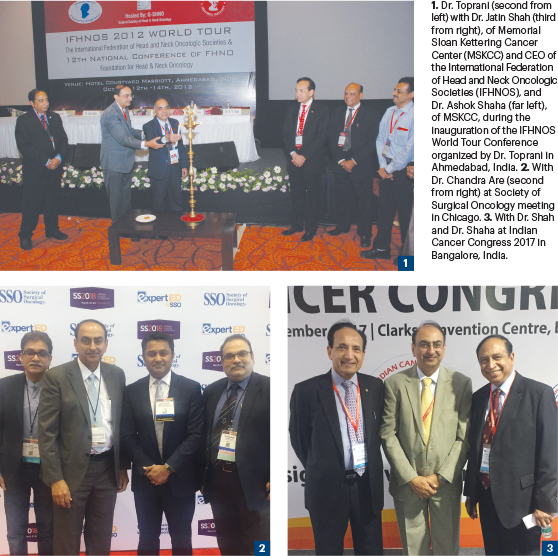 Areas of Evolving Care
How has cancer care in India changed during the course of your career?
There has been a huge paradigm shift from when I started in the late 1980s to today. For example, when we were in training, for mid-rectal or lower-rectal cancers, the only operation we would perform was an abdominoperineal resection with a permanent colostomy. Now, most of these patients are treated with neoadjuvant chemoradiation therapy and then operated on with a laparoscope or a robotic surgical system for an ultra-low abdominal resection, without a permanent colostomy.
We've seen similar developments for laryngeal cancer. We used to do total laryngectomy for most of the advanced or locally advanced stage III and IV cancers. But now most stage III cancers are treated with chemoradiation to preserve the larynx. Earlier, for most of the buccal mucosa cancers, we used to remove the mandible doing a hemi-mandibulectomy. Now, we try to preserve the mandible as much as possible, either by doing a marginal mandibulectomy or sometimes giving neoadjuvant chemotherapy. 
Things have changed for the better. We have learned to treat cancers with multimodality therapy rather than aggressive surgery alone. I'm very proud to have been part of that surgical evolution, which has given us the opportunity as surgeons to achieve better outcomes for our patients with cancer—and do less harm as well.
Role of Research
Can you tell us about cancer research in India?
Research is so important for all of us, particularly surgeons. Unfortunately, it is so difficult to do a prospective randomized trial in surgical oncology. For example, I'm currently a principal investigator on two prospective randomized multi-institutional trials in India. One is called the AREST trial, where patients with T1/T2 N0 oral cancers (with a depth of 5–10 mm) undergo surgery and are then randomly assigned to postoperative radiotherapy or observation. Earlier, it had been difficult for us to conduct this study in a single institution, but now we have collaborated through the national cancer grid, which allows us to do a multi-institution trial.
The second trial is called SPT, and again, it's a prospective randomized multi-institutional trial. We are trying to figure out whether we can affect the occurrence of second primary tumors in patients with head and neck cancer by offering them a combination of curcumin and metformin.
To design a trial in surgical oncology can be really tough, but there are a lot of clinical trials in India being done by the medical oncology and radiation oncology people, and I really appreciate their efforts. Somehow, the surgical trials are more difficult for us to conduct because of the logistics involved.
Impact of the Pandemic
How has the COVID-19 pandemic affected your ability to provide cancer care in India?
We had a tough time when the first wave came and took us by surprise. In the initial few weeks, our patients were afraid to travel, so they delayed their visits to the hospitals. Consequently, many of their cancers progressed to advanced stages. After the second wave of COVID, we didn't delay treatment for these patients. It was a lesson learned, but in the end, I believe it made us smarter and better prepared to deal with all types of potential disruptions to services, not just from COVID.
IASO Brings Progress
Can you tell us about your leadership roles in the Indian Association of Surgical Oncology (IASO)?
I began serving IASO as Treasurer in 2014. Subsequently, I was Honorary ­Secretary from 2016 to 2018 and then became Vice President and then President. The IASO has come a long way since 1977, when it was conceived. We have more than 2,000 members from all over the country. We have an annual meeting called NATCON and a midterm meeting every year. At our NATCON, we have attendance of more than 1,000 delegates and rotate the meeting in different zones of India.
As President, I took the initiative to bring IASO conferences to underprivileged areas. For example, for the first time in our history, we organized a meeting in a city called Shillong, in Meghalaya, which is a state in northeast India, and we had a very successful meeting there. We then organized a meeting for the first time in Kashmir, in a beautiful place called Pahalgam. These meetings create an awareness among the surgical fraternity in general—but even in the general public—about oncology and surgical oncology.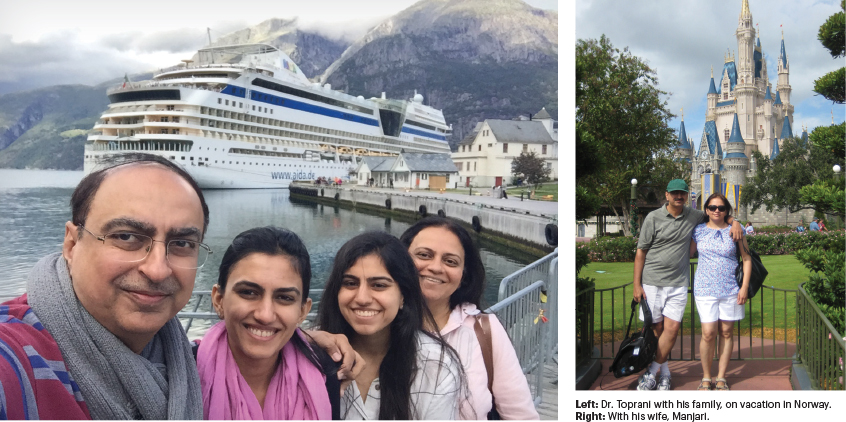 Also during my presidency, we have initiated a lot of awards and fellowships to promote and encourage younger members to participate in our surgical oncology meetings. I have proposed starting post–MCh degree fellowship programs for subspecialties such as head and neck or thoracic surgery. The idea is to encourage young doctors to pursue a subspecialty of their interest so it will further enrich the field. 
We are at a very important juncture in our society—on the one hand, we have a shortfall of general surgical oncologists in the rural areas and second- or third-tier cities, and on the other hand, we need more subspecialty practitioners in tertiary care centers and the metro cities. So, at IASO we are diligently working to address these issues. It's not going to happen without a concerted effort from all stakeholders. But again, as with all of these challenges I've spoken about, we are making progress.
Closing Thoughts
Do you have any closing thoughts for the readers of The ASCO Post?
First of all, I would like to thank you, Dr. Are, for being closely associated with IASO. Second, my efforts in India through IASO are designed to create awareness for the early detection of cancer, because I think that is where we must concentrate our efforts and energy. My message to all global oncology leaders would be to accelerate awareness at both the individual and public levels about the early detection of cancer. Early detection and prevention are the most important strategies we have to help fight the looming burden of global cancer. 
DISCLOSURE: Dr. Toprani reported no conflicts of interest.
---