First ASCO Guideline for Immunotherapy and Targeted Therapy in Advanced Gastroesophageal Cancer Now Available


Manish Shah, MD
An ASCO expert panel has developed a comprehensive guideline for immunotherapy and targeted therapy in patients with advanced gastroesophageal cancer.1 The guideline is based on the many recent advances in immunotherapy and targeted therapy. "The role of immunotherapy has changed practice in the past 18 months, so this topic is very timely," said lead author and Expert Panel Co-Chair Manish Shah, MD, of Weill Cornell Medicine.
A systematic review was conducted using online PubMed searches of phase II or III multicenter randomized controlled trials that took place between January 1, 2010, and March 4, 2022. Articles meeting the following criteria were included:
The study population was composed of patients with advanced gastric, esophageal, or gastroesophageal junction cancer;
Patients were treated with immunotherapy or targeted therapy;
Comparisons were made to other treatments (immunotherapy, targeted therapy, chemotherapy, placebo, or best supportive care);
Reported outcomes included overall survival, progression-free survival, response rate, and grade 3 to 5 adverse events.
The panel excluded meeting abstracts that were not subsequently published within 2 years, editorials, commentaries, letters, news articles, case reports, narrative reviews, and publications that were not written in English. In some cases, results from studies met the inclusion criteria but were not readily available. These data were evaluated, discussed, and included in the guideline's supplement but were not included in the recommendations.
Of the 519 records found in the literature search, 36 full-text articles were retrieved and reviewed. Of them, 18 randomized controlled trials were considered eligible for the systematic review, with publication dates ranging from 2014 to 2022. The evaluated trials included six studies of targeted therapy or immunotherapy in previously untreated patients with HER2-negative advanced gastroesophageal adenocarcinoma, four of targeted therapy or immunotherapy in previously untreated patients with HER2-negative advanced esophageal squamous cell carcinoma, two of targeted therapy or immunotherapy in previously untreated patients with HER2-positive advanced gastroesophageal adenocarcinoma, and six of therapy for patients with previously treated gastroesophageal cancer.
Key Recommendations
The recommendations are summarized in Table 1. Dr. Shah highlighted the importance of testing patients for multiple biomarkers to provide optimal care, including HER2 status, levels of PD-L1, and mismatch repair. "The impact of PD-L1 may differ based on the context, whether it is in a localized setting or metastatic setting," he said. "I think the specifics of how we apply these will change over time, but we will always need to test for these markers to give the right drugs to the right patients."
The treatment of gastroesophageal cancer has significantly evolved, but clinical trial participation remains imperative to further the field. "If we are able to advance science through clinical trials, we will ultimately have more treatment options and also refine where new drugs are best applied," Dr. Shah said.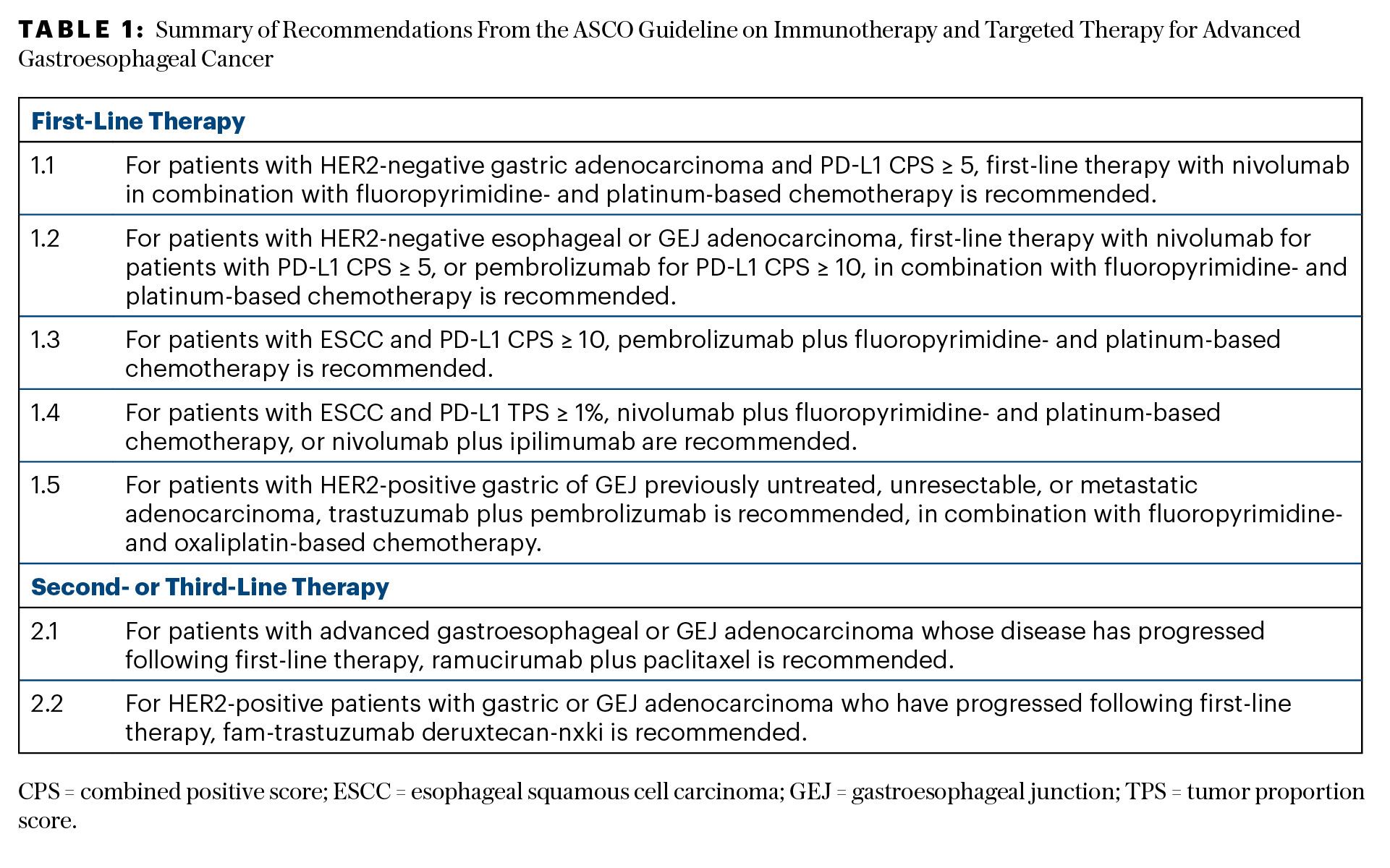 He added that this is an encouraging time for oncologists treating patients with upper gastrointestinal cancers, as many new treatment strategies are on the horizon: "Even though we've made so much progress, I think the practice will evolve even further in the next 5 to 10 years."
A follow-up report addressing questions and answers is planned. The expert panel will monitor future research for relevant evidence, with updates implemented as needed. 
REFERENCE
1. Shah MA, Kennedy EB, Alarcon-Rozas AE, et al: Immunotherapy and targeted therapy for advanced gastroesophageal cancer: ASCO guideline. J Clin Oncol. January 2, 2023 (early release online).
© 2022. American Society of Clinical Oncology. All rights reserved.
---