Project Confirm: An Initiative to Promote Transparency of the Accelerated Approval Program for Oncology Indications

OCE Insights is an occasional column developed for The ASCO Post by members of the Oncology Center of Excellence (OCE) at the U.S. Food and Drug Administration (FDA). In this installment, Gautam U. Mehta, MD, Neurosurgical Oncologist and Clinical Reviewer, Division of Oncology 2; Fatima Rizvi, PharmD, Health Scientist, OCE; and Tamy Kim, PharmD, Director of Regulatory Affairs and Policy, OCE, discuss Project Confirm, an initiative to promote the transparency of outcomes related to accelerated approvals for oncology indications.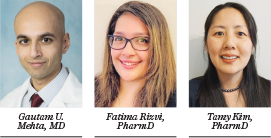 Role of Accelerated Approval
What is accelerated approval, and why is it important in oncology?
Accelerated approval is an expedited program developed in 1992 through FDA regulation to facilitate earlier access to potentially life-saving therapies. It was initially developed in response to the HIV/AIDS crisis; however, to date, most accelerated approvals have been in oncology. Accelerated approvals rely on studies using endpoints that are reasonably likely to predict clinical benefit, such as overall response rate.1 Drugs granted accelerated approval can be marketed in the United States, but their safety and effectiveness must be verified in confirmatory trials that are conducted with due diligence. To date, 167 accelerated approvals have been granted in oncology.2-4
Update on Project Confirm
What is Project Confirm?
The OCE launched Project Confirm on October 28, 2021, to provide the public with comprehensive information on the accelerated approval program in oncology and to spur discussion, research, and innovation on this topic. This new project builds on prior work by the OCE, which established an internal tracking database of accelerated approvals to facilitate research.5
The cornerstone of Project Confirm is a searchable public database on the FDA website. This database is divided into separate pages that list ongoing accelerated approvals, those that have verified clinical benefit and have been granted traditional approval, and those that have been withdrawn. As of January 18, 2022, there were 15 indications that had been withdrawn.2-4 In addition to this database, Project Confirm seeks to improve the public's understanding of the accelerated approval program and its outcomes.
Need for Public Database
Why do we need a public database on accelerated approvals?
For several years, the Center for Drug Evaluation and Research has maintained a list of accelerated approvals that is updated twice a year. With the new Project Confirm oncology-specific webpage, we have added several important features:
A database that is updated continuously in real time
A curated list that includes all drug-indication pairings and is consistent with how we count accelerated approvals in oncology at the FDA
Information on postmarketing requirements and original study completion dates for ongoing accelerated approvals.
As the number of approvals has increased significantly over time, having a clear, public resource for tracking these approvals is critical to understanding how this program has worked for patients with cancer. The page also provides users with information on the outcomes of the program, with the ability to easily sort through accelerated approvals that either have had verification of benefit or have been withdrawn. Improved education on this subject is important to maintain and adapt the program to an evolving cancer landscape.
Project Goals
How else is Project Confirm supporting education through the accelerated approval program?
Beyond tracking accelerated approval outcomes, a major goal of Project Confirm is to provide public education on the accelerated approval program. The Project Confirm webpage includes general information about the accelerated approval program and answers to some frequently asked questions. Through this page, we hope to address common misconceptions about the program and provide a context for regulatory decision-making. This site will be constantly updated based on the type of questions we receive from the public and feedback from the oncology community.
Recently, Project Confirm supported bilateral engagement with thought leaders in academia to discuss the accelerated approval program. Finally, Project Confirm supports education on this approval pathway through peer-reviewed publications and information on social media.
Dispelling Misconceptions
What are some common misconceptions about accelerated approval that Project Confirm hopes to address?
Considerable confusion remains regarding the endpoints used to support accelerated approvals. In oncology, accelerated approval has frequently been supported by a primary endpoint of overall response rate with sufficient duration of response. One misconception is that overall response rate is limited to accelerated approval; however, for certain indications, overall response rate has been used to support traditional approval.
Another common misconception is that all accelerated approvals in oncology need to be based on single-arm trials with an overall response rate endpoint. Randomized studies could be used to support both accelerated approval (with an interim analysis of overall response rate) and traditional approval (with survival endpoints when ultimately completed). Survival endpoints such as progression-free survival and disease-free survival have also been used to support accelerated approvals.
With Project Confirm, we also aim to bring clarity to the drug withdrawal process after accelerated approval is granted. If confirmatory trials after accelerated approval do not verify clinical benefit, then the approved indication may be withdrawn either voluntarily by the company or by the FDA after a public hearing. This process contrasts with expedited approval programs in the European Union, the United Kingdom, Australia, and Switzerland, where marketing authorization must be renewed annually or biennially.6 Because the withdrawal process in the United States is not automatic and relies on the FDA to initiate, this has led to the existence of "dangling" accelerated approvals, which are ongoing approvals with completed confirmatory trials that did not verify clinical benefit.7 As of January 19, 2022, there were 69 indications with accelerated approval that were in need of completing postmarketing requirements to verify clinical benefit. The OCE 
addressed several "dangling" accelerated approvals in an Oncologic Drug Advisory Committee (ODAC) meeting in April 2021.7,8
What's Next?
What are the next steps for Project Confirm?
Project Confirm is continuing to support internal and external efforts to increase education on the accelerated approval program. Finally, Project Confirm will support a series of annual ODAC meetings that address delinquent accelerated approvals, with postmarketing trials that have not been conducted in a timely manner.
Further information on Project Confirm can be found at fda.gov/about-fda/oncology-center-excellence/project-confirm. We can also be reached by e-mail at OCE-Confirm@fda.hhs.gov or on Twitter @FDAOncology.
DISCLOSURE: Dr. Mehta, Dr. Rizvi, and Dr. Kim reported no conflicts of interest.
REFERENCES
1. U.S. Food and Drug Administration Safety and Innovation Act, 21 USC §301 (2012). Available at https://www.govinfo.gov/content/pkg/PLAW-112publ144/pdf/PLAW-112publ144.pdf. Accessed on February 7, 2022.
2. U.S. Food and Drug Administration: Ongoing: Cancer Accelerated Approvals. Available at http://www.fda.gov/drugs/resources-information-approved-drugs/ongoing-cancer-accelerated-approvals. Accessed February 7, 2022.
3. U.S. Food and Drug Administration: Verified Clinical Benefit: Cancer Accelerated Approvals. Available at www.fda.gov/drugs/resources-information-approved-drugs/verified-clinical-benefit-cancer-accelerated-approvals. Accessed February 7, 2022.
4. U.S. Food and Drug Administration: Withdrawn: Cancer Accelerated Approvals. Available at www.fda.gov/drugs/resources-information-approved-drugs/withdrawn-cancer-accelerated-approvals. Accessed February 7, 2022.
5. Beaver JA, Howie LJ, Pelosof L, et al: A 25-year experience of US Food and Drug Administration accelerated approval of malignant hematology and oncology drugs and biologics: A review. JAMA Oncol 4:849-856, 2018.
6. Mehta GU, de Claro RA, Pazdur R: Accelerated approval is not conditional approval: Insights from international expedited approval programs. JAMA Oncol. January 20, 2022 (early release online).
7. Beaver JA, Pazdur R: "Dangling" accelerated approvals in oncology. N Engl J Med 384:e68, 2021.
8. Beaver JA, Pazdur R: The wild west of checkpoint inhibitor development. N Engl J Med. December 15, 2021 (early release online).
---