Humanitarian Paul Farmer, MD, PhD, Dies at 62

"One of the great advocates for the poorest and sickest of our planet."
                                 —Nobel Peace Prize laureate Archbishop Desmond Tutu
"Our mission is to provide a preferential option for the poor in health care. By establishing long-term relationships with sister organizations based in settings of poverty, Partners In Health strives to achieve two overarching goals: to bring the benefits of modern medical science to those most in need of them and to serve as an antidote to despair." So begins the mission statement of Partners In Health, a Boston-based nonprofit health care organization cofounded in 1987 by Paul Farmer, MD, PhD, who pioneered novel community-based treatment strategies that demonstrate the delivery of high-quality health care in resource-poor settings across the globe. Dr. Farmer died in his sleep of an acute cardiac event on February 21, 2022, in Butaro, Rwanda, a mountain town on the border of Uganda, where he and Partners In Health collaborated with the Rwandan government to build a complex devoted to health and health education. He was 62.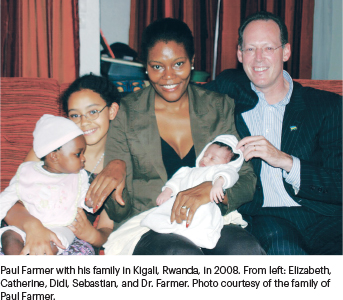 Humble Beginnings
Dr. Farmer was born on October 26, 1959, in North Adams, Massachusetts, and reared in Weeki Wachee, Florida, with his parents and five siblings, living at times in a school bus converted into a mobile home and on a boat.
After graduating from Hernando High School, where Dr. Farmer served as President of the senior class, he attended Duke University, graduating summa cum laude with a BA in medical anthropology. Soon after leaving Duke, Dr. Farmer did volunteer work at a hospital in Cange, Haiti, an experience he credited as planting the seed for his later work in global health and medical inequities. He returned to the United States, where he attended Harvard University, earning an MD and PhD in medical anthropology. He would make frequent trips back to Haiti to continue his humanitarian volunteer work while completing his internal medicine residency at Brigham and Women's Hospital; he also completed his infectious disease fellowship.
Partners In Health Is Born
Working in Haiti was a transformative experience for Dr. Farmer. It was a time toward the end of the Jean-Claude Duvalier dictatorship, when Haiti's hospital system was so resource-challenged that patients had to pay for basic supplies like medical gloves or a blood transfusion if they wanted treatment. Over the ensuing years, Dr. Farmer raised millions of dollars to create a network of community health facilities and eventually Partners In Health, which he founded in 1987 along with Ophelia Dahl, whom he had met volunteering in Haiti; a Duke classmate, Todd McCormack; and a Harvard classmate, Jim Yong Kim, MD, PhD.
Partners In Health eventually expanded into Rwanda, where Dr. Farmer helped the government restructure the country's health system. The restructure improved health outcomes in areas such as infant mortality and the human immunodeficiency virus infection rate.
Partners In Health also collaborated with the Rwandan government to build the Butaro Hospital in the northern Burera district of Rwanda, home to the Butaro Cancer Center of Excellence. This center is the referral center for cancer care for both the district and the country, although patients from surrounding countries and the region also arrive seeking care.
A Visionary Gone Too Soon
As news of Dr. Farmer's sudden and tragic death reached his colleagues and friends, tributes from across the globe poured in. Larry Shulman, MD, Senior Oncology Advisor to Partners In Health was in touch with Dr. Farmer almost daily in the weeks before his death regarding the patients he was seeing in Butaro; he shared comments with The ASCO Post: "Paul was a visionary in so many ways. He viewed health care as a human right—all should have access to life-saving treatment, regardless of where they lived or the color of their skin. And poverty would never be a barrier to receiving this care. He refused to accept that anything was impossible and accomplished what so many said was, in fact, impossible. He was acutely aware of the role that structural violence and racism played in inequities in care and outcomes long before this was so well articulated. In his book published in 2004, Pathologies of Power: Health, Human Rights, and the New War on the Poor, he described what we are still learning in this and so many other countries. Paul was the most engaging and impactful teacher I have ever known, and countless of us have learned lessons that we otherwise would not have if not for our time with Paul. But most of all Paul was a doctor—it was what he loved most. He rounded on our cancer wards at Butaro Hospital in Rwanda for the 2 weeks before his death and died there at the adjacent University for Global Health Equity, of which he was founder and Chancellor."
Laurie Nuell, a close friend and Board Director at Partners In Health, shared her thoughts on Paul: "He had a very tender heart. Seeing pain and suffering was very hard for him. It just hurt him. I'm a social worker by training. One thing I learned about is detachment. He wasn't detached from anyone."
Dr. Farmer was a practitioner of "social medicine," arguing there was no point in treating patients for diseases only to send them back into the same circumstances that helped cause them in the first place. "Illness has social roots and must be addressed through social structures," he said during an interview.
Dr. Farmer is survived by his wife, Didi Bertrand Farmer, and their three children, Catherine, Elizabeth, and Sebastian. 
---