Cancer in the Arab World: Addressing Challenges to Improve Outcomes

I returned home to the United Arab Emirates in 2017, following my oncology fellowship training and work experience in the United States. I immediately realized that I am now dealing with a considerably different cancer patient population in terms of age of onset, stage at presentation, awareness and acceptance of disease and treatment, and, most importantly, eagerness to seek treatment abroad rather than from within the country.1 I have thus dedicated my clinical and academic careers to understand the reasons behind such differences, especially those that are modifiable or targetable with medical and nonmedical interventions. We have already made some progress into looking at genetic variation in the Arab population regarding some cancers,2,3 but there has long been a major gap in data on epidemiology and clinical outcomes.

Humaid O. Al-Shamsi, MD, MRCP (UK), FRCP (C), FACP
Such limitation in evidence on cancer in Arabs directly infiltrates our day-to-day practice, where we are often faced by clinically relevant questions that we cannot answer. Accordingly, I have decided to start a project with the key aim of assessing cancer burden and care in the Arab world. What had started as a literature review for a potential journal publication quickly transformed into a dynamic project, with broader data collection and expert insight gathering to develop the first comprehensive book on Cancer in the Arab World.4
Background on the Arab World
There area few aspects about the Arab world that I feel the need to share and to orient less familiar readers. The Arab world consists of 22 countries, which are members of the Arab League, and spans more than 13,132,327 km2 with a population of more than 423,000,000. The Arab world was at the crossroads of the ancient trade routes and continues to be a central meeting point for Eastern and Western civilizations due to its unique positioning and geography. This has contributed to its large cultural and population diversity and a distinctive admixture of local inhabitants and migrants. Despite such diversity, Arabs were collectively known for their passion to transmit their culture through poetry and narrative and for their written records, which have had an astounding impact on the arts and sciences as we know them today.
Despite considerable variations in resources and capabilities across the region, we have generally come a long way in offering state-of-the-art cancer prevention and management services for citizens and residents, with some countries gradually becoming frequent hubs for medical tourism. We were able to achieve this only through learning from prior experiences, setting achievable goals and objectives that address the highest priority needs, and, most importantly, putting the patient at the center of everything we do.
Advances in diagnosis and care are also largely attributed to a major transformation in strategic thinking toward multistakeholder collaboration and away from competition. Research and innovation are also becoming integral parts of regional health-care systems, primarily directed toward precision medicine and the development of novel therapeutics to address individual patient needs.
'A Valuable Resource for All Stakeholders'
My colleagues and I created Cancer in the Arab World under the umbrella of the Emirates Oncology Society and Burjeel Cancer Institute, with cancer experts as editors and leading regional contributing authors. These experts have shown dedication to bring about change to the region, and together we remain privileged to witness the evolution of cancer care that paralleled the return of young talent following postgraduate training in the West.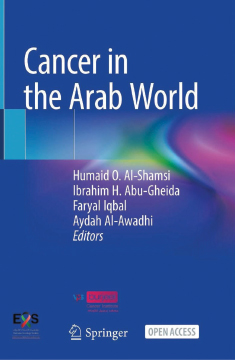 Our initiative involved pooling an enormous amount of data from across the region, a task that does not come without its own barriers and challenges. This allowed bridging published evidence with real-life insights across the covered topics and validated the genuine and thoughtful recommendations put forward to address persisting unmet needs. We hope to have delivered a valuable resource for all stakeholders looking to understand the current status quo of cancer in the Arab world. Such knowledge remains a pillar for formulating future strategies within the public and private sectors that promote cancer control and ensure early and effective access to individualized therapy for affected patients in their home countries. We are particularly proud to have been able to consolidate our efforts and come up with this book in the middle of the COVID-19 pandemic.
Finally, and as a quick summary of our book, see Table 1, which highlights the identified key challenges and unmet needs in cancer care in the Arab world. With this book, we hope to build a starting point for more comprehensive cancer care in the Arab region. I personally believe that with the current talents in the region and with better utilization of resources to address these challenges, cancer care in the Arab world will be on the right track to better serve our patients and optimize their outcomes. 
DISCLOSURE: Dr. Al-Shamsi reported a relationship with Roche Pharmaceuticals Middle East FZCO, and has received research funding from Merck and Amgen.
REFERENCES
1. Al-Shamsi HO, Al-Hajeili M, Alrawi S: Chasing the cure around the globe: Medical tourism for cancer care from developing countries. J Glob Oncol 4:1-3, 2018.
2. Al-Shamsi HO, Jones J, Fahmawi Y, et al: Molecular spectrum of KRAS, NRAS, BRAF, PIK3CA, TP53, and APC somatic gene mutations in Arab patients with colorectal cancer: Determination of frequency and distribution pattern. J Gastrointest Oncol 7:882-902, 2016.
3. Al-Shamsi HO, Abu-Gheida I, Abdulsamad AS, et al: Molecular spectra and frequency patterns of somatic mutations in Arab women with breast cancer. Oncologist 26:e2086-e2089, 2021.
4. Al-Shamsi HO, Abu-Gheida IH, Iqbal F, et al: Cancer in the Arab World. Available at https://link.springer.com/book/9789811679445. Accessed February 15, 2022.
Dr. Al-Shamsi is Director of the Department of Oncology and Innovation and Research Center at the Burjeel Cancer Institute, Burjeel Medical City, Abu Dhabi. He is also President of the Emirates Oncology Society and Professor in the College of Medicine at the University of Sharjah. Follow him on Twitter @alshamsi2000.
---