NCI Awards $9.1 Million Grant to Cedars-Sinai for Research on Dietary Fat and Liver Metastasis

A scientific team has been awarded a $9.1 million grant by the National Cancer Institute to study liver metastasis. The co-lead investigators, Neil Bhowmick, PhD, Director of the Cancer Biology Program, and Shelly Lu, MD, Women's Guild Chair in Gastroenterology and Director of the Division of Digestive and Liver Diseases, at Cedars-Sinai in Los Angeles, will focus on the interplay between dietary fat and fatty liver disease and the mechanisms that allow liver metastasis to occur.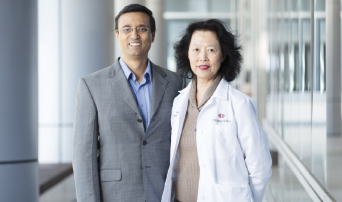 Co-lead Investigators Neil Bhowmick, PhD, and Shelly Lu, MD. Photo by Cedars-Sinai.
"There is already evidence that having fat in the liver promotes primary cancer there," said Dr. Lu. She and the other investigators, working on four separate projects, will study how signaling, between the liver and cancer in a distant organ alters the liver environment to allow cancer to spread and thrive there.
Four Projects
The investigators will focus specifically on liver metastasis and cancers of pancreas, colon, and prostate.
The four projects funded by the grant will focus on short-term, longer-term, and lifelong intakes of fat and how that exposure may raise the risk of liver metastasis. They also will examine the distinct ways in which the liver and distant cancer cells communicate, driving metastasis. The projects are:
Project 1: Dr. Bhowmick and his team will study how a short-term high-fat diet alone— before fat develops in the liver—alters the signaling pathways to make the organ more welcoming to metastatic cancer.
Project 2: Ekihiro Seki, MD, PhD, Professor of Medicine and Director of Basic Liver Research, and his team are examining the effects of longer-term high-fat diets and nonalcoholic fatty liver disease on liver metastasis. Their focus is on how the fatty liver cells influence the non-fatty liver cells and cancer cells, allowing the cancer cells to grow there.
Project 3: Stephen J. Pandol, MD, Professor of Medicine and Director of Basic and Translational Pancreas Research, and his team will study the role fatty liver has on inflammation and its influence on liver metastasis from pancreatic cancer.
Project 4: Dr. Lu and her team is focusing on three proteins (MAT1A, MAT2A, and MAT2B) that influence liver metastasis. MAT1A, which normally protects against metastasis, is found at abnormally low levels in nonalcoholic fatty liver disease. MAT2A and MAT2B are found at abnormally high levels in cancers. The team will study how these proteins influence liver metastasis and test molecules that might inhibit liver metastasis through changing their expression.
The projects are supported by the Cedars-Sinai Biostatistics and Bioinformatics Core, led by Mourad Tighiouart, PhD, Assistant Director of the Biostatistics and Bioinformatics Research Center, and the Liver Metastasis Resource Core, led by Edwin Posadas, MD, Medical Director of the Urologic Oncology Program. 
Funding for this study is supported by the National Cancer Institute of the ­National Institutes of  Health under award number 1P01CA233452-01A1.
---