Help Patients Do More to Cope With Cancer-Related Pain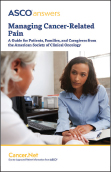 Relieving pain is an important part of cancer care, and each patient experiences pain differently. ASCO Answers offers two helpful products for managing cancer-related pain: a one-page fact sheet and an in-depth booklet. These resources help patients and their caregivers learn about:
The importance of pain relief
Causes of pain
How pain is diagnosed
Types of pain-relief strategies.
The Managing Cancer-Related Pain booklet also includes a pain-tracking sheet to help patients record how pain affects them.
Give your patients the information and tools they need to understand and manage their pain. Download free printable PDFs at cancer.net/ascoanswers or visit cancer.net/estore to order high-quality copies for your practice. Domestic shipping is free, and ASCO members save 20%. 
© 2020. American Society of Clinical Oncology. All rights reserved.
---