Former ASCO President Sandra M. Swain, MD, FACP, FASCO, Shares Highlights of a Noted Career

In this edition of the Living a Full Life series, guest editor Jame Abraham, MD, FACP, spoke with Sandra M. Swain, MD, FACP, FASCO, Professor of Medicine and Associate Dean for Research Development at Georgetown University Medical Center, and Vice President of MedStar Genetic Medicine at Medstar Health. A former ASCO President, Dr. Swain is an internationally regarded breast cancer specialist whose research focus includes clinical trials and translational research in metastatic and inflammatory breast cancers as well as health-care disparities.

Sandra M. Swain, MD, FACP, FASCO
Dr. Swain was born in Bethesda National Naval Medical Center. "My dad was a career military officer, having graduated from the U.S. Naval Academy. We lived in Virginia for a short time, then he was stationed in California, and from there we lived on various naval bases including Japan, where my sister was born. My father retired and moved to Florida, but my early years were filled with wonderful memories of travel, which is one of the reasons I still love to travel to this day," said Dr. Swain.
A Valued Mentor
Dr. Swain excelled during her high school years, graduating as class valedictorian. "Even so, when I  attended the University of North Carolina at Chapel Hill, which was a large, public university, it overwhelmed me a bit," she explained. "My dad encouraged me, noting that he'd had some rough patches at the Naval Academy himself. The other positive influence was at the university, Professor Frances Nash Collier, affectionally known as 'Papa Collier.' He really took me under his wing and gave me support during a tough period," said Dr. Swain. "So after getting back on track, I decided to switch my major to pre-med, a career I'd always thought about."
GUEST EDITOR

Dr. Abraham is Professor of Medicine, Lerner College of Medicine, and Chair of the Hematology and Medical Oncology Department at Taussig Cancer Institute, Cleveland Clinic.
Dr. Swain continued: "I went to medical school at the University of Florida, a terrific place, where I had a mentor named Dr. Warren Ross who was in oncology. I had always been interested in research and Dr. Ross encouraged me to pursue a strong medical program that would help me get into the best fellowship possible, which was at the National Cancer Institute (NCI). So, I did my residency at Vanderbilt University, thinking about endocrinology in the context of oncology; however, the chairman of medicine tried to persuade me into primary care or family practice. I told him I wanted a career that would offer opportunities for research. Fortunately, a mentor of mine, Dave Johnson, who was an oncology fellow at the time, helped my decision not to listen to the chairman and to pursue a career in oncology."
'Highly Supportive Young Doctors'
Dr. Swain explained that she was the only woman in her fellowship group of 10 at the NCI. "It was hard, but not unique for that time, because even in my residency, I was one of a very small group of women. That said, I was fortunate to be part of a terrific group of highly supportive young doctors. Don't forget, this was the NCI of Vince DeVita, Bob Young, Marc ­Lippman, a lot of the true pioneers of the field. I split my first year at the Bethesda National Naval Medical Center and at National Institutes of Health (NIH), which was a really good mix. Then I had 2 years of clinical research at NCI and then stayed on for a couple of more years doing research," shared Dr. Swain.
Following her time at the NCI, Dr. Swain went to the Georgetown Lombardi Cancer Center and worked with Dr. Lippman, who'd also left the NCI. "Dr. ­Lippman and I basically built Georgetown's breast cancer program. It was an interesting time, to say the least. I'd spent about 5 years at NCI, which I loved, but Georgetown was moving into the real world, if you will, as we didn't have the vast resources of a government agency. I was there for about 5 years and  eventually returned to NCI in a larger leadership role as a deputy branch chief and eventually branch chief."
Dr. Swain became involved with the National Surgical Adjuvant Breast and Bowel Project (NSABP), where she worked on the NSABP-P1 Breast Cancer Prevention Trial. "I became very involved with the group and was actually able to serve as the Principal Investigator on two large breast cancer trials. Looking back, working with the NSABP was one of the most important collaborations of my career. I was extremely fortunate to be there with Bernie Fisher, who was the chief inspiration behind so much of what we did in breast cancer. He made a huge difference in the lives of women with breast cancer—and in my career as well.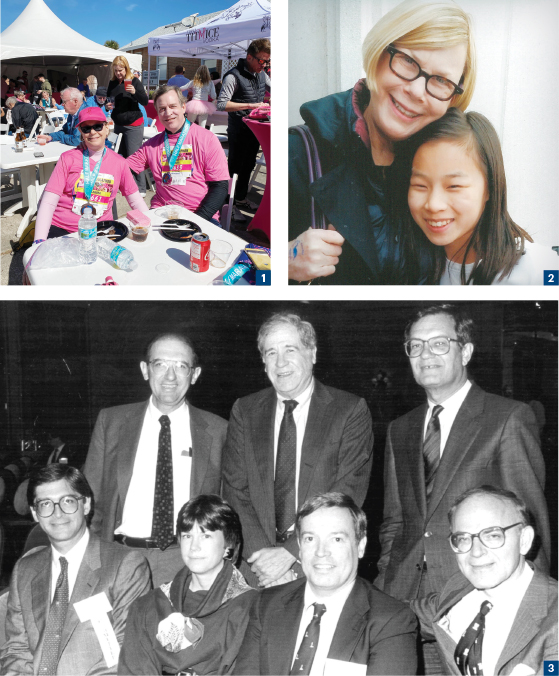 1. Dr. Swain with her husband during the Donna Half Marathon in February 2020. 2. Dr. Swain with her niece, Cece. 3. At an NCI meeting in the early days of her career. Top, from left: Franco Muggia, Bernard Fisher, Gianni Bonadonna. Bottom, from left: Paul Van Nevel, Dr. Swain, Frank Cummings, and George Canellos.
Leadership Roles and Clinical Trials
At the NCI, Dr. Swain became Interim Medicine Branch Chief. "While I was there, NCI decided to break the Medicine Department into various branches, and I became the Branch Chief of the Developmental Therapeutic Branch. I had the opportunity to work with some wonderful researchers. I developed  my own translational laboratory and, again, had terrific people around me. That's one thing that makes NCI so special—the commitment to push the scientific envelope—and everyone there feels lucky to be part of the team," she said.
Dr. Swain became involved with HER2-targeted therapy, during the developmental stages of pertuzu­mab, noting that, initially, the evolving agent was given a cold shoulder in much of the oncology community. "I worked on the protocol of pertuzumab in the first-line setting of metastatic breast cancer in the CLEOPATRA study. However, given the lack of enthusiasm, it made it more difficult to accrue patients. I remember when I first saw the outcome data,  I was shocked by how great the outcomes were. It changed the trajectory of how we treat women with metastatic HER2-positive breast cancer."
Dr. Swain was subsequently recruited by the MedStar Washington Hospital Center in Washington, DC, to be Medical Director of the Washington Cancer Institute.  "This was an incredible opportunity and wonderful experience to lead a very compassionate and outstanding group of oncologists who were dedicated to providing state-of-the-art health care to an underserved community." After 10 years in this position, Dr. Swain assumed her current leaderships positions within Georgetown University and MedStar Health.
ASCO Presidency
Asked about her ASCO Presidency, Dr. Swain said: "I never thought about becoming President, but as I got more involved with the Society, I saw the power it had to make a difference in the landscape of oncology. I was elected to the Foundation Board first, then the ASCO Board, and saw the tremendous potential of the Society. So, when I was ready, I ran and was elected. I was the  sixth woman to be elected ASCO President, and I'm very proud to be in that select group. I'm gratified about the growing influence women have in ASCO. It is a credit to the Society's constant self-examination and forward-looking vision."
Given ASCO's strong international membership and its position on the global scene, one of Dr. Swain's goals as President was to further embrace international oncology. "My theme was Building Bridges to Conquer Cancer, and, to that end, one of the features was increasing the role and importance of mentoring. I and all the other leaders of the Society were beneficiaries of great mentors who helped shape our careers. I started Women Who Conquer Cancer, which is a subset of the ASCO's Conquer Cancer Foundation. One thing I'm most proud of about Women Who Conquer Cancer is that we've raised almost $5 million and have given out approximately 27 Young Investigator Awards. We've also developed a robust mentorship program that gives awards for a variety of achievements. It's great to see first hand the results of this effort, giving back to all the young women who are entering oncology. I have been on the Conquer Cancer Foundation Board now for many years and am extremely committed to our goals of raising funds for our future young leaders in oncology."
On the subject of the Conquer Cancer theme and Foundation groups, Dr. Swain noted that the idea for the name came from a patient. She added, "Patients have always been my inspiration to work harder to find a cure for breast cancer."
Advice for Young Oncologists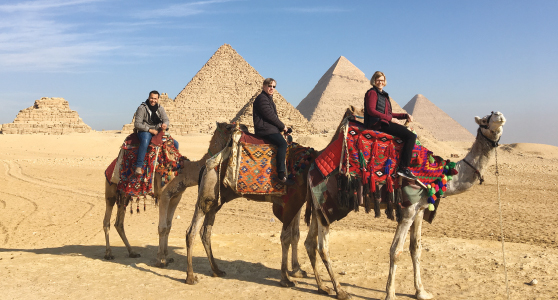 Dr. Swain in Egypt with her husband, Steve Jones (center), and guide in 2020.
What advice would a leader in oncology give to a bright young physician in the field? "First, I would encourage young people entering their fellowship to try and get one of the several awards offered by ASCO, such as the Young Investigator's Award. Also, I'd stress the importance of getting into clinical trial work and writing. To that end, nothing helps like finding a good mentor, one who can help a young fellow get published. Most important, find your passion and be persistent; it is vital."
On the subject of physician burnout, Dr. Swain said that she loves her work so much that she's probably the wrong person to ask. She did, however, address other issues, such as ambitious women coming into the field who want to have a robust academic career and begin a family. "I would tell them that you don't have to do everything at once; it's possible to structure career and life in a stepwise fashion," suggested Dr. Swain. As for pursuits that don't include trying to find the cure for breast cancer, Dr. Swain says "I've actually taken up photography, to bring some balance to my life. And I've become an avid fan of the Washington Capitals, a  professional ice hockey team. When you're following such an intense and fast moving sport, it takes your mind away from work. Also, I spend as much time as possible traveling with my husband, who is my greatest supporter."
---