Researcher Supported by ASCO's Conquer Cancer Foundation Earns Spot in Clinical Cancer Advances 2019 for Lung Cancer Study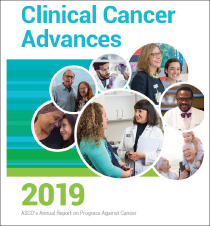 The work of nine researchers who have previously received funding from Conquer Cancer is featured in ASCO's Clinical Cancer Advances 2019. Visit CONQUER.ORG/CCA for more details.
Immunotherapy
At New York University Perlmutter Cancer Center in New York City, Leena Gandhi, MD, PhD, led a large clinical trial of patients with metastatic non–small cell lung cancer (NSCLC).

Leena Gandhi, MD, PhD, received a Conquer Cancer Young Investigator Award (YIA) in 2008.
The trial: Patients received either standard chemotherapy or chemotherapy plus pembrolizumab.
The results: Patients given immunotherapy in addition to chemotherapy lived significantly longer (and without tumor growth) than patients who received chemotherapy alone.
The impact: Lung cancer is the deadliest cancer for both men and women in the United States. Trials in NSCLC dramatically increase the patient population that can be considered for first-line treatment with immunotherapy. ■
© 2019. American Society of Clinical Oncology. All rights reserved.
---