Although Evidence Is Clear That Lung Cancer Screening Saves Lives, Adoption Rates Remain Low
A Conversation With Nasser Altorki, MD

The findings of the National Lung Screening Trial (NLST), reported in 2011, revealed that participants who received low-dose helical computed tomography (CT) scans had a 20% lower risk of dying of lung cancer than participants who received standard chest x-rays. Despite these results, population-based lung cancer screening has not been widely adopted.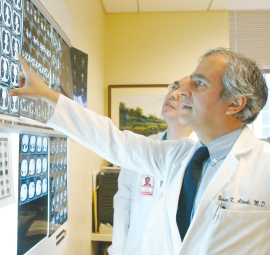 Nasser Altorki, MD ©Weill Cornell Medical College
To elucidate some of the persistent challenges surrounding lung cancer screening, The ASCO Post recently spoke with lung cancer surgeon Nasser Altorki, MD. His career has been dedicated to general thoracic surgery over the past 30 years. Dr. Altorki is currently Chief of Thoracic Surgery at Weill Cornell Medicine and Program Leader of the Solid Tumor Program and the Meyer Cancer Center at Weill Cornell Medicine. Dr. Altorki also served as the surgical investigator in the Early Lung Cancer Action Project (ELCAP) that first reported the potential benefit of low-dose CT as a screening modality for lung cancer.
Current Trial Data
The debate over the value of low-dose computed tomography screening for lung cancer persists despite the U.S. Preventive Services Task Force B grade. Could you please discuss the current data on screening for early-stage lung cancer?
Despite the results of the NLST showing that CT screening reduced lung cancer mortality by at least 20%, the uptake of CT screening nationwide has been slow. This may be largely due to the overemphasis on the potential harms resulting from false-positive findings while minimizing the potential benefits of preventing lung cancer–related deaths. We need to increase awareness among primary care physicians of the benefits of screening and the various approaches that mitigate against potential harms.
In addition, increasing awareness among high-risk individuals about the benefits of participating in a screening program (it can literally save their lives), including enrollment in smoking cessation programs, may enhance participation. The recent results from the European randomized screening trial (NELSON1) showing that the benefit of screening is even greater than that reported by the NLST should further persuade individuals at risk and their physicians of the value of participating in a screening program.
Surgery for Smaller Lung Tumors Detected by Screening
Would you discuss your own experience with resection in screening-detected lung cancer?
In general, screening-detected cancers are much smaller than those detected during routine clinical care and are rarely associated with lymph node metastases. More than 80% represent stage I disease, where surgical treatment can result in cure rates exceeding 80%. These smaller tumors lend themselves more readily to minimally invasive surgery, with its potential benefits including shorter hospitalization and quicker recovery time.
"With the combined results of the NLST and the NELSON trial, there can no longer be any doubt about the fact that lung cancer screening saves lives."

— Nasser Altorki, MD




Tweet this quote



Challenges in Lung Cancer Surgery
Given the many advances over the years, what are some of the most difficult challenges in lung cancer surgery?
One of the current challenges in early-stage lung cancer is encouraging wider implementation of minimally invasive surgery in the care of patients because of its proven benefits in reducing hospitalization and complications, as well as quicker recovery. In more advanced situations, the challenge is to further expand the practice of multidisciplinary care, where patients can individually benefit from the collective knowledge and wisdom of multiple specialists in lung cancer, including medical oncologists, radiation oncologists, and pulmonologists. These patients can gain access to precision medicine and clinical trials. The role of the surgeon in such settings is increasingly indispensable.
Closing Thoughts
Please share some closing thoughts on the issue of lung cancer screening as a population health measure.
With the combined results of the NLST and the NELSON trial, there can no longer be any doubt about the fact that lung cancer screening saves lives. More than 220,000 people are diagnosed with lung cancer annually in the United States, and the majority have advanced stage III or IV disease. Globally, more than 2 million cases were diagnosed in 2018, with more than 1.7 million deaths. A reduction of lung cancer mortality by 20% to 30% would be a huge accomplishment in reducing the global burden of lung cancer. ■
DISCLOSURE: Dr. Altorki has stock and other ownership interests in Angiocrine Bioscience and has received institutional research funding from AstraZeneca.
REFERENCE
1. De Koning H, Van Der Aalst C, Ten Haaf K, et al: Effects of volume CT lung cancer screening: Mortality results of the NELSON randomized-controlled population based trial. 2018 World Conference on Lung Cancer. Abstract PL02.05. Presented September 25, 2018.
---