Texas Society of Clinical Oncology Makes Investment in Young Investigators

The Texas Society of Clinical Oncology (TxSCO) is one of the newest supporters of the Conquer Cancer Foundation's Young Investigator Award (YIA) program. A state affiliate of ASCO, TxSCO currently has more than 600 members who represent a diverse array of oncology health providers in Texas.
"We are really a collective to serve as a guiding force for cancer specialists and overall cancer care in Texas," explained Debra Patt, MD, MPH, MBA, Secretary on TxSCO's Board of Directors.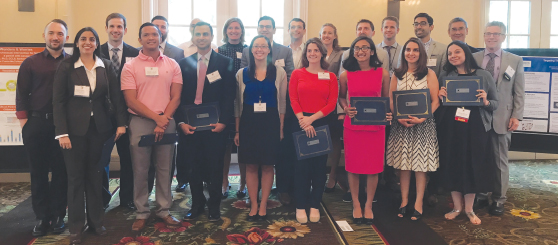 Fellows at the 2017 TxSCO Conference. Credit: Texas Society of Clinical Oncology.
TxSCO was founded in 1988 as the Texas Society of Medical Oncology but changed its name in 2011 to be more reflective and inclusive of the entire cancer care team. The organization espouses expanding the scope of practice toward a collaborative oncology model that incorporates advanced practice providers, such as physician assistants and nurse practitioners. TxSCO's mission is to advocate for patients with cancer in the state of Texas and promote standards of excellence for high-quality cancer care. The organization presents a Leadership Day in the spring for members of the multidisciplinary care team and a larger conference in the fall, organized by the Oncology State Society Network at the Association of Community Cancer Centers. For the fall conference, TxSCO promotes quality oncology research, including research by fellows who are awarded scholarships to attend.
Advocacy is a key component of TxSCO's mission. The group advocates for cancer care at the state level while informing its membership of ASCO policy updates on the national scene. Among the salient issues that TxSCO has recently worked on include responding to the opioid crisis while ensuring that patients with cancer are appropriately palliated and introducing legislation to make unused pharmaceuticals available for cancer care.
The 2018 Conquer Cancer Foundation/Texas Society of Clinical Oncology Young Investigator Award comports with TxSCO's goal to develop oncology leaders in the state.
"It's a high-yield investment for young physicians to begin a career in research and have protected time to clarify research goals to launch them on a career," said Dr. Patt, who herself received a YIA in 2006 for her work at The University of Texas MD Anderson Cancer Center.
"We look at supporting the Young Investigator Award as an investment in our future cancer leaders in the state of Texas," explained Dr. Patt. "The YIA that I received planted the seed for my cancer research career—which is focused on health services research and informatics—and I'm really grateful to ASCO for that opportunity."
Dr. Patt is a firm believer in investing in the careers of emerging physician-scientists. Several years after receiving her YIA, she graduated from the ASCO Leadership Development Program's Class of 2014 and went on to participate on several ASCO committees, including serving as Chair of the Clinical Practice Committee. She is now serving on the Nominating Committee and as Editor-in-Chief of JCO™ Clinical Cancer Informatics. In addition to her leadership volunteer work with TxSCO, she serves as Vice President of Texas Oncology, where she directs policy initiatives and serves on the Texas Medical Association.
"We would encourage other state societies to follow this lead," said Dr. Patt. "Supporting the YIA is a tangible way they can contribute to cancer research in their state and help develop young cancer leaders." ■
© 2018. American Society of Clinical Oncology. All rights reserved.
---