Seeking Beauty From the Inside Out After Cancer Treatment

BOOKMARK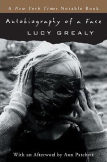 Title: Autobiography of a Face
Author: Lucy Grealy
Publisher: Houghton Mifflin Harcourt
Original Publication Date: June 1994
Price: $14.95, paperback; 256 pages



We live in a celebrity-obsessed society that is consumed by images of what we perceive as ideal beauty. Numerous studies show that persons with positive body image are much less susceptible to depression and other mental disorders and more likely to be hired sooner and get promotions quicker than their less-attractive coworkers. Many cancer treatments such as mastectomy and colostomy are associated with body-image issues, but none more so than those that affect one's face, such as surgical interventions in head and neck cancer. The face is one's personal identity, and many patients who have undergone these procedures feel alone and constantly on display, leaving them self-conscious and isolated.
A Cruel Childhood
Surgical disfigurement for older patients can be devastating, but for children dealing with peer-pressure and social status issues, it is no less than soul crushing. Few books detail the internal hell of a child whose face was surgically disfigured better than Lucy Grealy's memoir, Autobiography of a Face, which was first published in 1994. But in today's celebrity-worship culture, this devastatingly beautiful book is more relevant than ever.
Ms. Grealy was born in Dublin, and her family relocated to the United States in 1967. At age 9, she was diagnosed with what was thought to be a dental cyst, but the young girl's world came tumbling down when the cyst turned out to be Ewing's sarcoma.
She had radical surgery, which involved the removal of half her jaw. Years of radiation and chemotherapy saved her life, and she recovered from her disease. However, her story is one of surviving the very treatment that saved her, and at times it will make your heart clench. Boys at school would yell, "That is the ugliest girl I have ever seen." The author herself admitted, "I was too ugly to go to school."
Endless Surgeries
At 18, after more than 30 reconstructive surgeries, with very modest success at transforming Ms. Grealy's face to its original prettiness, she entered Sarah Lawrence College, where she met her first real friends and developed her love of writing. The brutally direct insults of her early childhood, when children without social filters could be so cruel, dissipated in college, to a more polite extent, as Ms. Grealy relates: "When I walked down a street or hallway, sometimes men would whistle at me from a distance, call me Baby, yell out and ask me my name.… Their comments would stop instantly when they saw my face, their sudden silence potent and damning."
Ms. Grealy's writing is superb, some of it beautiful, even as she describes her postsurgery hell after a soft-tissue graft: "I woke after the operation in a running sweat. Still delirious and in intense pain, I ripped the stiff sheets to see rather than the normal line of stitches I had expected along my hip, where they'd taken the graft, there was a long row of 40 to 50 large metal staples. It was as if someone had sawed off my leg and put it back on with an industrial stapler."
Ms. Grealy writes with incredible honesty, never feeling sorry for herself, and readers will find themselves rooting for her on every page, waiting for the final surgery that will give her the needed confidence to return to the world she'd hid from for so long.
She has several more minor operations that bring her as close to her precancer face as possible. At the end of the memoir, the reader can take solace that she comes to terms with her face. "As a child I had expected my liberation to come from getting a new face to put on, but now I saw it came from shedding something, shedding my identity."
Ms. Grealy attained modest success with the publication of this memoir. She also gained admiring friends in the writer's community, and her life seemed to have turned around with the publication of her second book. Sadly, following her final reconstructive surgery, she became addicted to oxycodone. She died of a heroin overdose in 2002, at the age of 39. This book is highly recommended for readers of The ASCO Post, for its unflinching description of the inner turmoil felt by patients with cancer facing body-image crises. ■
---