A River Runs Through the Life of a Leukemia Specialist

GUEST EDITOR

Jame Abraham, MD, FACP
Dr. Abraham is the Director of the Breast Oncology Program at Taussig Cancer Institute, and Professor of Medicine, Lerner College of Medicine, Cleveland Clinic.







MATT KALAYCIO, MD
Affiliation: Cleveland Clinic Taussig Cancer Institute
On balancing priorities: "As an oncologist in academia, you have to know when to say no."
Favorite hobby: "After our children were finished with college, my wife and I wanted to find something we could do together…. We decided on fly fishing, [and] we fell in love with it."
Best advice: "My father always told me that the one thing no one can take from you is your diploma. He was making the point that education is paramount to your success in life."
For this installment in the Living a Full Life series, Matt Kalaycio, MD, of the Cleveland Clinic, was interviewed by Guest Editor Jame Abraham, MD, FACP. Dr. Kalaycio is Chairman, Department of Hematologic Oncology Blood Disorders at the Cleveland Clinic, where he is also Director of the Bone Marrow Transplant Program and Myeloma Program.
A Career Evolves
Nationally regarded leukemia specialist Matt Kalaycio, MD, was hired directly after his fellowship to direct the leukemia program at the Cleveland Clinic, a multidisciplinary hospital in Cleveland, which is recognized as one of the top medical centers in the world. "I headed the leukemia program for about 10 years, doing both patient care and clinical trials. Over time, my dedication to clinical work remained pretty much the same, but my involvement in clinical trials lessened as my administrative duties increased," said Dr. Kalaycio.
Asked about his career's transition to an administrative position, Dr. Kalaycio responded, "It was not something I aspired to. It was something that just happened. As time went on and we hired young junior faculty, I was charged with mentoring them, and I gave much of my research duties to them as well. My administrative roles simply evolved. For instance, when I agreed to take on the role of quality review officer for the institute, I had to back off on something, and that something was research."
Learning to Say No
When Dr. Abraham asked Dr. Kalaycio about balancing priorities, a common challenge throughout academic oncology, he responded: "No matter how busy I am, I would never sacrifice my patient care. It's what I love and what I do best. Naturally, given my increased administrative duties, I don't work in the clinic as much as I would like to. But one of the most important things in balancing an academic career is to learn to say 'no.' I tell my faculty, we didn't go through college, medical school, and residency by saying no. It wasn't in our vocabulary. But as an oncologist in academia, you have to know when to say no."
He added, "Ironically, you'll often discover where your passions lie by what you say no to. And I think those who can't say no are more prone to problems such as marital discord or burnout."
Oncology is a challenging career, but there are certain rewards in the science and patient care that I believe are special within medicine.

— Matt Kalaycio, MD




Tweet this quote



As a leader in one of the largest programs in the country, Dr. Kalaycio offered this advice to ambitious young colleagues in academia: "For those who aspire to higher positions, be careful what you wish for. As rewarding as it can be, it is very difficult to manage a career and the day-to-day problems of life. It is important to know that going into your career."
Asked about his own secret to sailing the sometimes-turbulent waters of academic oncology, Dr. Kalaycio said, "For one thing, I don't get angry. My father was one of those guys who got along with everyone. He never raised his voice; he was always deferential in situations that disturbed others. And I've followed his lead and have always found that anger is a waste of energy. I don't actively control my emotions; I think it's genetic."
Serenity on the Water
One theme pervades cancer care: the special relationship oncologists develop with their patients. However, despite the rewards, the daily life-and-death clinical decisions and the need to keep up with the rapid advances coming out of the laboratory make oncology one of the most demanding and stressful areas in medicine.
Dr. Kalaycio stressed the importance of having a full life outside of oncology—an activity or avocation that helps one to focus and recharge. He found his escape in fly fishing on rivers across the country.
"I fished as a kid, but never seriously. After our children were finished with college, my wife and I wanted to find something we could do together, throughout my career and after retirement. We decided on fly fishing, so we took lessons and began fishing whenever we had the chance to get away. We fell in love with it. Fishing a river together in pristine country is an incredibly calming experience," Dr. Kalaycio said.
"Don't get me wrong. Fly fishing is an art that takes years to learn. I'm far from an expert. But learning is part of the process, and the fact that it's hard to master makes it all the more enjoyable," he added.
Dr. Kalaycio explained the rhythmic technique of fly fishing and how it differs from rod-and-reel. Although he occasionally fishes lakes for bass, his true passion is trout fishing, standing hip-deep in a river's live current. He noted that his wife had first suggested fly fishing as a joint recreation after reading Norman Maclean's classic novel, A River Runs Through It, which, among other things, describes fly fishing in western Montana in prose that has not yet met its match.
"Believe it or not, Cleveland is a hotbed for trout fishing. The rivers are stocked yearly with steelhead trout, and people flock from all over to fish here. That said, we've also had great experiences in Pennsylvania, Arizona, and Colorado. We usually plan our vacations around fishing, often using a professional guide."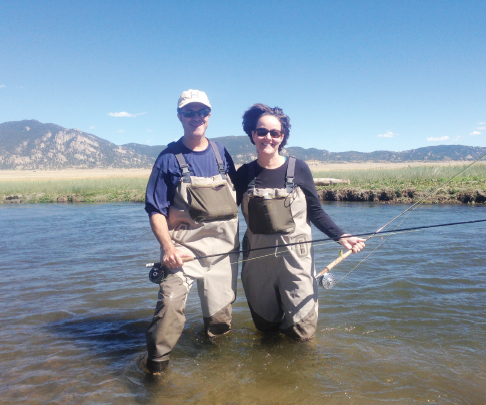 Dr. Kalaycio fly fishing with his wife Linda.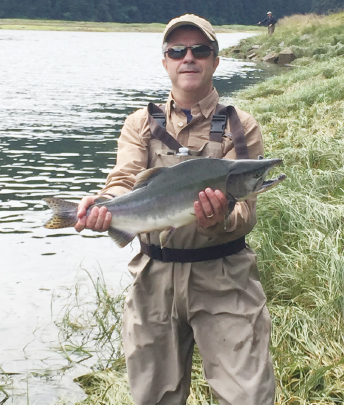 He continued, "One of our most exciting trips was on a cruise boat in Alaska. We got off the boat, took a seaplane with several others to a remote location, and fished for king salmon. After a day on the salmon run, we'd all become friends and had a wonderful time sharing stories about fishing. It's wonderful to have a passion that I can share with my wife. And another good thing about fishing is that it doesn't require too much physical effort, so we can look forward to many years to come on the river."
Dr. Kalaycio said that along with fly fishing he's also an avid hiker and tennis player, but he stressed that there are many ways to decompress from the rigors of oncology besides planned or organized activities. "I live about half an hour away from the center by car, and I use that commuting time by listening to books on tape or podcasts—simple things that help me leave the hard issues of work behind. Somehow I feel that if I lived 5 minutes away, the transition from home to work would be too brief, as if they were connected. But maybe I'm simply justifying a long commute," he said with a laugh.
A Father's Inspiration
Asked why he decided to become a doctor, Dr. Kalaycio replied, "My father was a general surgeon in a small town in West Virginia. He was actually the town's doctor, doing all medical procedures except for delivering babies. I admired what he did for a living because it was important."
Continuing his father's story, Dr. Kalaycio noted, "He was from Turkey, and he aspired to become a tuberculosis specialist, which was the most prestigious area of practice when he was in medical training. But in order to become a tuberculosis specialist in Turkey, he would have needed to master English, which he failed. So he decided to travel to the United States to learn English. It was just after the Korean War, and there was a shortage of doctors. He got a surgical residency in a small hospital called St. Alexis. His first rotation was in the ER, and they handed him a suture kit to sew a patient up, but my father couldn't speak a lick of English and neither did the patient, who was Polish. My father had never sewn up a wound, but the Polish guy was a machinist—sort of a tough guy who'd been cut many times—and he actually walked my father through the procedure."
What about the decision to enter the challenging field of oncology? "When I was in medical school, I had planned to return home and follow in my father's footsteps. But during my internal medicine residency, I had the opportunity to work on an oncology ward, and I immediately bonded with the doctors and patients. What really struck me was the special relationship between the clinicians and their patients. It's something unique to cancer care. That's when I decided to become an oncologist, and I've never looked back," said Dr. Kalaycio.
A Father's Advice
"My father always told me that the one thing no one can take from you is your diploma. He was making the point that education is paramount to your success in life. I obviously took that advice to heart, and I've been a lifelong learner. Education enriches a person on many different levels, and it's important to keep learning throughout one's life," said Dr. Kalaycio.
Dr. Abraham asked what advice he had for young medical students. "The answer to that question has evolved over the years. When we were beginning our medical journey, it was more about hard science. You had to be a chemistry or biology major, but some of the most successful physicians I've had the opportunity to work with majored in English or philosophy or one of the humanities. And that education helped them in their practice in a way that pure science does not. If I were starting over, I would have broadened my education by studying something other than just science, such as economics or architecture—something that would have added another dimension to my perspective, which in turn might help make me a better physician."
"That said," added Dr. Kalaycio, "I'm very content with all of the choices I've made about a career in oncology and my wife and children. Oncology is a challenging career, but there are certain rewards in the science and patient care that I believe are special within medicine. I'm also fortunate to live near a beautiful river, where my wife and I can stand in the moving waters and fly fish together. We'll be doing more of that as time goes on." ■
DISCLOSURE: Drs. Kalaycio and Abraham reported no conflicts of interest.
Living a Full Life: Let Us Hear From You
We encourage you to contact us if you would like to be interviewed about your own experiences and interests or would like to nominate a candidate. We are seeking to learn what motivates and inspires you and how you manage to achieve balance in your own life.
Write to editor@ASCOPost.com and reference Living a Full Life.
---