Spotlight: ASCO Clinical Affairs
Supporting Practices Across the United States With Practice Management, Quality, and Performance Improvement

ASCO is working—through research, education, and promotion of the highest quality patient care—toward a world where cancer is prevented or cured, and every survivor is healthy. With the goal of ensuring that all patients receive the high-quality care they expect and deserve, ASCO is committed to helping oncology practices thrive in the ever-changing, ever-demanding health-care delivery system.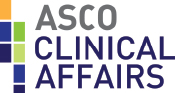 ASCO Clinical Affairs is a one-stop shop for the operations side of cancer care, from educational resources and practical tools to help transition practices to a value-based reimbursement system, to data and information to enhance business operations and quality of care.
Established in 2014 and staffed by national leaders in clinical oncology care and practice management, ASCO Clinical Affairs supports practicing oncologists, oncology administrators, and oncology practices in all settings across the United States—large and small community practices, hospital-based oncology departments and practices, and those in academic and research institutions. ASCO's Clinical Affairs team helps practices collaborate with others across the country, innovating their delivery of cancer care and responding to the growing economic and administrative challenges that all oncology practices face today.
The range of educational tools, training programs, services, and resources ASCO Clinical Affairs offers practices include:
Practice Management Support
Physician Payment Reform: Practices have a unique opportunity to evaluate an alternative payment model—and get ahead of the move toward value-based physician reimbursement—by testing ASCO's Patient-Centered Oncology Payment (PCOP) model, designed to improve the quality and affordability of care for cancer patients.
PracticeNET: A learning collaborative in which oncology practices share data and information and receive insights to enhance business operations and quality of care
FDA Alerts: ASCO members receive alerts for newly approved therapies for cancer patients to ensure they are current with the most effective, safest treatments available.
Quality Performance and Improvement
The Quality Oncology Practice Initiative (QOPI®): An oncologist-led, practice-based quality assessment program designed to promote excellence in cancer care by helping practices create a culture of self-examination and improvement
QOPI Certification: A 3-year certification provided to all sizes and types of outpatient oncology practices by evaluating performance in clinical areas that affect patient care and safety
Quality Training Program: The nation's leading oncology quality improvement course empowers practice teams to improve clinical care and operational performance while maximizing a demanding schedule with competing priorities.
ASCO Practice Consulting Services and Support
ASCO Clinical Affairs also provides cross-cutting consulting services to individual practices, offering comprehensive, personalized support. These services include:
Readiness assessment, focused on preparing for new payment models and success in the Quality Payment Program
Practice transformation implementation support, consulting services to meet a practice's specific needs
Triage pathways, a decision-support tool to help patients receive the right care at the right time in the right place
Alternative payment model support, including financial modeling and reporting, quality reporting, and compliance support
Analytic services, including claims-based analysis services to support alternative payment model projects, as well as practice data analytics to support business operations
ASCO COME HOME
ASCO has also collaborated with Innovative Oncology Business Solutions, Inc. (IOBS) on ASCO COME HOME, an oncology medical home program designed to transition community oncology practices from volume-based to value-based care by structuring reimbursement around the full range of services needed by patients with cancer. ASCO COME HOME will also prepare practices for full implementation of the Quality Payment Program, authorized by the Medicare Access and CHIP Reauthorization Act (MACRA).
Initial COME HOME practices have demonstrated the model's effectiveness at improving health outcomes, enhancing patient-care experiences, and positioning practices for success in an evolving health-care delivery system—all while reducing overall costs.
Learn more about ASCO's Practice Consulting Services and Support and the full range of services and resources offered by ASCO Clinical Affairs at www.asco.org/clinicalaffairs or by e-mailing clinicalaffairs@asco.org. ■
© 2017. American Society of Clinical Oncology. All rights reserved.
---