Cleveland Clinic Opens New Taussig Cancer Center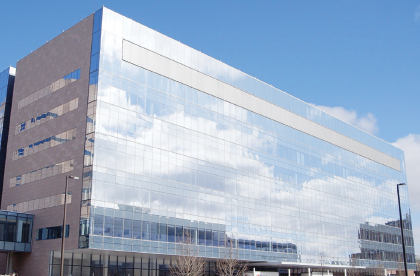 The new, 377,000 square-foot Cleveland Clinic Cancer Center. Photo Credit: Cleveland Clinic Newsroom.





The new Cleveland Clinic Taussig Cancer Center began welcoming patients on March 6, 2017. The 377,000 square-foot facility houses all outpatient cancer treatment services in one location, with the center's team of medical and radiation oncologists, surgeons, nurses, genetic counselors, social workers, and other health-care providers all working together in one shared space to improve patient outcomes. The new seven-story cancer building is located on the north side of Carnegie Avenue between East 102nd and 105th Streets. It replaces the Taussig Cancer Institute building on East 90th and ­Euclid Avenue.
Patient-Recommended Features
The Taussig Cancer Center was designed with patient experience and empathy in mind, drawing on feedback from a panel of former cancer patients who outlined what would make their experience as ideal, welcoming, and healing as possible.
The new building is organized by cancer type, allowing patients now to have all of their appointments in one area, where clinical caregivers come to the patient. For example, all clinical and treatment areas for breast cancer are located together on the same floor, offering greater patient convenience.
The new cancer center was designed to create a healing environment by the use of natural light throughout the entire facility. Reception areas are filled with light; infusion rooms feature floor-to-ceiling windows; and a unique skylight allows natural light into the lower level, where patients will receive radiation and imaging services. In addition, a new 350 foot-long canopy at the building's entrance will provide a more convenient and welcoming arrival process for patients. The new building also includes an open first level featuring a large laboratory to help avoid long waits for blood testing; an outpatient pharmacy; and a café that accommodates special diets.
"Every aspect of Cleveland Clinic's new cancer center was designed with the patient in mind to provide the best clinical outcomes and patient experience," said Toby Cosgrove, MD, Chief Executive Officer and President of Cleveland Clinic. "Further, it will foster greater collaboration, communication, and research among physicians and care providers in the fight against cancer."
Clinical, Supportive Features
The new cancer center includes the following clinical features:
126 exam rooms and 98 treatment rooms in close proximity
Private chemotherapy infusion suites
Genetics and genomics testing
A centralized home for high-level treatment technology, including six linear accelerators and a Gamma Knife suite
Onsite diagnostic imaging
Dedicated area for phase I, II, and III clinical trials, with a special emphasis on supporting phase I trials.
The facility's first floor will also house the following support services intended to reduce cancer's psychological stress:
A resource center where patients and families can access printed and online cancer information
Art and music therapy spaces
A boutique where patients with chemotherapy-associated hair loss can receive free wigs, caps, and scarves
A wellness center for guided imagery, facials, and other aesthetic services
A private prosthetics fitting area
The 4th Angel Mentoring Program, an initiative begun by figure-skating champion and Cleveland Clinic cancer patient Scott Hamilton, to provide patients with free, confidential, one-on-one advice and support from a trained volunteer and cancer survivor
A spiritual area for prayer or meditation.

Brian J. Bolwell, MD, FACP
"As one of the nation's most progressive cancer centers, the new Taussig Cancer Center will provide a seamless, personalized experience," said Brian J. Bolwell, MD, FACP, Chairman of the Cleveland Clinic Taussig Cancer Institute. "Our design priorities of reduced wait times, improved patient flow, multidisciplinary clinics, and a healing environment, combined with a commitment to cancer research, will deliver the best possible care and support for our patients." ■
---