Final Analysis of BCIRG-006 Supports Use of Non–Anthracycline-Containing Regimen in Treatment of Women With Early Breast Cancer


Dennis Slamon, MD
There is no statistical advantage with regard to disease-free and overall survival for AC-TH over TCH, with only 10 disease-free survival events now separating the two experimental arms.

—Dennis Slamon, MD
The final analysis of the BCIRG-006 trial confirmed the long-term efficacy of trastuzumab (Herceptin) in early breast cancer and also validated the concept that anthracyclines increase toxicity and they are not always necessary for a good outcome.1 The 10-year follow-up of the landmark trial was presented at the 2015 San Antonio Breast Cancer Symposium by principal investigator Dennis Slamon, MD, of the University of California, Los Angeles.
In a study of 3,222 HER2-positive, node-positive or high-risk node-negative early breast cancer patients, BCIRG-006 compared doxorubicin plus cyclophosphamide followed by docetaxel (AC-T); AC-T plus trastuzumab (AC-TH); and a nonanthracycline-containing arm, docetaxel, carboplatin, and trastuzumab (TCH). Trastuzumab was given for 1 year.
Although the benefit conveyed by trastuzumab has never been questioned, the idea of eliminating anthracyclines was a much-debated issue when the initial results debuted in 2005. Dr. Slamon spoke to this issue.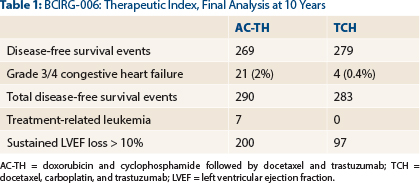 After 10.3 years of follow-up, the two trastuzumab arms showed a "sustained and significant efficacy advantage" over AC-T; however, the differences between the two trastuzumab arms was slight.
"There is no statistical advantage with regard to disease-free and overall survival for AC-TH over TCH, with only 10 disease-free survival events now separating the two experimental arms," Dr. Slamon reported.
"This numerical advantage, however, comes at a cost of fivefold more clinical congestive heart failures in the AC-TH arm than in the TCH arm and a higher rate of leukemia and sustained left ventricular ejection fraction decline > 10% from baseline," he indicated (Table 1). 
Comparison of Benefits Across a Decade
Compared with the standard at the time, the first analysis showed a 51% improvement with AC-TH and a 39% improvement with TCH. In the second analysis, improvements were 36% and 25%, respectively. In the final analysis reported in San Antonio, risk reductions were 28% and 23%, respectively, over AC-T. So although the margins narrowed over time, both experimental arms remained significantly better than the chemotherapy arm, Dr. Slamon noted.
At the final analysis, 10-year disease-free survival was 74.6% with AC-TH (P < .0001), 73.0% with TCH (P = .0011), and 67.9% with AC-T. Overall survival at 10 years was 85.9%, 83.3% and 78.7%, representing risk reductions of 27% (P < .0001) and 24% (P = .0075), respectively.
The comparability of TCH to AC-TH in these outcomes triggers the question, "Do higher-risk HER2-positive breast cancers require anthracycline-based treatment?" Dr. Slamon asked.
In a subset analysis of node-positive patients, disease-free survival rates were 69.6% for AC-TH (P < .001), 68.4% for TCH (P = .0018), and 62.2% for AC-T. In patients with at least four nodes involved, disease-free survival was 62.9% (P = .0039), 62.8% (P = .0018), and 53.6%, respectively.
Although disease-free survival for these high-risk patients was lower than for better-risk patients, the treatment-related outcomes were similar to the whole study population. This finding suggests that the benefit for anthracyclines, even in this high-risk group, may be minimal.
Important Safety Differences
What did emerge as a difference, continued Dr. Slamon, was the incidence of adverse events related to anthracycline use. For grades 3/4 nonhematologic toxicities, the three arms were generally similar. TCH-treated patients had less arthralgia, myalgia, hand-foot syndrome, stomatitis, vomiting, sensory and motor neuropathy, and nail changes than the other two regimens. For hematologic toxicities, the TCH arm had less neutropenia and leukopenia than the AC-TH arm but more anemia and thrombocytopenia.
Cardiac toxicity and second malignancies were where differences became notable, including:
A total of 21 cases of grades 3/4 congestive heart failure with AC-TH, compared with 4 with TCH (P = .0005);
A total of 200 patients with ≥ 10% relative decline in left ventricular ejection fraction with AC-TH, compared with 97 with TCH (P < .0001);
One case of acute leukemia (B-cell lymphoma followed by leukemia 20 months after chemotherapy treatment) in a TCH patient, compared with seven treatment-related cases in patients receiving anthracyclines.
At baseline, cardiovascular risk factors were fairly well balanced among the three arms. By the third and final analyses, left ventricular ejection fraction had recovered to some degree in the AC-TH arm but still remained far below the better left ventricular ejection fraction levels in TCH-treated patients, which had returned almost to baseline. ■
Disclosure: Dr. Slamon is a consultant for and receives research support from Novartis and has ownership interests in Amgen.
Reference
1. Slamon DJ, Eiermann W, Robert NJ, et al: Ten-year follow-up of BCIRG-006 comparing doxorubicin plus cyclophosphamide followed by docetaxel with doxorubicin plus cyclophosphamide followed by docetaxel and trastuzumab with docetaxel, carboplatin and trastuzumab in HER2-positive early breast cancer patients. 2015 San Antonio Breast Cancer Symposium. Abstract S5-04. Presented December 11, 2015.
---
Related Articles
The general consensus of breast cancer experts of the initial findings of BCIRG-006 triggered a more judicious use of anthracyclines, and this trend continues. Kathy S. ­Albain, MD, FACP, FASCO, Professor of Medicine at Loyola University Chicago Stritch School of Medicine, Maywood, Illinois, said...