Targeting Biliary Tract Cancers Through Genomic Profiling


Jeffrey S. Ross, MD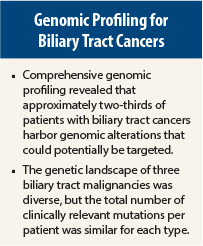 Genomic Profiling for Biliary Tract Cancers
The diverse landscape of clinically relevant genomic alterations in biliary tract cancers can serve as targets for therapies and has the potential to improve outcomes for patients with these aggressive malignancies.

—Jeffrey S. Ross, MD
Biliary tract cancers are challenging, but a large genomic profiling study has identified potentially clinically relevant genomic alterations in up to two-thirds of patients.1
"The diverse landscape of clinically relevant genomic alterations in biliary tract cancers can serve as targets for therapies for these patients and has the potential to improve outcomes for these aggressive malignancies," said Jeffrey S. Ross, MD, of Albany Medical College in New York. Dr. Ross is also Medical Director of Foundation Medicine, whose assay was used in this study.
At the 2015 Gastrointestinal Cancers Symposium, Dr. Ross presented a report on comprehensive genomic profiling of biliary tract cancers, which revealed tumor-specific differences and genomic alterations. Such findings could help to select individualized, targeted treatments for patients, either through mechanism-driven clinical trials of novel agents or off-label treatment of available ones.
"Given the limited treatment options and poor prognosis of patients with biliary tract cancers, and the diversity of clinically relevant alterations identified, comprehensive genomic profiling appears to have significant potential to maximize the identification of new treatment paradigms and to meet an unmet clinical need for this devastating disease," he said.
Biliary tract cancers—which include intrahepatic cholangiocarcinoma, extrahepatic cholangiocarcinoma, and gallbladder carcinoma—are typically refractory to conventional therapies, including cytotoxic chemotherapy and radiation.
The proportion of cancer patients who could benefit from comprehensive genomic profiling varies by tumor type, he said. "We have now profiled more than 35,000 solid tumors and uncovered an unexpectedly high frequency of potential therapy-changing genomic alterations, with some tumor types having significantly higher clinically relevant alteration rates and others having lower rates. In biliary tract cancers, the clinically relevant alteration frequency is quite high, especially for the intrahepatic cholangiocarcinomas." In the current study, two-thirds of patients harbored genomic alterations that could potentially influence treatment, he said.
Genomic Distributions Differed by Tumor Type
From the DNA of 554 biliary tract cancer specimens (primary or metastatic), the researchers performed next-generation sequencing of all coding exons of 315 cancer-related genes and 47 introns of 19 genes commonly rearranged in cancer. The aim was to identify clinically relevant genetic alterations that could be targeted with current or novel agents. They examined 412 cases of intrahepatic cholangiocarcinoma, 57 cases of extrahepatic cholangiocarcinoma, and 85 cases of gallbladder carcinoma.
Comprehensive genomic profiling revealed many similarities and differences among the three tumor types. "We saw a wide diversity in type of alteration, and small numbers of alterations in a few patients, which create the landscape of attempted or available targeted therapies," Dr. Ross said. The total numbers of genomic alterations per patient and clinically relevant (ie, "actionable") alterations were similar among the tumor types.
The three malignancies share genomic alterations in cell cycle (CDKN2B) and chromatin remodeling (ARID1A). Intrahepatic cholangiocarcinoma features FGFR fusions, IDH1/2 substitutions, BRAF substitutions, and MET amplification, with a low KRAS-mutation frequency. KRAS mutations are common in extrahepatic cholangiocarcinoma (though far less common than seen in pancreatic ductal carcinoma) and uncommon in gallbladder carcinoma.
Extrahepatic cholangiocarcinoma and gallbladder carcinoma harbor ERBB2 amplifications (especially gallbladder carcinoma). PIK3CA/mTOR pathway alterations and ERBB2 amplifications occur in approximately the same proportion of gallbladder carcinoma patients as breast and upper gastroesophageal carcinoma patients.
Response to Targeted Therapies
The presence of actionable alterations qualified patients for treatment with a targeted agent, with many patients achieving durable stable disease.
For example, a 67-year-old with metastatic intrahepatic cholangiocarcinoma and a BRAF mutation had a reduction in a liver lesion, from 3.7 cm at baseline to 1.3 cm at 16 weeks, after treatment with a BRAF inhibitor. A patient with gallbladder carcinoma and an FGFR3-TACC3 fusion became stable on dovitinib. A 64-year-old with recurrent gallbladder carcinoma and an ERBB2 amplification had stable disease with trastuzumab (Herceptin) and chemotherapy.
Next Steps
Dr. Ross was asked whether there was concordance between primary and metastatic lesions. Although this information is not available from the current study, he and his team have studied this topic in other series.
"We have found that when patients are not treated with a targeted agent, there are very few changes in driver alterations. If patients are treated with a targeted agent—for example, erlotinib if they have EGFR alterations—we later pick up the T790M alteration, which we did not identify at the start of treatment," he said. "We think that targeted therapy may create genomic stress on the tumor, leading to clonal evolution and resistance mutations." ■
Disclosure: Dr. Ross is a founding strategic advisor and Medical Director of Foundation Medicine, Inc.
Reference
1. Ross JS, Wang K, Catenacci DVT, et al: Comprehensive genomic profiling of biliary tract cancers to reveal tumor-specific differences and genomic alterations. 2015 Gastrointestinal Cancers Symposium. Abstract 231. Presented January 16, 2015.
---
Related Articles
Session moderator Laura A. Dawson, MD, of the University of Toronto, commented on this study by Dr. Ross and colleagues for The ASCO Post: "Moving forward, I think we need to change the way we make treatment decisions, no question. Treatment based on profiling is the way of the future. Dr. Ross'...