Highlights From the 2014 ASCO Quality Care Symposium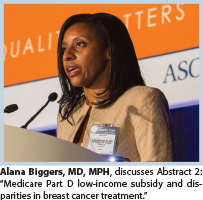 Alana Biggers, MD, MPH, discusses Abstract 2: "Medicare Part D low-income subsidy and disparities in breast cancer treatment."
The 2014 ASCO Quality Care Symposium was held October 17 to 18 in Boston and featured research on combating disparities, improving end-of-life care, and finding opportunities for cost reduction. These highlights have been adapted from ASCO Quality Care Symposium Daily News  (quality.asco.org/dn).
Participation in Tumor Boards Associated With Improved Outcomes
A study of nearly 5,000 patients with lung or colorectal cancer and 1,600 oncologists found that patients with extensive-stage small cell lung cancer and stage IV colorectal cancer had significantly lower mortality rates if treated by physicians with frequent tumor board participation (P = .05), compared to those treated by physicians with less often/never tumor board participation.1 Additionally, patients whose physicians participated in tumor boards weekly were more likely to enroll in clinical trials, compared to patients whose physicians participated less often/never (OR = 1.6, 95% confidence interval [CI] = 1.1–2.2).
Medicare Program Reduces Racial Disparities in Adherence to Hormone Therapy After Breast Cancer Surgery
A study of more than 23,299 participants suggests that women with breast cancer who are enrolled in the Medicare Part D Extra Help program, which provides low-income subsidies for medications, have greater adherence to tamoxifen or aromatase inhibitors in all racial and ethnic groups, compared to those not enrolled (white women: 71% vs 62%; black women: 67% vs 55%; Hispanic women: 71% vs 55%).2 Importantly, the study found that enrollment in the program also reduces racial and ethnic disparities in adherence. Among women not enrolled, white women had significantly higher adherence rates than black and Hispanic women (62% vs 55%).
Physician and Patient Survey Reveals Gaps in Symptom Management
A study of 2,487 patients, 4 to 12 months from a locoregional breast or colon cancer diagnosis, found that overall, 77% of the cohort reported talking to clinicians about pain, and 70% said they received advice on pain management.3 Overall, 78% of patients said they discussed fatigue symptoms, but only 61% said they received advice about managing it. Rates of discussion and advice about emotional distress were lower: Overall, 59% of patients reported discussing these symptoms, and 55% say professionals gave them advice. The study also found a gap between the number of patients who were bothered by these symptoms and those who received help. A total of 61%, 74%, and 46% of patients were bothered by pain, fatigue, and emotional distress, respectively, but only 58%, 40%, and 46%, respectively, were definitely getting help with the symptom.
Private Payer Data Help Paint Clearer Picture of End-of-Life Care
Combining data from private payers with data from cancer centers could provide a novel way of assessing the quality of end-of-life care, according to a study that analyzed patient information gathered from both Dana-Farber Cancer Institute and from Blue Cross Blue Shield of Massachusetts.4 The study found that in the last 30 days of life, 59.6% of the 674 patients studied were hospitalized, and in that same time period, 47.8% of patients visited the emergency department, 8.5% underwent radiation, 30.6% underwent red blood cell transfusion, and 5.9% received a platelet transfusion. The study also found that 82 patients (12.2%) died in the intensive care unit, and 193 patients (28.6%) died in an acute care facility. ■
References
1. Kehl KL, Landrum MB, Kahn KL, et al: Tumor boards among physicians caring for lung and colorectal cancer patients. 2014 ASCO Quality Care Symposium. Abstract 179. Presented October 17, 2014.
2. Biggers A, Neuner J, Smith E, et al: Medicare Part D low-income subsidy and disparities in breast cancer treatment. 2014 ASCO Quality Care Symposium. Abstract 2. Presented October 17, 2014.
3. Smith T, Castro K, Troeschel A, et al: Developing symptom management quality improvement reports with data from a registry-based patient reported outcomes (PRO) collection method. 2014 ASCO Quality Care Symposium. Abstract 180. Presented October 17, 2014.
4. Stuver SO, Fraile B, Donohue CC, et al: Novel data sharing between a comprehensive cancer center and a private payer to better understand care at the end of life. 2014 ASCO Quality Care Symposium. Abstract 1. Presented October 17, 2014.
Originally printed in ASCO Connection. © American Society of Clinical Oncology. Highlights from the 2014 Quality Care Symposium. ASCO Connection, January 2015: 28. All rights reserved.
---