First-Line Obinutuzumab/Chlorambucil Improves Outcomes Over Rituximab/Chlorambucil in Older CLL Patients With Comorbidities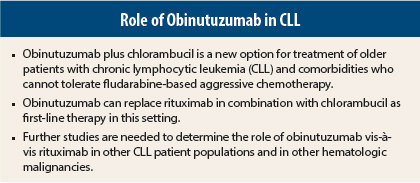 Role of Obinutuzumab in CLL

Valentin Goede, MD
These findings are significant and potentially practice-changing for this large patient population of older CLL patients with comorbidities.

—Valentin Goede, MD
Obinutuzumab (Gazyva) plus chloramubucil outperformed rituximab (Rituxan) plus chlorambucil (Leukeran) as first-line therapy in older patients with chronic lymphocytic leukemia (CLL) and comorbidities in the large CLL 11 trial. Final results showed that obinutuzumab/chloramubucil improved overall survival compared to chlorambucil alone and improved progression-free survival, complete response rate, and minimal residual disease status compared to chlorambucil/rituximab.
"These results suggest that obinutuzumab can replace rituximab in combination with chlorambucil as first-line therapy in older patients with comorbidities. This could mean a potential decrease in the amount of chemotherapy required for an effective combination regimen, translating to less toxicity for patients," said Valentin Goede, MD, a hematologist/oncologist and gerontologist at University Hospital Cologne, Germany, who presented the results during the Plenary Session at the 2013 Annual Meeting of the American Society of Hematology (ASH).1
"These findings are significant and potentially practice-changing for this large patient population of older CLL patients with comorbidities," he stated at a press conference.
Obinutuzumab, an anti-CD20 antibody, is more potent than the anti-CD20 antibody rituximab, a current standard of care. Experts have said that obinutuzumab may turn out to be superior to rituximab in other patient populations as well as other hematologic malignancies, but those data are not yet available.
CLL 11 Study
The CLL 11 study randomly assigned 781 patients in a 2:1:2 ratio to three arms: obinutuzumab/chloramubucil for six cycles, chlorambucil for six cycles (control), or rituximab/chlorambucil for six cycles.
Median age of patients was 73 years, and almost 40% were older than age 75. Patients had typical age-related comorbidities, including cardiovascular disease, chronic obstructive pulmonary disease, hypertension, diabetes, and hyperlipidemia and were taking medications for these conditions.
"Looking at this group of patients together, experts would agree they are less suitable for aggressive fludarabine-based chemotherapy," Dr. Goede said.
Obinutuzumab/chloramubucil was associated with more grade 3 or higher adverse events than rituximab/chlorambucil—in particular, infusion-related reactions that occur during the first infusion (20% vs 4%, respectively). "We are vigilant about preventing these reactions to increase safety," Dr. Goede said. No increased risk of infection was observed with obinutuzumab/chloramubucil.
More grade 3 or higher thrombocytopenia (10% vs 3%) and neutropenia (33% vs 28%) were seen in the obinutuzumab/chloramubucil arm, compared with the rituximab/
chlorambucil arm.
Key Data
Overall response rate was higher with obinutuzumab/chloramubucil vs rituximab/chlorambucil: 78% vs 65% (P < .0001). Obinutuzumab/chloramubucil was also superior in eradicating detectable disease in the bone marrow and in blood; the rate of minimal residual disease–negative status in bone marrow was 19.5% for obinutuzumab/chloramubucil vs 2.6% for rituximab/chlorambucil (P < .0001). Minimal residual disease–negative status in blood was observed in 37.3% vs 3.3% of the two groups, respectively (P < .0001).
For the primary endpoint, obinutuzumab/chloramubucil led to a 61% improvement in the likelihood of being progression-free during the study follow-up so far, compared with rituximab/chlorambucil. Median progression-free survival was 26.7 vs 15.2 months in these two groups, respectively (P < .0001), and 11.1 months for the chlorambucil-alone control arm (P < .0001, compared with obinutuzumab/chlorambucil).
Overall survival data are not yet mature, but at present obinutuzumab/chloramubucil "is significantly better" than chlorambucil alone, Dr. Goede noted (P = .0022). ■
Disclosure: Dr. Goede has received honoraria from Mundipharma and F. Hoffmann-La Roche, research funding from F. Hoffmann-La Roche, and is an advisor for F. Hoffmann-La Roche.
Reference
1. Goede V, Fischer K, Busch R, et al: Head-to-head comparison of obinutuzumab (GA101) plus chlorambucil versus rituximab plus chlorambucil in patients with chronic lymphocytic leukemia and co-existing medical conditions (comorbidities). ASH Annual Meeting. Abstract 6. Presented
December 8, 2013.
---
Related Articles
Two novel agents have shown promising activity in chronic lymphocytic leukemia (CLL), including poor-risk patients: the Bcl-2 inhibitor ABT-199 and the small-molecule PI3K inhibitor IPI-145. Both drugs achieved excellent response rates in heavily pretreated relapsed/refractory patients including...
Commenting on the CLL 11 trial in chronic lymphocytic leukemia (CLL), Jennifer R. Brown, MD, PhD, Director of the CLL Center at Dana-Farber Cancer Institute, Boston, said she agreed with first author Valentin Goede, MD, that in this study, replacing rituximab (Rituxan) with obinutuzumab (Gazyva) in ...