Capecitabine Acceptable in Neoadjuvant Rectal Cancer Setting


Carmen J. Allegra, MD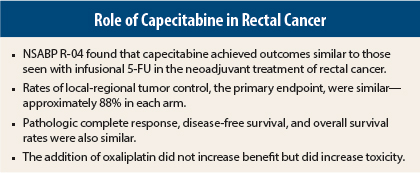 Role of Capecitabine in Rectal Cancer
This study establishes capecitabine as a standard of care in the preoperative rectal cancer setting.

—Carmen J. Allegra, MD
As neoadjuvant therapy for rectal cancer, infusional fluorouracil (5-FU) and oral capecitabine achieve similar outcomes, and the addition of oxaliplatin confers no additional benefit, according to the mature results of the National Surgical Adjuvant Breast and Bowel Project (NSABP) R-04 trial, which were presented at the 2014 Gastrointestinal Cancers Symposium in San Francisco.1
"Because the use of oral capecitabine avoids the need for central venous catheters and ambulatory infusions pumps, it can be considered a new standard of care in this setting," said Carmen J. ­Allegra, MD, Professor of Medicine and Chief of Hematology/Oncology at the University of Florida, Gainesville.
He further commented to The ASCO Post on the importance of having data confirming the lack of benefit with oxaliplatin. "I think while many physicians are already using capecitabine, many are also using a lot of oxaliplatin, and they have been doing it without data. Now we have negative data," he said.
Study Details
NSABP R-04 compared 5-FU and capecitabine combined with pelvic radiation therapy preoperatively in 1,608 patients with stage II or III rectal cancer, and evaluated whether the addition of oxaliplatin would improve outcomes.
Patients were randomly assigned to one of four treatment arms, each of which included radiation. Chemotherapy regimens were assigned in a 2×2 design: continuous-infusion 5-FU (225 mg/m2 for 5 days per week) with or without oxaliplatin (50 mg/m2 per week for 5 weeks), or capecitabine (825 mg/m2 twice daily for 5 days per week) with or without oxaliplatin (50 mg/m2 per week for 5 weeks). The primary endpoint of local-regional tumor control included local-regional tumor recurrence, complete surgical resection (> R0), and no surgery.
The preliminary findings, presented at the 2011 ASCO Annual Meeting, were that capecitabine and preoperative radiation achieved rates similar to continuous infusional 5-FU for surgical downstaging, sphincter-sparing surgery, and pathologic complete response rates, and the addition of oxaliplatin did not improve outcomes.2
Outcomes Similar in Both Arms
The study found no significant differences in local-regional tumor control, disease-free survival, or overall survival between regimens for the comparison of 5-FU and capecitabine, and the comparison of oxaliplatin vs no oxaliplatin, Dr. Allegra reported.
"Clearly, there was no difference in the use of either fluoropyrimidine or the use, or nonuse, of oxaliplatin," he said.
An analysis of the primary endpoint showed that 3-year rates of local-regional tumor control ranged from 87.4% to 88.2%. At 3 years, the rates of local-regional recurrence among patients who had an R0 resection ranged from 2% to 4% for patients with stage II disease, and from 4% to 11% for those with stage III disease.
By 5 years, distant metastases developed in 16% of stage II patients and 26% of stage III patients. About 80% of each arm were alive 5 years after surgery.
From 84% to 97% of patients received more than 80% of the optimal chemotherapy dose in combination with preoperative radiotherapy.
Adverse event rates were similar for 5-FU and capecitabine. "The addition of oxaliplatin provided no improvement in outcomes but did add significant toxicity," including more grade 3/4 diarrhea (P < .0001), he reported.
Dr. Allegra noted that capecitabine is more expensive than 5-FU; however, it also costs more to maintain a port and administer the infusion.
"This study establishes capecitabine as a standard of care in the preoperative rectal cancer setting," he concluded.
The study also has a large quality-of-life component, and results from this are expected in 2015. ■
Disclosure: Dr. Allegra reported no potential conflicts of interest.
References
1. Allegra CJ, Yothers G, O'Connell MJ, et al: Neoadjuvant therapy for rectal cancer: Mature results from NSABP protocol R-04. 2014 Gastrointestinal Cancers Symposium. Abstract 390. Presented January 18, 2014.
2. Roh MS, Yothers GA, O'Connell MJ, et al: The impact of capecitabine and oxaliplatin in the preoperative multimodality treatment in patients with carcinoma of the rectum: NSABP R-04. 2011 ASCO Annual Meeting. Abstract 3503. Presented June 4, 2011.
---