The Career Development Award (CDA) is a 3-year grant totaling $200,000 to provide funding to clinical investigators who have received their initial faculty appointment, to establish an independent clinical cancer research program. This research must have a patient-oriented focus, including a clinical research study and/or translational research involving human subjects.
The grant was first awarded in 1992. ■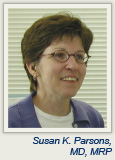 Like all pediatric oncologists, Susan K. Parsons, MD, MRP, knows that when a child is diagnosed with cancer, it happens to the whole family.
Siblings must cope with everything from disruption of routine to reduced parental attention, to the often-new possibility of mortality. Parents must navigate ...
Through the Conquer Cancer Foundation Leadership to Legacy campaign, ASCO members and other field leaders have the opportunity to personally invest in the future of oncology by supporting the work of its most talented young researchers. Contributions to the Leadership to Legacy campaign not only...