Genomics Projects Plumb Breast Cancer's Inner Workings

Two large collaborative genomics projects are producing new and sometimes surprising findings about what makes breast cancers tick—information that may ultimately be applied to improve clinical outcomes. In a special session titled "Genome Data for the Masses: Presentation of TCGA and ICGC Breast Tumor Data," speakers at the San Antonio Breast Cancer Symposium offered overviews of these ongoing projects.
Comprehensive Approach

The Cancer Genome Atlas (TCGA) project (http://cancergenome.nih.gov), a joint effort of about 20 U.S. institutions, is exhaustively characterizing 1,000 breast cancers.1 Various labs prepare specimens, perform assays, generate genomic data, and analyze results, and clinical experts help to integrate and interpret the findings.
"TCGA provides a really comprehensive approach to the disease," commented Elaine R. Mardis, PhD, of the Washington University School of Medicine in St. Louis. "The comprehensive nature of the data provides for a much richer final product, if you will, because of that expertise across the genomic spectrum."
In analyses of the first 507 breast cancers, sequencing of the exome (the exons of the most annotated human genes) has identified significant mutations in dozens of genes, Dr. Mardis reported. Some of the most commonly mutated ones—PIK3CA, TP53, and GATA3—have previously been implicated in breast cancer. But there are also a host of new ones, such as MAP3K1.
Additionally, analyses are suggesting correlations between mutations and clinical phenotypes that may have relevance for treatment. For instance, several dozen significantly mutated genes have been identified in luminal A cancers; in contrast, only a handful have been identified in basal-like cancers, with mutations of TP53 predominating.
"I think this reflects the clinical situation when looking for targeted therapies in basal subtype disease. There aren't a lot of therapeutic options that are being identified for patients" having those tumors, Dr. Mardis said.
Vast Heterogeneity Discovered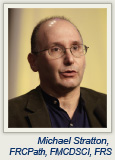 The International Cancer Genome Consortium (ICGC) project (http://www.icgc.org), a collaborative effort of about 40 laboratories worldwide, is performing detailed analysis of 1,500 breast cancers.2
Results for the first 69 cancers are providing a wealth of information about driving mutations, according to investigator Michael Stratton, FRCPath, FMCDSCI, FRS, of the Wellcome Trust Sanger Institute, Hinxton, Cambridge, the United Kingdom.
Exome sequencing here has likewise identified a variety of mutated genes not previously recognized to have a role in the disease. "The majority of new genes that are being discovered are recessive cancer genes, tumor suppressor genes," he noted.
In total, 34 genes (old and new) have been found to have driving mutations, a list that is likely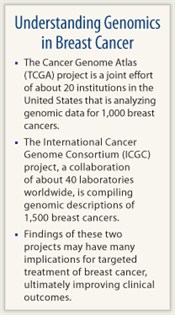 to get even longer, according to Dr. Stratton. The most commonly mutated genes—typically the most attractive as drug targets—are PIK3CA and TP53. However, when combined, less commonly mutated genes make up about half of the total. "So we cannot ignore these infrequently mutated cancer genes: They are collectively contributing substantially," he commented.
"The disease is proving to be extremely heterogeneous," Dr. Stratton further noted, showing examples of three cancers to demonstrate the point. Although all of the cancers had driving mutations in four genes, they did not share a single mutated gene in common.
"Nevertheless, for the pathologist and for the clinician, these would be called ductal carcinoma of the breast, they would be ER-positive and HER2-negative. Despite all having that same description on which treatment would be based, they are genetically completely different animals," he said.
Whether this is important clinically is not yet clear. However, "it would be extremely surprising to me if this diversity of genetic drive to these cancers did not have some sort of phenotypic effect on their biology, their behavior, and their response to treatment," Dr. Stratton concluded. ■
Disclosure: Drs. Mardis and Stratton reported no potential conflicts of interest.
Expert Point of View: Genomics Projects Plumb Breast Cancer's Inner Workings
References
1. Mardis ER: TCGA breast cancer sequencing: Results and interpretation. San Antonio Breast Cancer Symposium. Special Report. Presented December 10, 2011.
2. Stratton M: Diverse patterns of mutation in breast cancer genomes. San Antonio Breast Cancer Symposium. Special Report. Presented December 10, 2011.
---
Related Articles

Charles M. Perou, PhD, the May Goldman Shaw Distinguished Professor of Molecular Oncology at the University of North Carolina, Chapel Hill, commented on the research being conducted by The Cancer Genome Atlas (TCGA) and the International Cancer Genome Consortium (ICGC).
"The TCGA and ICGC efforts...