Turning Point

On a cool, gray November morning, I took the call from a walk-in doctor about Carla, a 26-year-old woman with progressive lymphadenopathy who was refusing investigations because of severe needle phobia. Carla was willing to meet with me to discuss treatment options for a suspected diagnosis of lymphoma. I was not sure what to expect in that first meeting, as she had canceled her appointment a few times. According to the nurses, she had sobbed inconsolably when her blood pressure was taken, fearful even of the dark plastic cuff hugging her arm.
First Impressions
When I walked into the examination room, however, Carla was composed and pleasant. Her mother and husband were with her. She greeted me with "Hey doc, I hear you're going to make me better." The story of how she became aware of the lymph nodes, their progressive growth, and the pain they caused gradually unfolded. She initially attributed the lumps in her neck to a head cold but began to suspect something more sinister when they continued to grow. Despite her concerns, Carla could not face seeing a doctor as she knew this would lead to tests, and tests meant needle pokes.
"Through caring for Carla, I learned the value of harnessing a team's collective efforts to help manage complex cases, as we cannot do it alone."

— Deepa Wadhwa, MD




Tweet this quote



By that first appointment, Carla was requiring opioids to manage the severe pain in her neck. The adenopathy and edema in her neck extended to one side of her chest, which was flushed a bright pink. Her skin was otherwise pale, and her hair a wispy, dull brown set against her lively blue eyes, and a smile that flickered readily and often. Colorful tattoos of birds, trees, and the sun spiraled along her arms and back, and several shiny silver piercings studded her face. She was clad in a simple white T-shirt over stretchy black trousers. When I measured the largest palpable node under her arm, she wryly commented: "I call that big one 'Bubba.'"
We spoke about the need for diagnosis before treatment. "There is no way I am having any kind of needle unless you knock me out first," Carla said to me. She expressed a startling fatalism: "I'm not scared of death; I'm ready to go if I have to." She believed that patients often suffered through chemotherapy without gain, only to die of their disease.
Her mother, a tall woman with tobacco-stained fingers and the same brown wisps as Carla, and her husband, a gaunt young man with a mop of black hair, tried to reason with her, not concealing their frustration. At one point, her mother exclaimed: "Carla, I really don't have time for this. Why do you always have to be so stubborn?" I quietly observed the biting back and forth between husband and wife while wondering about Carla's upbringing and home life.
Next Steps
We discussed next steps in management. Carla agreed to a referral for an excisional biopsy under general anesthesia. We arranged a blood test and intravenous (IV) insertion for the computed tomography scan together, but Carla panicked twice and fled the operating room, petrified when confronted with the IV cannula. Topical lidocaine, sedatives, and constant reassurance by the operating room staff helped none; finally, on the third try, Carla connected with a particular anesthesiologist who got her through the testing.
Carla's fear of needles despite her many piercings and tattoos had puzzled me from the start. I asked her about it when I noticed one of her more elaborate tattoos, a cardinal with outstretched wings. She then told me: "I know people wonder how it is that I can have those needles…but somehow, it's different. I don't really feel it when I'm getting a new design or piercing. I can't explain it, but it doesn't hurt at all."
"Imbuing our clinical care with kindness and depth of connection can offer more than the aspiration for a cure."

— Deepa Wadhwa, MD




Tweet this quote



I asked a psychiatry colleague to assess Carla for her needle phobia and possible desensitization. Initially, the sessions went well, but when the psychiatrist attempted to challenge some of her beliefs about treatment and interventions, she bristled at what she described as his hostile and interrogatory manner. She refused to attend further sessions.
We spoke often leading up to her diagnosis. Carla had many questions and symptoms and needed considerable reassurance. Until she had a diagnosis, I could not formulate a treatment plan, and there were times when I had trouble hiding my frustration and growing sense of helplessness. As her only constant care provider, I made calls on her behalf, pleading with consultants and hospital staff for the multiple biopsy attempts. I often resented how much time and mental energy Carla's care demanded when I had a busy practice of other complex patients with established cancer diagnoses who needed my attention. Fortunately, my calls to colleagues were usually met with understanding and a desire to help.
More Than Just Treatment for Hodgkin Lymphoma
The biopsy confirmed our suspicions. Carla had advanced, bulky Hodgkin lymphoma and needed chemotherapy. The side effects did not worry her as much as the potential for pain and further blood pokes. Fortunately, by the start of treatment, she had a central IV access line, which she protected fiercely.
Carla handled treatment well, and the lymph node masses shrank. A positron-emission tomography scan confirmed response after two cycles, but there were still shadowy luminescent areas of yellow and red on the screen, where the disease was smoldering and alive. By the end of treatment, these embers flared, and Carla's lymphoma continued its insidious progress despite salvage chemotherapy and stem cell transplantation.
We sat together in the late spring sun-lit chemotherapy room as I broke the news that she already intuited after noticing a new lump on her chest. I told her that her cancer was no longer curable, but we hoped that with newer treatments, we might be able to control her disease for a prolonged period. Carla became silent, her head low and now adorned with a filmy gray scarf in place of her brown wisps. After a few moments, she looked up, her eyes brimming with tears, took a deep breath, and asked about next steps.
A few days later, I heard from our social worker that Carla had called the police following an assault by her husband, sadly just the most recent of a series. I was blindsided by the news. I thought back to all the times over the past months when, preoccupied by a call from the ward or a growing queue of patients, I might have cut things short with Carla and prevented her from opening up on what was happening at home. She was badly shaken and had decided to leave her husband. I worried about her well-being and how these recent events would affect her care. She remained engaged, however, and came for her scheduled tests and appointments and met with our counselors for ongoing support. She told me that her team at the cancer center had become like a new family to her.
A New Path Forward
Carla recently started immunotherapy and is responding well to treatment. Her lymphadenopathy has regressed, and she is more optimistic than she has been in a long time. She is looking ahead and contemplating becoming a foster parent. She diligently attends appointments with friends who form her new support network. Now, 4 years after the initial symptoms, there is a renewed energy and reassuring maturity about her. She knows immunotherapy is unlikely to be a cure and is aware she could still die of her disease yet remains hopeful and recently told me how happy she is with how far she has come. She has a catheter in place for easy blood draws and has agreed to the required post-transplant immunizations, things she could not have fathomed doing before her illness.
Carla's cancer journey marked a significant turning point in her life. In the face of a devastating cancer diagnosis and the end of her marriage, she forged a new path forward in her life—one of optimism and determination. I believe that Carla's experience embodies the refocusing and reclaiming of life that Ron Epstein refers to in his book Attending:Medicine, Mindfulness and Humanity.1 According to Mr. Epstein, patients often try to make sense of their illness, and some may even view it as an opportunity for a fresh start. For young adults, this recognition may be even more significant, as a cancer diagnosis often occurs at critical junctures and can influence life beyond disease and treatment.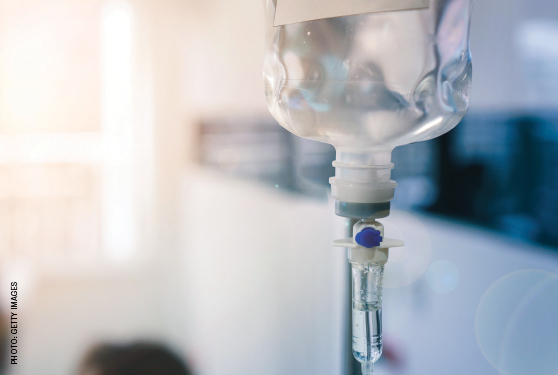 Suleika Jaouad captured this vividly in describing her own experience with leukemia in her 20s: "The tangling of so much cruelty and beauty has made of my life a strange, discordant landscape. It has left me with an awareness that haunts the edges of my vision—it can all be lost in a moment—but it's also given me a jeweler's eye."2
Lessons Learned
Through caring for Carla, I learned to be more accepting of uncertainty and powerlessness as I continued to support her despite the challenges, setbacks, and contradictions. I learned the value of harnessing a team's collective efforts to help manage complex cases, as we cannot do it alone. I also learned to be curious when faced with frustration. Curiosity helped bring Carla's humanity into sharp focus, in all its dissonant beauty.
Finally, I have come to realize there are many factors beyond disease biology out of our control, including personal and situational circumstances as well as a patient's resiliency and adaptation to the many faceted challenges of a serious illness. Regardless of the obstacles, I believe it is within our power to be kind, consistent, and do what we can to maintain relationships. Imbuing our clinical care with kindness and depth of connection can offer more than the aspiration for a cure. For Carla, I wonder if the strength of the relationships and support she received through our team played a part in helping her summon the courage to refocus and reclaim her life in the brave way that she has. 
DISCLOSURE: Dr. Wadhwa reported no conflicts of interest.
REFERENCES
1. Ross V: Review of Attending: Medicine, Mindfulness and Humanity by Ronald Epstein, MD. Families, Systems & Health 36:127-128, 2018.
2. Jaouad S: Between Two Kingdoms: A Memoir of a Life Interrupted, pp 340-341. New York, NY: Penguin Random House; 2021.
This article was originally published in the Journal of Clinical Oncology (March 2022). © 2022 American Society of Clinical Oncology. All rights reserved. At the time of publication, Dr. Wadhwa worked in the Division of Medical Oncology, Credit Valley Hospital, Trillium Health Partners, Mississauga, Ontario, Canada.
---