An International Leader Bridges the Political Divide in the Name of Humanity and Cancer Care
Michael Silbermann, DMD, PhD

Michael Silbermann, DMD, PhD, was born on January 19, 1935, in the old quarter of Acre, a northern Arab city stretching along the north end of the Bay of Haifa in present-day Israel. "Acre, which was developed more than 4,000 years ago, was one of the primary harbors of the Phoenician people. Visitors are greeted by a large plaque listing those who came to Acre in war and peace, such as Alexander the Great, the Romans, the Muslims, the Crusaders, and Napoleon Bonaparte, whose conquering exploits ended in Acre. Given its remarkable history, I'm very proud to have been born here," said Dr. Silbermann.
He continued: "My parents emigrated to Acre in 1934, soon after the Nazi Party gained control of the German government. My parents did not speak a word of Arabic, but they fit in with the culture. My father was a dental surgeon, and shortly after arriving, he opened a clinic and began treating Arab patients. As you can imagine, there were significant language and cultural challenges, but they didn't get in the way of his practice, as he believed that medicine was a universal language. Our living conditions were very humble; in fact, the water in the old quarter of Acre where we lived was supplied by a Roman aqueduct built 1,800 years ago, which showed its age. But my parents were happy to be there instead of Nazi Germany."
Michael Silbermann, DMD, PhD

TITLE: Executive Director, Middle East Cancer Consortium
MEDICAL DEGREE: DMD, Hebrew University–Hadassah Faculty of Dentistry; PhD, Tufts University Medical School
ON HIS WORK WITH THE MIDDLE EAST CANCER CONSORTIUM: "Despite our differences and past problems, the mission to alleviate the suffering of cancer has a universal message, one that overcomes the most difficult political strife. Think of it: We had a Turk and Cypriot sitting down at the same table, something that no one would have believed to be possible. And in the ensuing years, we made progress through creative collaboration among people who had been sworn enemies."
A Warning in the Night
The peaceful existence in the Silbermann's new home away from Nazi tyranny came to an end when the Arab-Jewish riots broke out in Palestine, about 10 months after Dr. Silbermann was born. "At midnight, a family friend who was an Armenian pharmacist knocked at my parent's apartment door and told my father that he'd just come from the market and had overheard a gang of men planning to murder the family. So, my father had a scooter, and with my mother and me and a few clothes, he raced out of the city to Nahariya, a settlement established by other Jews who had also escaped Nazi Germany. Unfortunately, more rioting broke out, and we were forced to continue running until we made a new home in the Haifa Bay area," said Dr. Silbermann. "The main reason Arabs in Palestine wanted us out was that they feared Jews escaping Germany would infect the Arab culture with Western values that ran contrary to Islamic teachings."
When World War II broke out, Dr. Silbermann recalled the Germans bombing the oil refineries in the harbor near their home, and British troops encamped in the surrounding area, creating a sense of impending doom. Moreover, members of the Silbermann family were dying in Nazi concentration camps. However, it was a postwar conflict during his early teens that he recalls as the most traumatizing of all. "During Israel's War of Independence in 1948, 43 of our family friends were ambushed and killed as they traveled in a convoy to a Jewish far-off community for safety. It had a deep effect on my childhood experience, which was transformative in my future work to bridge the gap between Jews and Arabs," said Dr. Silbermann.
Following in His Father's Footsteps
Dr. Silbermann graduated from high school as an accomplished student, not only in literature and science, but also in the Arabic language and literature. "My dream was to be an Israeli ambassador in a country in the Arab-speaking world. But military service in Israel is obligatory, so after high school I joined the Israeli Defense Forces, completing my service in 1955. During my service, they had opened a new dental school in Jerusalem, and my father, having decided I should follow in his footsteps, enrolled me without my knowledge. At that time, a father's decision was, more or less, law, so I shrugged my shoulders and moved to Jerusalem to study dentistry at the new Hebrew University–Hadassah Faculty of Dental Medicine," said Dr. Silbermann.
Dr. Silbermann explained that unlike the United States, dental school in Israel is 6 years, with the first 4 years being spent in medical training alongside aspiring medical doctors. During that time, Dr. -Silbermann represented Israel at an international work camp held on the island of Cephalonia in Greece, which was badly damaged by devastating earthquakes earlier that year. The work camp was planned by the Civil Service International in Switzerland, gathering like-minded people from the Middle East who believed that humanity could prevail over bitter political conflicts. After the work camp, Dr. Silbermann continued on to the Italian village of Affile, on the outskirts of Rome, to join another international effort organized by UNESCO to assist local people in improving the condition of the poor and underprivileged.
"After my studies, I was accepted into a general surgical training program, which gave me a very good foundational understanding of the field. I really wanted to go to the United States for further training, and after graduating dental school in 1961, I was overjoyed to be accepted to a specialty program in maxillofacial surgery at Boston University. Doctors from other countries who go to the United States must pass a series of strict exams before being able to practice medicine or dentistry; however, I was fortunate that two countries in the world at that time were exempt from this requirement: Sweden and Israel," said Dr. Silbermann.
After a year at Boston University, Dr. Silbermann went to Boston City Hospital, becoming chief resident after completing his first-year internship. "During a grand round, I was presenting cases and asked my supervisor why the same protocol we use in the operating room on 10 patients works well for 9 but fails for the 10th. To which he answered: 'Young man if you're so curious about it, go find out!' It was just the answer I was looking for, and I spontaneously said that I would. I received an NIH Young Scientist's Career Award that I was able to use to fund a PhD program in basic science at Tufts University Medical School in Boston," said Dr. Silbermann.
After completing his PhD, Dr. Silbermann was offered a faculty position at Tufts. His wife, a pediatric dentist, had a position at Harvard University in which she was thriving, so it appeared the young couple had found a home in Boston, a place to grow their careers and prosper. However, that path hit a fork in the road when Dr. Silbermann was given an offer he couldn't refuse. "A call came out of the blue from Israel from the chief of surgery at Rambam Hospital, the main health institution in Haifa. He said he was flying to Boston to talk with me about an exciting development. A new medical school was being built at Technion, the Israel Institute of Technology in Haifa, and when he arrived, I was offered a position to help build it from the ground up. It was really a unique opportunity and after discussing it with my wife, I accepted. Soon after, we said goodbye to Boston and returned home to Haifa," said Dr. Silberman.
President Clinton's Story
Dr. Silbermann rolled up his sleeves and began the process of building a new medical school at the Technion–Israel Institute of Technology in Haifa, which is the top-ranked technical university globally. When the institute opened, Dr. Silbermann assumed the position of Chair of the Department of Anatomy and Cell Biology, a position he held for 20 years, along with a decade-long stint as Director of the Laboratory for Musculoskeletal Research. "During this time, I was elected as the faculty'sdean, but after my first term, the Ministry of Health contacted the Technion and asked to 'lend' me to the Ministry, where I was appointed as the Chief Scientist in January 1993," said Dr. Silbermann.
That same year, President Bill Clinton signed the historic Oslo Peace Accord at the White House, which would have an unsuspected effect on Dr. -Silbermann's career. "Dr. Efraim Sneh, Israel's Minister of Health, had returned to Washington, DC, and told me that President Clinton had shared a story from his youth about his beloved mother who had died of cancer. During her final days, she had asked her son to use his enormous influence as President to help as many people with cancer as possible. President Clinton saw an opportunity to grant his mother's request and also to help foster better relations between Arabs and Israelis by establishing a Middle East Cancer Consortium—in other words, using the universal impact of cancer to bridge the sociopolitical differences between people," said Dr. Silbermann.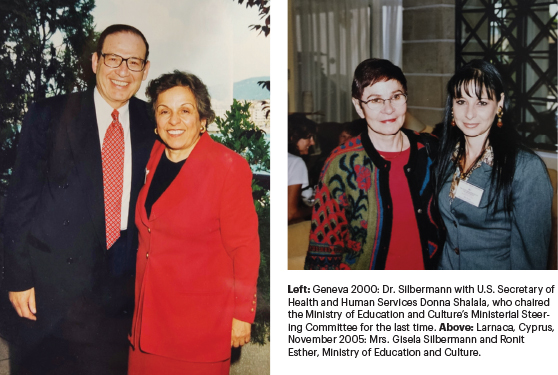 As it turned out, President Clinton also shared his grand idea with his own Secretary of Health and Human Services (HHS), Donna Shalala, who then approached NIH Director Harold Varmus, MD, who was so supportive of the idea that he shared the idea with NCI Director Richard Klausner, MD, who decided to go to Israel to meet with Dr. Silbermann. "I met with Dr. Klausner, and we had a very productive discussion. He wanted me to design and lead the Middle East Cancer Consortium. I was intrigued by the challenge and opportunity; however, I shared with Dr. -Klausner my concerns about the legal challenges to such a broad-based initiative, given the political climate. He assured me that any obstacle could be overcome. So, I flew to Washington and attended a meeting at the legal branch of the U.S. State Department, where an international agreement was worked out. It was a whirlwind period, which culminated in 1996 at the World Health Assembly meeting in Geneva, when the participating Ministers of Health signed the Cancer Consortium's charter, which was originally signed by the United States, Israel, Jordan, Egypt, Palestine, Cyprus, and Turkey. Although these nations are the full members, we have engaged the participation of more than 20 countries in the Middle East," said Dr. Silbermann.
According to Dr. Silbermann, the member meetings were filled with a certain amount of tension, given that Israel had no diplomatic relationship with about 80% of the countries with which the Consortium was working. "Yet despite our differences and past problems, the mission to alleviate the suffering of cancer has a universal message, one that overcomes the most difficult political strife. Think of it: We had a Turk and Cypriot sitting down at the same table, something that no one would have believed to be possible. And in the ensuing years, we made progress through creative collaboration among people who had been sworn enemies. It shows you that if you find common ground in something, as we did with cancer, it can be used to build stronger relationships over time," said Dr. Silbermann. "I'm very proud of the work we did, which has enabled us to relieve a great deal of suffering in the region."
Dr. Silbermann explained that the Middle East Cancer Consortium built on its success and followed up with an ambitious project that established a regional network of cancer registries designed to gauge and quantify the burden of disease from country to country. "We launched the project in 1997 and began documenting the incidence of various cancers and stage of the disease at diagnosis. One sobering discovery was that except for Israel, more that 70% of patients with cancer in the Middle East presented with stage III or IV disease at their first medical visit," said Dr. Silbermann.
One of the most underserved needs in the Middle East is palliative care, especially cancer pain control, which is partly due to a cultural taboo about opioids. "The Middle East Cancer Consortium established a baseline of information on palliative care services, examining the barriers so we can offer solutions. In many Arab nations, cancer is still stigmatized; people simply don't talk about it. So, we faced a huge challenge in educating people about palliative care services. I spend most of my time now in palliative care, trying to help relieve unnecessary suffering. I'm proud of the advances we've made, despite the barriers we have faced. No one should die in pain," said Dr. Silbermann.
Intellectual Pursuits to Decompress
What does an international leader in oncology do to destress? "First of all, I love my work so much that I am never stressed out. It has been a life-long passion, and I have never once regretted my career path. Helping the sick is a noble profession, and I encourage young people to consider it, as it will fulfill you in ways that most professions do not. However, if I do find myself physically and emotionally drained, I sit down to some intellectual work, mainly reading and writing. I have published six books and countless papers and journal articles, so that's how I relax. I love to translate what I learn into something tangible, hopefully something that makes a difference, even in a small way," concluded Dr. Silbermann. 
---