A Personal Cancer Journey Shifts a Career in the Arts to a Career in Radiation Oncology
Fumiko Chino, MD

It is safe to assume that most oncologists take a fairly straight career path, beginning with the decision to become a doctor. Along the educational journey from medical school to fellowship, an event or mentor usually incites the passion to pursue the challenging field of oncology. Although Fumiko Chino, MD, took a longer and bumpier road to oncology than most, the lessons learned along the way helped shape her career in radiation oncology.
Dr. Chino is the youngest of seven children and grew up in what she described as a "Brady Bunch" family, the product of two divorced parents, where she had to yell over the din of the crowd to be heard. "There were only 6 years between the seven of us kids, so we were a very tight-knit group. I was born in California, but we moved to Indiana when I was 5, so I'm really a Hoosier."
Dr. Chino spoke of her mother as a true role model. "My mother is a radiation oncologist, and as a young girl, I was so proud that she did such important work. It was the early 80s, and being a female physician, especially in the Midwest, wasn't common. My mother worked long hours caring for her patients and really fought hard to balance her career and her family. She was the primary role model for me as a young girl," said Dr. Chino. "My mother was one of the first radiation oncologists in the state to adopt emerging technologies like three-dimensional image-based treatment planning and intensity-modulated radiation therapy."
Fumiko Chino, MD

TITLE: Radiation oncologist, affiliated with Memorial Sloan Kettering Cancer Center
MEDICAL DEGREE: MD, Duke University School of Medicine
ON WORKING AT MEMORIAL SLOAN KETTERING CANCER CENTER: "MSK fosters a culture of not cloistering the best and brightest within its walls; it looks for ways to open its doors and provide more access and inclusivity. I'm very fortunate to be at an institution that values and supports the work I do."
Dr. Chino continued: "Being a half Japanese girl in a small town in Indiana presented its own unique challenges. Although Indiana is fairly homogeneously White, we lived in West Lafayette, home to Purdue University, which brought a diverse population of students from around the country and the world. That said, looking back, I think the root of some of the work I do in health-care disparities, equity, and inclusion reaches back to the childhood experience of feeling out of place. My stepfather and my mother are White, so from the outside, it looked like they got married and adopted a bunch of Asian kids with funny names. That sense of being 'the other' during childhood shaped my later worldview and career path."
Arts and Science
Dr. Chino said she was fortunate to be reared in a family that stressed the value of higher education and a rewarding career. "I went to a highly regarded high school in Indiana, where virtually everyone went on to college. When I was thinking about college and careers, I was torn between two worlds—art and science—and initially veered toward art," she shared. 
In 1995, Dr. Chino left Indiana and entered the University of Houston (UH) on a full scholarship to pursue a BFA in studio photography/digital imaging. Along with its robust fine arts program, UH also offered solid science programs. "My original intention was to pursue a double degree, a BFA and a BS in biology, but since art and science were two distinct disciplines, UH disallowed it. After graduating in 2000, I worked in the art world at an entertainment company, which was very fulfilling. During that period, I met my future husband, Andrew Ladd, who was a computer scientist working on his doctorate and an avid music lover. So, we were very compatible on many levels," explained Dr. Chino.
Shortly after the young couple were engaged, Dr. Chino's fiancé began having intermittent physical symptoms, which given his young age and vitality were treated with casual dismissal until he experienced rapid weight loss. "When Andrew's doctors finally took him seriously,  a scan was ordered, and we discovered he had widespread lymph node metastases in his abdomen with a mass compressing his pancreas. Naturally, we were devastated. His difficult clinical journey, which encompassed multiple hospitals  and doctors before we ultimately found the correct treatment team, would later inform my interest in the financial challenges patients with cancer face in our health-care system. There's no class on how to navigate the system, and it can be very overwhelming. We were still in our late 20s when our life plan together was brutally altered," she related.
Despite his debilitating illness, Dr. Ladd managed to complete his PhD and ultimately took a job as a professor at the University of Michigan, specifically because it came with health benefits. This became essential because they had learned that, despite his student health insurance prior to diagnosis, the ongoing costs of his cancer treatment would be a huge financial burden on the young couple.
"In a little more than a month, we reached his prescription drug cap. That's when it began to hit home; there's a cap, but he was getting sicker, so we had to pay out of pocket. The bills rolled in every week, creating unbelievable stress on top of the emotional toll of struggling with the daily heartbreak of late-stage cancer. At a certain point, you realize it's financially unsustainable, and it feels like you're drowning," said Dr. Chino.
In a poignant essay in the Journal of Clinical Oncology, titled Pet Therapy: How the Cat I Never Wanted Saved My Life, Dr. Chino described how her husband, even during his dwindling days propped in bed, found solace and joy playing and napping with a scrappy orange rescue cat named Franklin.
"Andrew had always wanted a cat, but I was resistant; I knew I would be taking care of both of them and wasn't sure I was ready. At a certain point, though, if your dying husband wants a cat, you get a cat, right?" she wrote, recalling how her husband would toss wrapped candy from his bed into the hall, which Franklin would retrieve back to the bed. They would play until they tired and fell into long naps together. Dr. Chino's essay underscores an important point often overshadowed: despite the grueling physical and emotional journey, patients with cancer live until they die and cherish small pleasures along the way, such as playing with a feline friend.
Tragedy and a Mentor Ignite a Mission
Dr. Chino's husband died several months after he took his job in Ann Arbor, leaving her with a mountain of debt but also planting the seed for what would become a future career in oncology. A large part of that career is dedicated to educating patients and providers about the dangers of financial toxicity, which she and her late husband faced during and after his battle with cancer.
"After my husband died, it took a long time for me to fully absorb what had happened and how to turn that experience into a career that would give my life meaning. So, I returned to school and took some more premed courses; in 2010, I entered Duke University School of Medicine. Frankly, the one subspeciality I was adamant about not pursuing was oncology because I never wanted to treat a patient like my husband. At first, I thought hard about geriatrics, which even though it presented many of the same disease processes, dealing with patients who had already led a long life seemed emotionally easier," said Dr. Chino.
However, during medical school, Dr. Chino attended a lecture at the Institute for Healthcare Improvement, which had a career-shifting effect. "During a lecture by Dr. Yousuf Zafar, I had a light-bulb moment. He was talking about financial toxicity, which was a new term then, and it hit me that this is how I can turn my horrible experience into a positive position in my career. At that point, I decided to pursue oncology and never wavered from that decision," she said.
Dr. Chino first thought about becoming a medical oncologist for two reasons: first, it fit better with her plans to study and publish on financial toxicity, and second, by then her brother and sister had followed her mother's footsteps into radiation oncology. "I figured three radiation oncologists were enough for the family, but then one day, I was in a multidisciplinary continuity clinic and discovered I was more interested in what the radiation oncology attending was doing than in the medical oncology attending, so that was it. I'd be number four," said Dr. Chino. "You usually make your subspeciality decision in the third year of med school, but I didn't decide until the very end. When I called my mother and told her I got my first residency interview, she asked, 'In what?,' and I said radiation oncology. We laughed about it, as I'd neglected to tell her," she remembered.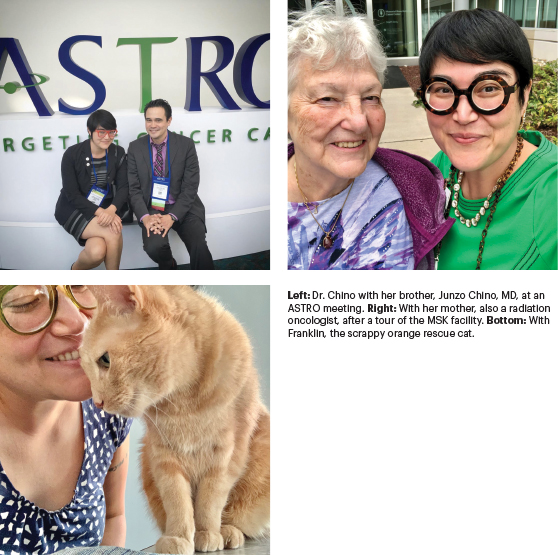 In 2015, Dr. Chino began a radiation oncology residency at Duke University School of Medicine. Not only was it a top-rated program, but she also had the added benefit of working under her mentor, Dr. Zafar, and being with her family. "My older brother is Director of Brachytherapy at Duke, so it was comforting to have family there to support me through the emotional and physical struggles of medical residency. In fact, at one point, I was even a resident trainee in my brother's clinic. I feel truly privileged on many levels during my educational path. I had the ability and support to go through the grieving process and then the time to decide what I wanted to do with my life that would fulfill my need to give back. It's important to acknowledge that privilege—many others don't have the option to start over," Dr. Chino stated.
After completing her residency training in 2019, Dr. Chino began applying for faculty positions. "I knew I wanted to do academic work because of my desire to do research in affordability and access, so I cast a wide net. When I interviewed at Memorial Sloan Kettering Cancer Center [MSK] in New York, I met ­Francesca Gany, MD, Chief of Immigrant Health and Cancer Disparities Service, and she really impressed me in terms of the community outreach programs in the community that she leads. And given the size of MSK, I was able to find and engage with like-minded colleagues, an opportunity you might not find at a smaller institution with a less diverse staff. Since joining, I have been impressed my MSK's dedication to addressing financial challenges and its community outreach, something not always found at academic institutions. Moreover, MSK fosters a culture of not cloistering the best and brightest within its walls; it looks for ways to open its doors and provide more access and inclusivity. I'm very fortunate to be at an institution that values and supports the work I do," said Dr. Chino.
Current Work at MSK
Asked about her work at MSK, Dr. Chino responded: "I'm actively involved with a newly formed initiative with physicians and researchers, which we call the Affordability Working Group. This group contains people from all over MSK who collectively think about the issue of affordability from every aspect of cancer care. The end goal, of course, is to find creative ways for people with cancer who come through our door to receive the highest quality multidisciplinary of cancer care, without the crushing burden of debt that is a harsh reality in the oncology community. Everyone is really fired up about this effort"
Dr. Chino mentioned another advantage to working at MSK: "I also mentor students and trainees to hopefully promote the next generation of researchers addressing access and affordability. I've worked with residents, medical students, college freshmen, even a few high school students. It's never too early to get people excited about a field that patients with cancer truly need. I've only been at MSK for a little more than 2 years, but I hit the ground running and am truly passionate about my work here."
As a radiation oncologist, Dr. Chino specializes in gynecologic, breast, and prostate cancers. In a short time, she has garnered many awards and honors, such as ASCO's 2022 Excellence in Equity Award.
Asked how she decompresses from the rigors of her challenging career, Dr. Chino commented: "Walking the 2.5 miles home from MSK through the dynamic streets of New York City to my apartment really helps me decompress. I see something new every day. And my partner and I love the arts and are members of lots of museums and other artistic institutions. We also do a lot of hiking in the incredible upstate parks."
What about the scrappy orange rescue cat that was her late husband's constant companion? "Franklin is still in my life, for which I'm very thankful." 
---