A Nationally Regarded Pediatric Oncologist Found His Passion Early
Michael Link, MD

ASCO Past President, Michael Link, MD, who has pioneered new strategies for treating common childhood cancers, was born and reared in a suburb of Cleveland. "My first significant exposure to medicine was my own family doctor, Dr. J.W. Epstein. Looking back, I was impressed by the combination of science and empathy represented in medicine and exemplified by Dr. Epstein.  In fact, there is a terrific testimonial to him written by Martin Samuels, MD—the Chief of Neurology at Brigham and Women's Hospital, who is also from Cleveland. Dr. Samuels wrote about how Dr. Epstein made house calls with his black medical bag in hand, always there to make people feel better. Apparently, Dr. Epstein was influential in Dr. Samuels' choice of career as well.
Dr. Link continued, "When I was in the 9th grade, we were given an assignment to write about a future career. Based on my interest in science and figuring out how things work, and by my own experiences with Dr. Epstein and his house calls, I chose to write about becoming a physician, although I confess it was not a very well thought-out career choice at the time. I think I was intrigued by the combination of science, empathy, and the prospect of helping others represented in the profession of medicine.  Later on, there was the influence of my older brother, who was on his way to becoming a physician himself." 
Michael Link, MD

TITLE: Lydia J. Lee Professor of Pediatric Cancer, Stanford University School of Medicine
MEDICAL DEGREE: MD, Stanford University School of Medicine
ON HIS ADVICE FOR PHYSICIANS CONSIDERING PEDIATRIC ONCOLOGY: "Follow your passion into a career path, and you'll never go wrong. I love treating kids with blood cancers and developing relationships with them. It's just that simple: If you do what you love, you'll be successful. That doesn't mean it's easy, because it usually takes some time and experience and mentorship before you find a specialty that you're passionate about. Remember, we cure about 80% of kids with cancer now, so some of my own patients have actually become physicians themselves.
A Passion for Science
After graduating from high school, Dr. Link included premed studies with a major in political science at Columbia College, situated on the university's main campus in Morningside Heights in New York City. "I was truly fascinated by the scientific method and the pursuit of scientific knowledge. Interestingly, I spent the summer between my junior and senior years at Cold Spring Harbor Laboratory, on Long Island. It was when James Watson was the chief there, and there was a bunch of fascinating work being done in DNA replication at the lab. That summer experience really consolidated my passion to blend science and medicine into a career," said Dr. Link.
In Dr. Link's senior year, as he was completing a molecular biology and laboratory course, his professor took him aside and popped the big question: So, what are you going to do with your life? "I told him that I was going to go to medical school, at which point he insisted that if I did such a foolish thing, I'd be wasting my career. He said that I should be a scientist, and it was a great time to do lab research. His comments were pretty disconcerting, given that I was planning to go to medical school and do God's work and all. But as is true in much of life, you meet people who try to influence you based on their experience and views, so you need to be mindful about how you process outside information and be sure to follow your own heart," said Dr. Link, adding, "However, molecular biology was incredibly exciting, and using the rapid advances in the laboratory to move a medical field forward is one of the reasons I ultimately chose oncology as my subspeciality."
Bitten by the West Coast Bug
Dr. Link's education at Columbia coincided with a tumultuous sociopolitical period; the Vietnam War and civil rights struggles were raging across college campuses and cities across the nation. The Columbia campus was rocked by student demonstrations, and the routines of college life were disrupted. "It was an interesting time, to say the least. So, when I began looking at medical schools, many of the institutions in the East were incredibly conservative and stuffy, which didn't really mesh with my views of things at the time. Then I had a wonderful interview in New York with the Dean of Student Affairs from Stanford University School of Medicine, during which he described the Stanford approach, which was an all-elective curriculum and a pass/fail system. In short, Stanford was just way ahead of the curve, and it resonated with where I was in life at the time as far as my sociopolitical views. I got accepted, but since no one in my family had ever been to California, I decided to go west to check it out before making a commitment," said Dr. Link.
Dr. Link left New York City on a bitterly cold day in January and arrived in California to stay with friends on a warm day when the world was in full bloom under a sun-drenched sky. "As soon as I stepped off the plane and that incredible warm California air hit me, I thought to myself, 'Yeah, I can do this.' That clinched it for me, so I enrolled at Stanford and moved shortly after—a decision I never regretted for a day. It's hard to describe, but I got bitten by the West. It's just different—lifestyle, climate, and a bunch of intangible things that create a unique place to live. I love it here," said Dr. Link.
Kids Are More Fun
Asked about his decision to pursue pediatrics, Dr. Link responded, "One of my first rotations in medical school was in a VA hospital, which turned me off to making a career of treating adults and their illnesses. Along the way, I became interested in pediatrics, given that children were much more resilient and certainly a lot more fun to be around. My older brother was a pediatrics resident at Massachusetts General Hospital, and during the beginning of my senior year, I spent 3 months in Boston—just really to check it out and be with my brother, since we were quite close but we had  been separated for years by our career paths. He actually wanted me to do my residency at Massachusetts General, but I had dealt with being his younger brother all my life, and I didn't want to continue to be under his wing. So I applied for and was accepted for a pediatric residency at Boston Children's Hospital. As luck would have it, my brother began a nephrology fellowship at Boston Children's Hospital just as I started my residency.  So, I continued to be the younger brother, often getting confused with him by the page operators and all, but it was great time for me and a phenomenal residency experience."
At Boston Children's Hospital, Dr. Link met several physicians who had a lasting impression on his career and were influential in his decision to pursue pediatric oncology. "I worked with Dr. Arnie Smith who was an infectious disease specialist and seemed to know everything about medicine, so he was one of my first role models. Then I met Dr. Harvey ­Cohen, who was a hematology/oncology fellow, and I loved the special relationships he had with kids with cancer. In short, Harvey became my role model as a pediatric oncologist. And some of my more senior mentors had "decided," in a good-natured way, that I should become a pediatric oncologist, saying that I needed to do something totally different in medicine from my brother. Drs. Steve Sallan and Howard Weinstein, who were young, energetic junior faculty at the time, were also instrumental in my decision to become a pediatric oncologist. I knew it was my calling, so I stayed in Boston to do my pediatric hematology/oncology fellowship, which I did at ­Dana-Farber and Boston Children's," said Dr. Link. 
Back Home to Stanford
Following his fellowship, Boston Children's Hospital offered Dr. Link a faculty position. Although Dr. Link longed to return to Stanford and the California lifestyle he'd come to treasure, he had decided to accept the job in Boston. "I ran into someone on a plane who mentioned that a job opportunity might be opening up on the West Coast. So, I did a few interviews in California and ultimately accepted a position at Stanford, even though my mentors in Boston thought it was a terrible idea at that stage of my career. But I've been here since 1979 and have not regretted that decision."
He continued, "Given that my specific interest was in the management of children with lymphoma, Stanford was a logical choice, since at that time, Stanford was the epicenter of lymphoma research.  I had the privilege to be mentored by some of the pioneers of lymphoma including Drs. Saul Rosenberg and Henry Kaplan, who had a lasting influence on my career, and to work closely with Dr. Sarah Donaldson who was a major collaborator in many of my research efforts." 
Asked why he has remained at Stanford for the entirety of his career, as opposed to many academic oncologists whose careers are marked by opportunity-seeking change in venue, Dr. Link responded: "Dr. David Nathan, one of the giants in the field, who had a profound influence on my career, summed it up by telling me that I had 'Palo Alto disease'—apparently an incurable lesion because once you go there, you never want to live anywhere else. But life isn't just  about career; this is simply the beautiful place that I wanted to share with my family. Over the years, I've had attractive offers elsewhere, but I knew that my family and I would miss this place too much. We love California, the outdoor activities, the tempo, everything. We are apparently victims of the dreaded Palo Alto disease after all."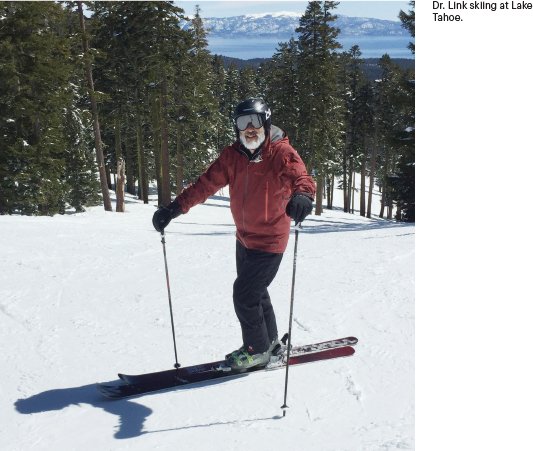 Dr. Link also stressed that the culture at Stanford cultivates innovation in scientific thinking, an atmosphere that has augmented his career aspirations. "I told immunotherapy giant Dr. Ron Levy that I wanted to explore research in leukemia, and he gave me bench space in his lab with all the equipment and supplies I needed. Researcher Dr. Richard Miller was in the lab at the time, too, and that opportunity to work and be mentored by them really accelerated my career at Stanford. Ironically, when I was ASCO President, Dr. Levy was the Program Chairman who oversaw the scientific program of the meeting," he said.
Controversy Turns Into Opportunity
When Dr. Link was a hematology/oncology fellow, a heated controversy existed about the value of chemotherapy in treating osteosarcoma. "I'd go to meetings where investigators would argue about the worth of chemotherapy in sarcoma; so one day I suggested that the debate could be resolved by a randomized clinical trial. I was offered the opportunity to chair a trial that, in the end, showed definitively that chemotherapy offered a significant advantage in outcomes in this tumor. And even though the management of sarcomas was not my primary interest, this study basically launched my career," said Dr. Link "Sometimes, important opportunities appear in unexpected places and should not be passed up."
The success of the sarcoma trial led to leadership roles in the Pediatric Oncology Group (POG). "During that time, I was strongly influenced by yet another major figure in pediatric oncology, Dr. Sharon ­Murphy, who was Chair of POG. Sharon took me under her wing, and I became her Vice Chair. So, running and critiquing pediatric clinical trials were a significant portion of my career."
Passion and Nature
What advice would Dr. Link give a young physician thinking about pursuing the very challenging specialty of pediatric oncology? "Follow your passion into a career path, and you'll never go wrong. I love treating kids with blood cancers and developing relationships with them. It's just that simple: If you do what you love, you'll be successful. That doesn't mean it's easy, because it usually takes some time and experience and mentorship before you find a specialty that you're passionate about. Remember, we cure about 80% of kids with cancer now. Some of my own patients have actually become physicians themselves. And a couple of my patients have become residents in my own program, so that is something special and particularly gratifying, which lets me know that I made the right career move. In fact, in my ASCO presidential address, I mentioned that as a way to highlight what it means to be an oncologist. Another bit of advice to a young oncologist is to become a member of ASCO; it will help enrich your career in multiple ways. Many of my own career high points have been with or through ASCO."
And what does a busy oncology leader do to decompress? "Work-life balance has always been important for me. Family first, which is the best way to get away from the rigors of work. I also love opera and classical music. And skiing in the magnificent mountains in California is probably the number one way for me to decompress. We ski near Lake Tahoe and backpack in Yosemite. The physical beauty is literally beyond description. I tell people, if you go there and don't believe in some greater power, check your pulse, because something's not registering. I love my work, and I'm very glad that I'm doing it in California." 
---