A Fascination With Bats Leads to a Career in Oncology and a Role in Championing Equity in the Workforce
Pamela Kunz, MD

According to internationally regarded neuroendocrine tumor specialist, Pamela Kunz, MD, her career path was kickstarted by childhood bat-hunting expeditions in barns and caves throughout rural New England. "My father was an environmental biologist at Boston University who studied bats. Although at first I thought it was a very odd career, when my brother and I went with him to do field work and to his lab, I really became fascinated with the scientific method of asking and answering questions. And I was fortunate to have parents who supported and encouraged my early love of science, which helped boost my confidence throughout school as I began to seriously consider medicine as a career," said Dr. Kunz.
She continued: "In high school, my love for science accelerated—not only was it something I loved, but it came easily to me. So, after graduating, I entered Dartmouth College as a biology/ecology major. At the time, I knew I wanted to go to medical school, but I wasn't sure if I wanted an MD, PhD or both. My dad tried to gently sway me to consider a PhD, teasing that that "real doctors" had PhDs."
Pamela Kunz, MD

TITLE: Associate Professor of Internal Medicine (Medical Oncology); Director, Center for Gastrointestinal Cancers at Smilow Cancer Hospital and Yale Cancer Center; Chief, Gastrointestinal Medical Oncology; Vice Chief, Diversity, Equity, and Inclusion, Medical Oncology
MEDICAL DEGREE: MD, Dartmouth Medical School
ON THE IMPORTANCE OF EQUITY IN THE WORKFORCE: "If we can develop a more diverse workforce, our science will become more creative and innovative; in the end, our patients with cancer will benefit, which is our goal, the reason we entered the field of oncology. Bringing equity into the workforce is a major thrust of my career—it gives deeper meaning to what I do."
Broadening Horizons
Dartmouth offered a foreign study program, which Dr. Kunz took advantage of in Jamaica and Costa Rica. "I studied tropical biology during the foreign study program, and it was an amazing experience, where I learned how to posit good research questions about leaf cutter ants in the Costa Rican rain forest or sea urchins of the coral reef in Jamaica. It also helped broaden my world view outside of the pretty insular world of academia. Although I loved science, as graduation grew closer, I still wasn't certain about what I ultimately wanted to do, so I decided to take some time off and gather my thoughts," said Dr. Kunz.
After graduating from Dartmouth, Dr. Kunz landed a job teaching at a small private girls school outside of Boston, Dana Hall School. "I taught 7th grade science and 9th and 12th grade biology and I also coached the JV soccer team. I lived on campus as a dorm parent, so I got the full immersive experience. I played soccer myself in high school and for two years in college, so it always had a place in my life. Teaching and coaching young women was really hard work, but I truly enjoyed it. And to this day, I love teaching and mentoring, so this first job was foundational for my later career," said Dr. Kunz.
After completing a year of teaching, Dr. Kunz went to work in a laboratory at Massachusetts General Hospital. "I worked for 2 years in a lab with the principal investigator, Dr. Vivian Shih, who was a pediatrician physician/scientist studying inherited disorders of metabolism. I shadowed her in clinic, performed prenatal testing for inherited metabolic disorders, and conducted research looking for novel germline mutations that predisposed for these inherited conditions. I just loved the combination of patient care and science during that period, and that's what ultimately clinched my decision to medical school," said Dr. Kunz.
Once her decision was set, Dr. Kunz applied to a broad range of medical schools, and "as fate would have it" she ended up back at Dartmouth, which is a relatively small medical school with about 80 students per class. "The Dartmouth Medical School (now called the Geisel School of Medicine) is a very tight community with terrific faculty and mentorship programs. I also met my future husband, Dr. Jeffrey Kwan, at Dartmouth, as we learned phlebotomy on each other during first day orientation. Although I didn't decide on a specialty in medical school, I knew I wanted to care for patients with chronic disease, where I could build long-term relationships. I considered obstetrics/gynecology and internal medicine/pediatrics, and oncology was there in the mix as well," said Dr. Kunz.
A Major Career Decision: Oncology
After attaining her medical degree, Dr. Kunz and her husband couples-matched at Stanford University in 2001. "We drove cross-country and relocated to Stanford. During my residency I was torn between cardiology and oncology because both had the chronic disease element, an ability to build long-term relationships with patients, and a deeply personal, often intense, patient-physician relationship. But ultimately what won me over to oncology was the rapidly advancing science. It was right around the time when monoclonal antibodies and targeted therapies were emerging from the pipeline, which added to the excitement of being part of a field that showed so much promise," said Dr. Kunz.
Following residency, Dr. Kunz did a year as chief resident and then remained at Stanford for her oncology fellowship. Asked about her decision to pursue gastrointestinal oncology, Dr. Kunz replied: "That decision was mostly chance mixed with a little bit of intention. First, gastrointestinal oncology met a lot of my interests, such as caring for both male and female patients of varying ages, plus it offered multiple organ sites, which I found very stimulating. Moreover, the timing was right, as a gastrointestinal oncology fellow was leaving, and he handed me a bunch of projects that kept me centered in the field. I also had mentorship from multiple faculty members. So, gastrointestinal oncology came to me in a few interesting ways, and I'm very glad it turned out that way."
Finding a Niche
After completing her fellowship in 2008, Dr. Kunz joined the faculty at Stanford to continue her career in gastrointestinal oncology. She explained that at the time, there were almost no agents approved by the U.S. Food and Drug Administration for neuroendocrine tumors, and one of her mentors asked her to write a review paper on the rare disease. At around the same time, she also became more involved with national organizations such as the National Comprehensive Cancer Network (NCCN) and North American Neuroendocrine Tumor Society (NANETS). "So, I basically grew up with the field at a time when it was just taking off. I also was fortunate to become involved with the National Clinical Trials Network (NCTN) and ECOG-ACRIN and have mentorship from leaders in GI Oncology such as Drs. Al Benson and Peter O'Dwyer, who gave me an early opportunity to lead an ECOG clinical trial. Along the way, I have learned some valuable lessons about being a mentee and a mentor. No single mentor can serve every role; it is important to have a network of mentors, allies, and sponsors to help you build a career."
A Career Derailed by Entrenched Gender Bias
Dr. Kunz built a solid career at Stanford, establishing herself as a leading expert in neuroendocrine tumors, advancing the field through clinical trials and translational science. As Assistant Professor of Medicine, she was appointed Medical Director of the Stanford Neuroendocrine Tumor program. However, despite Dr. Kunz's success at Stanford, when she reached mid-career,  she began to experience an uncomfortable sense that she was facing barriers in her career, a hard-to-describe, yet palpable reality. "I really believe that as I achieved a certain level of success, some of my male mentors perceived me as a threat. It grew to the point where I felt unsupported and isolated, and for various reasons built into the system, it became increasingly difficult to speak about. However, I ultimately made a conscious decision to be transparent with leadership and shared my experiences with gender discrimination. I gave them examples of what I described as, pervasive microaggressions and verbal harassment. I was never physically harassed, but the verbal harassment and microaggressions added up to create a toxic work environment. I was made to feel that I was at fault, my confidence was eroded, and my mental health suffered. Unfortunately, another challenge with microaggressions is that they are often difficult to prove. It's hard to provide objective evidence, as the experiences are very subjective by definition," said Dr. Kunz.
Dr. Kunz noted that as a mother of three, her pregnancies and child rearing were also oftentimes subtle targets for slights from her male colleagues. Ultimately, the gender-based microaggressions disabled her research opportunities and undermined her ability to lead. "It was a very difficult period, but after struggling against the entrenched system and getting nowhere, I knew it was time for me to make a change. I wanted to be at a place where I felt valued and seen, where I could enact real change, and contribute to a culture of diversity, respect, and collaboration. I was fortunate to find such a place at Yale School of Medicine," said Dr. Kunz.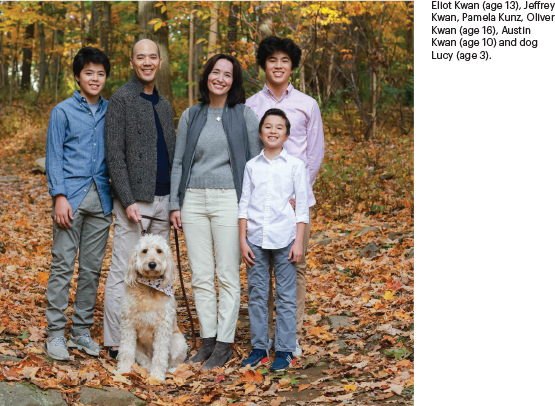 A Fresh Start
In her new position at Yale School of Medicine, Dr. Kunz serves as Associate Professor of Internal Medicine (Medical Oncology) and Director of the Center for Gastrointestinal Cancers at Smilow Cancer Hospital and Yale Cancer Center. She is also the Vice Chief of Diversity, Equity and Inclusion (DEI) for the Section of Medical Oncology. "At Yale, I actually wear two hats, but I try to blend them. As Director of the Center for Gastrointestinal Cancers, I bring together stakeholders who take care of patients with gastrointestinal malignancies and do research and educational efforts in that space. We take a multidisciplinary approach that not only incorporates the traditional surgical, radiation, and medical oncology fields, but also brings in the translational researchers, clinician/scientists, and others. We want to build a community centered on two complementary goals of delivering high-value clinical care and also advancing the science forward that will ultimately accelerate progress," said Dr. Kunz. "The center, under my leadership, launched just over a year ago. I'm very gratified it is being used as a model for how other centers at Yale are being designed, which also keeps in mind the goal of creating a diverse, equitable, and inclusive work environment—my goal from the start. And this next year will be based around building disease-specific programs and advancing scientific innovations."
Wearing her second hat as Vice Chief of DEI for the Section of Medical Oncology, Dr. Kunz strives to advocate broadly for diversity, equity, and inclusion through raising awareness and developing concrete solutions. In addition, Dr. Kunz believes that a more diverse workforce will enhance our patient care and scientific efforts. "In my presentations, I talk about the link between workforce diversity, equity, and inclusion, and patient equity. If we can develop a more diverse workforce, our science will become more creative and innovative, and we can provide more equitable patient care. In the end, our patients with cancer will benefit, which is our goal, the reason we entered the field of oncology. Bringing equity into the workforce has become a major thrust of my career—it gives deeper meaning to what I do," said Dr. Kunz. "From my own experience of workforce bias, I learned how to move from stuck to empowered. I have used my own experiences to be very purpose-driven and solutions-focused."
Centered in Family Time 
What does a busy oncology leader do to decompress? "Well, I'm a mom of three very active sons, so they certainly keep me in a good place, helping to balance work and private life. I also have a golden doodle named Lucy, who is part of that dynamic. My husband and I spend a lot of time on athletic fields or supporting our sons' artistic or musical interests. I also love to bake when I can find the time—and this would have been my alternate career choice," she jokes. 
---