Working on the Night Shift, a Connection to a Patient With Cancer Inspires a Career
Jaap Verweij, MD, PhD, FASCO

Jaap Verweij, MD, PhD, FASCO, was born in 1953 in Velsen, a municipality situated on both sides of the massive North Sea Canal in the Netherlands. His father was a sea captain, and other close family members also plied the oceans for a living in the fishing or transport industries. Dr. Verweij explained that in the Netherlands, the schooling system is tiered, consisting of a vocational track, a preparatory track for university, and the highest tier, in which students are prepared to attend universities for applied sciences. "I was in the highest tier and, after graduating from high school, I went directly to medical school. 
In the Netherlands, medical schools are called University Medical Centers, which integrate medical faculty and the academic hospital. In other words, from year one, medical students study within the hospital setting. You don't see patients, but the education is given in the hospital," he said.
Jaap Verweij, MD, PhD, FASCO

TITLE
Managing Director, Cancer Drug Development Forum
MEDICAL DEGREE
MD, University of Utrecht
ON HIS NEW ROLE IN CANCER DRUG DEVELOPMENT
"We are looking at ways to accelerate the drug development process—from the lab to early trials, and as quickly through the approval process as we can—so that patients with cancer have a steady stream of new therapeutics."
Dr. Verweij entered medical school when he was 16 and earned his medical degree 7 years later, in 1978. Afterward, he performed 1 year of mandatory national military service, during which he began his internal medicine training. Following a year in Utrecht, he continued his training for 2 years at the Catharina Hospital in the city of Eindhoven. "I was working the night shift and became friendly with a woman on the hematology ward who had non-Hodgkin lymphoma. At that time, there were not that many successful treatments for the disease, and for her, there were none anymore. Witnessing her hopelessness spurred my interest in medical oncology. I remember that she liked to talk and all I could do was listen—which, in its own way, taught me a lot about patients with cancer, something I carried into my career as it matured. So, I wrote to the only medical oncology professor in the Netherlands, H.M. (Bob) Pinedo, MD, PhD, asking whether I could do a medical oncology fellowship at Vrije Universiteit Medical Center in Amsterdam [Vrije Universiteit translates as Free University], where he was of the head of the oncology program. He replied: 'Why don't you come aboard now and put your feet to the fire?' All the details were worked out, and I joined the Free University. After completing my internal medicine training, I did a 2-year oncology fellowship with Professor Pinedo," Dr. Verweij explained.
Building a Program From Scratch
In 1985, Dr. Verweij was offered a position at the Rotterdam Cancer Institute. "I accepted the position, becoming the establishment's first medical oncologist, and never left. Over the years, I built a research program essentially from the ground up, as there were no studies being conducted before I joined the Institute. I became very interested in conducting phase I and II randomized trials, including the eventual inclusion of pharmacokinetics and pharmacodynamics in trials. When I retired in 2019, we had 15 medical oncologists on staff and 12 people in training, and a large number of PhD students," he said.
Dr. Verweij served as Chair of the Department of Medical Oncology and Chair of the Daniel den Hoed Cancer Center at the Erasmus University Medical Centre from 2008 to 2013, and as Dean of the Faculty of Medicine and Vice Chairman of the Board of Directors of Erasmus University Medical Center from April 2013 to September 2017. "So, after about 2010, along with being a clinician-scientist and running cancer trials, I also found myself immersed in the management role of institutions and about 13,000 employees, which was a professional challenge, to say the least. Eventually, I had to give up my treatment rounds on the oncology ward, along with my leadership roles in the various clinical trials we were running, some of which were conducted on the international stage," said Dr. Verweij. He added: "I was working 7 days a week and I was 64 years old. Given that in the Netherlands my retirement was mandated at 66 and 4 months, I spent the remaining time doing things I enjoyed, which was good preparation for retirement."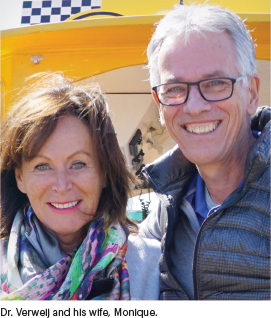 Call It Semi-Retirement
Dr. Verweij formally retired in November 2019. "Soon after I retired, I was invited to become the Managing Director of the Cancer Drug Development Forum, which is a platform for stakeholders involved in cancer drugs. To that end, we are looking at ways to accelerate the drug development process—from the lab to early trials, and as quickly through the approval process as we can—so patients with cancer have a steady stream of new therapeutics. In this role, I'm only in charge of four employees, which is perfect at this stage of my career. I also do various consulting jobs at the university and cancer center," he remarked.
Dr. Verweij noted that his 35-year relationship with ASCO had motivated his career in research and drug development and his general appreciation of the global oncology community. Since joining ASCO in 1986, he has served as Associate Editor of the Journal of Clinical Oncology; as a member of the Scientific Program Committee, Conquer Cancer Foundation Grants Selection Committee, Multidisciplinary Cancer Management Committee, and Cancer Education Committee; and as a member of the Board of Directors.
Flying and Music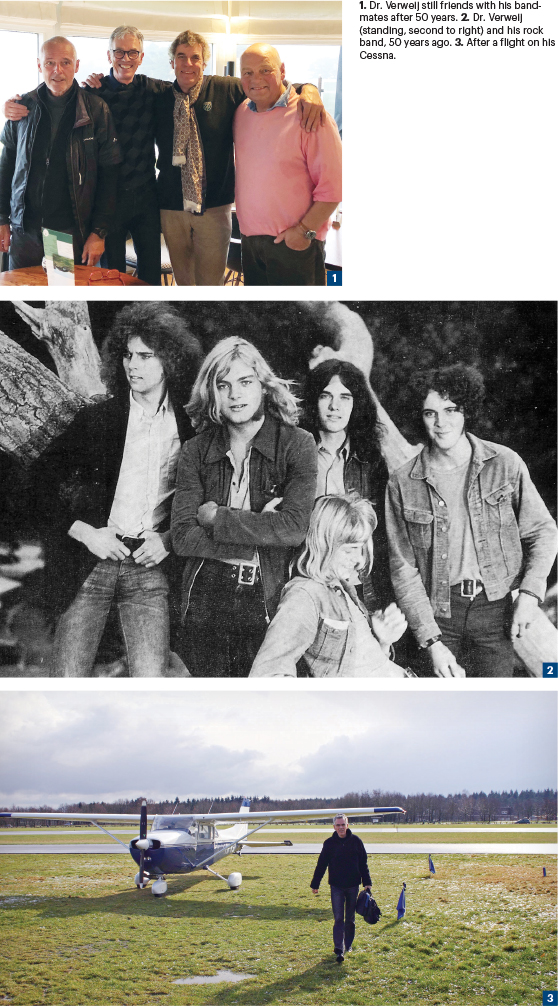 In 2002, Dr. Verweij's mother-in-law gave him a virtual flight simulator, as he'd always expressed a love of flying. "I worked hard at the flight simulator but had quite a few crashes. My wife recalled hearing the warning call from the simulator, 'Going down, going down,' over and over. The sound was a bit unnerving, and she said it was a good thing it was only a simulation! Despite my failures on the simulator, my wife purchased me a gift certificate for real flight training. I was so excited, I jumped right into it and earned my pilot's license in 2004. I flew for 13 years, which was fantastic. In fact, if I had an oncology meeting in London, I'd fly there myself, which was sort of cool. I also flew to any destination in Europe that was in the range of a single-engine Cessna," said Dr. Verweij. "Due to growing problems with my vision, I had to give up flying in 2016. But I had 13 years of fun in the sky, crisscrossing Europe."
In his youth, Dr. Verweij was an aspiring rock star, who played in his own hard rock band. "The band actually had a pretty good run; it was great fun. There were five of us. Unfortunately, one has passed away, but after 45 years or so, the remaining four of us still get together to play from time to time—not for audiences, of course, just for the love of making music. I also like to cycle, which is a very common pastime in the Netherlands, as you probably know. The country is fairly flat, so it's easy on the knees. My wife and I like to hike together, plus I try to get in a round of golf once in a while. Hitting a ball around in nature is surprisingly relaxing. I had a rich and rewarding career in oncology, a field of medicine I think is unmatched for its connection with patients." 
---