After a Flirtation With Infectious Disease, Hematology Calls, Leading to a Notable Career
Samuel M. Silver, MD, PhD, FASCO

High-quality cancer care is a complex mixture of science and art, made even more challenging by the dizzying array of coding, billing, and data collection regulations that must be taken into account. Synthesizing all the parts into value-based, whole-patient care across the wide spectrum of the oncology care delivery system requires leaders with special insight, such as nationally regarded hematologist Samuel M. Silver, MD, PhD, FASCO, who is also well known for his work in clinical reimbursement and coding.
"As an oncologist coming into the field, you can almost become paralyzed by the overarching complexities of payment and business issues. That said, the single most important thing to remember while we advance the technical side of oncology is this: You must always place utmost value on the doctor-patient relationship; never let go of the humanity of being a doctor," said Dr. Silver.
Moving Around
Dr. Silver grew up in East Paterson, New Jersey, which was renamed Elmwood Park in 1973. "My mother's brother was a cardiologist in Paterson, and I admired what he did. So, in my younger years, he was the only person in the medical profession I knew. Perhaps that experience planted the seed of medicine in my mind's eye," said Dr. Silver.
Samuel M. Silver, MD, PhD, FASCO

TITLE
Assistant Dean for Research and Professor of Internal Medicine, University of Michigan Medical School
MEDICAL DEGREE
MD, Cornell University Medical College
ON HIS ADVICE TO MEDICAL STUDENTS CONSIDERING ONCOLOGY
"First and foremost, it's a wonderful field that gives you multiple opportunities for career growth. That said, caring for patients with cancer is an honor, and having the ability to truly impact their lives is what makes oncology a special field. But I would also tell a young medical student that with the rewards also come the challenges of delivering high-quality care while dealing with costs and reimbursement challenges, an area I've devoted a large part of my career to. But in the end, it's worth it, and I have never one day regretted my decision to become a hematologist."
He continued: "My father was in the children's and women's garment trade, and because of his work, we moved quite a bit. In the late 1950s, we relocated from New Jersey to Dallas, which for my relatives back East was like being on Mars. We loved living in Big D, but after a few years, we went to Highland Park, Illinois, and my father worked in downtown Chicago. In school, although I liked science, I can't recall thinking about becoming a physician. However, during the summer, I worked in laboratories and really enjoyed organic chemistry, but still I didn't attach that passion to medicine," said Dr. Silver.
Undecided About Medicine
After graduating from high school, Dr. Silver attended Brandeis University in Waltham, Massachusetts, named after Louis Brandeis, the first Jewish Justice of the U.S. Supreme Court. "I chose Brandeis largely because I wanted to try another part of the country. It really disappointed my high school teachers, who didn't want me attending a university associated with Judaism. Back then, my high school in nearby Deerfield had just a couple of Jewish kids. My history teacher wanted me to go to Notre Dame, but I made the right decision because I loved Brandeis; it was small and they let me do whatever I wanted, especially in the sciences," said Dr. Silver.
During his undergraduate work, Dr. Silver pursued his love for organic chemistry, working in laboratories and even publishing. "During my junior year, I gave medicine a fleeting thought, but that was all. It wasn't until later, on the last day possible day to apply for the MCATs, that I thought, well, maybe I should consider going to medical school," said Dr. Silver.
Still undecided whether to become an organic chemist and work in the pharmaceutical industry or become a physician, Dr. Silver entered the first class of the MD/PhD program at the Weill Cornell Graduate School of Medical Sciences and Rockefeller University in New York City. "I'd been accepted to several schools, but I chose Cornell because my father was actively dying of metastatic colon cancer at the age of 42. They'd moved back to New Jersey, and my uncle sat me down and suggested I should attend medical school in the New York metro area. He explained that it wouldn't make much difference for my career where I went to medical school, but it would make a big difference for the family if I was close to home," said Dr. Silver. "I actually tell students who are deciding on which medical school, residency, or fellowship to choose from that it doesn't make that much difference; it's what you do and what you derive from the school or program."
As it happened, Dr. Silver's brother attended medical school at Albert Einstein College of Medicine in the Bronx, and the two shared an apartment in Manhattan. "We had a place together on the Upper East Side. My brother got my free parking space from Rockefeller and reverse-commuted to the Bronx, so it worked out great for both of us. At Rockefeller, I worked on my PhD in a virology laboratory looking at structural glycoproteins in a measles virus. It was a great intellectual environment where I interacted with Nobel Laureates on a daily basis. My plan was to become an infectious disease physician after obtaining my PhD," said Dr. Silver.
AIDS Crisis Helps His Decision
In 1979, with an MD/PhD in hand, Dr. Silver flew across the country to do an internal medicine residency at the University of California, San Francisco (UCSF). "After a year of residency at UCSF, the AIDS crisis hit the San Francisco area with a vengeance. Honestly, I was overwhelmed by a sense of helplessness, and it steered me away from infectious disease. I had several attendings in both hematology and oncology whom I really enjoyed working with. I saw it as a specialty where I could become deeply involved in patient care and make a difference in people's lives. I also saw it as a field with great promise for the future, and I wanted to be part of that," said Dr. Silver.
In 1982, Dr. Silver, at the urging of his wife, decided to return east for his hematology/oncology fellowship, which he did at the Hospital of the University of Pennsylvania. "Penn was a fantastic place for a fellowship, some of the most rewarding times in my career. Buz Cooper, MD, a brilliant physician, was Chief of Hematology and Oncology and Penn's first Cancer Center Director, and he was intensely focused on making the fellowship experience as robust as possible. Joel Bennett, MD, my research mentor, helped shape my career in ways that are still with me. In fact, Joel recommended me for a position at the University of Michigan Medical School. I came here in 1986 and have been here ever since," said Dr. Silver.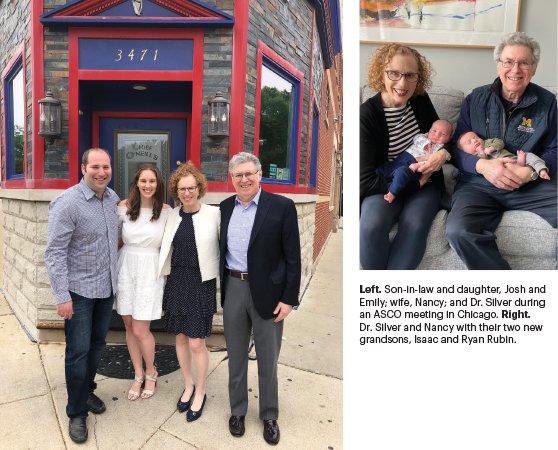 No Reason to Look Elsewhere
Although other opportunities in academia and industry have popped up during his career, none have proved more challenging and interesting than his position and work at the University of Michigan. "About every 10 years, I change my career objective. I started off in the laboratory, and after several years I decided to pursue more clinical activities. Michigan was starting up a new bone marrow transplant program. I went to Seattle for a while to get some additional training and when I got back, they needed leadership with the bone marrow transplant program, so they told me in no uncertain terms, congratulations, you're the new director. So, for the next 10 years, I worked on building our bone marrow transplant program here at Michigan, taking it as far as I could. From my experiences, I then became very interested in quality-of-care metrics and clinical practice guidelines," said Dr. Silver.
Dr. Silver's interest in quality outcomes and reimbursement models led to leadership positions on the American Society of Hematology (ASH) committee on practice and a similar committee at the American Society for Blood and Marrow Transplantation (ASBMT). "I also became deeply involved in the National Comprehensive Cancer Network (NCCN) and was elected as Chairman of the Board of Directors in 2013. Over the years, the NCCN Guidelines have evolved into a valuable tool in the provider community, the patient community, and the payer community as well. That gave me the opportunity to use the NCCN Guidelines and work with Blue Cross Blue Shield of Michigan, looking at quality of care in breast cancer within a large consortium. I had the privilege to be a member of the ASCO Clinical Practice Committee and served as past chair of the Society's Quality Cancer Committee. Throughout this journey of multiple working partnerships, the University of Michigan gave me its full support, which is an amazing testament to its commitment to the academic mission," said Dr. Silver.
Mentors and a Patient's Perspective
Since 1993, Dr. Silver has battled large B-cell lymphoma, enduring arduous treatment regimens and several setbacks along the way. "I've been fortunate that, through it all, I've been able to maintain my career, once again, with the full support of Michigan. It's also immensely gratifying as a hematologist and cancer survivor to see the ongoing progress in the field. Look at the floodgate of new agents coming out of the lab and into the clinic, such as chimeric antigen receptor T-cell therapy, which, along with other new drugs, verifies my original desire to enter a field that was going to make tremendous advances during my career, which turned out to be true," said Dr. Silver.
The single most important thing to remember while we advance the technical side of oncology is this: You must always place utmost value on the doctor-patient relationship; never let go of the humanity of being a doctor.

— Samuel M. Silver, MD, PhD, FASCO




Tweet this quote



When asked about special mentors at Michigan, Dr. Silver replied: "Larry Boxer, MD, who was former Chief of Pediatric Oncology here, really helped me throughout my career, especially during challenging times. Larry was someone I talked with regularly, which is important and something everyone should have. And I can't forget Allen Lichter, MD, who was Chair of Radiation, then Dean of the Medical School, before becoming ASCO's Chief Executive Officer. Allen was always there for me, as well as being one of my personal physicians. Larry and Allen have been very important to me, on many levels, and I'm very grateful for that."
No Regrets After a Long Career
Any advice for a young bright student pondering a career in oncology? "First and foremost, it's a wonderful field that gives you multiple opportunities for career growth. That said, caring for patients with cancer is an honor, and having the ability to truly impact their lives is what makes oncology a special field. But I would also tell a young medical student that with the rewards also come the challenges of delivering high-quality care while dealing with costs and reimbursement challenges, an area I've devoted a large part of my career to. But in the end, it's worth it, and I have never one day regretted my decision to become a hematologist."
What's Dr. Silver's secret to maintaining a balanced life? "When weather permits, my wife and I love to play golf, which I find transporting—walking along in a beautiful setting, concentrating on the game, and nothing else. We also enjoy the arts, theater, and classical music We love to travel, which hopefully will become less onerous. Our favorite destination is Hawaii, a true tropical paradise. My daughter lives in Chicago, and we enjoy going there to visit. She and her husband just had twin boys, and they are an absolute joy. My son is a hospitalist in Salt Lake City and will shortly be moving with his wife, who is an adult epileptologist, to Hartford, Connecticut. So, life is not perfect, but it's very good."
---