A Pioneer in Geriatric Oncology Leaves His Mark and Marches Forward
Silvio Monfardini, MD

The field of geriatric oncology has developed steadily over the past several decades, thanks to the dedication of a close-knit community of oncologists who have devoted their careers to advancing multidisciplinary care for older patients with cancer. One such leader is Silvio Monfardini, MD, past Scientific Director of the Centro di Riferimento Oncologico di Aviano and of the Istituto Nazionale Tumori of Naples, former Head of the Medical Oncology Unit of the Padova Hospital, and Founder of the Geriatric Oncology Program at Istituto Palazzolo, Fondazione Don Gnocchi, in Milan. During the limited time off from his leadership position at the Istituto, the 82-year-old oncologist might have been seen cycling in the mountainous regions of Northern Italy.
Following His Heart to Medicine
Dr. Monfardini was born in 1939 on the outskirts of Milan, a metropolis in Italy's northern Lombardy region. "My father was a general practitioner where we lived, which was a working-class town. My decision to enter medicine was largely influenced by him; he was a trusted doctor and loved what he did. But ironically, as I neared the end of my classical middle schooling at the age of 18, my father encouraged me to become an engineer. So, I entered the polytechnical university to study engineering, but after a few months, I found that my worldview didn't mesh with my schoolmates. It just didn't feel right," said Dr. Monfardini.
Silvio Monfardini, MD

TITLE
Founder, Geriatric Oncology Program, Istituto Palazzolo, Fondazione Don Gnocchi, Milan, Italy
MEDICAL DEGREE
MD, Faculty of Medicine of the University of Milan
ON THE FUTURE OF ONCOLOGY
"My hope is that the clinical parameters we developed in the geriatric oncology field will be modified and adopted by other specialties in oncology. There is evidence that the work we've done in geriatric oncology has wide potential across the broader spectrum of cancer care."
He continued: "I left the engineering school and was fortunate enough to be accepted into medical school at the Faculty of Medicine of the University of Milan despite a delay of 6 months, which is a significant loss of time for a new medical student. But I immediately felt a sense of camaraderie with my fellow students, and I was happy and relieved that I'd reversed my career path to medicine, which had always been my first ambition."
The Value of Mentors
Medical school in italy is a rigorous 6-year program, and since Dr. Monfardini had missed the first 6 months, he had to study on weekends, which required sacrificing his amateur rugby career. "I truly loved rugby, but medical school came first. During my last 2 years, I worked in a general hospital with Professor Enrico Poli, Chief of the Division of Medicine at the Ospedale Fatebenefratelli of Milan,  who was an invaluable internal medicine mentor. He taught me the step-by-step clinical diagnostic process and, equally important, how to behave at the patient's bedside. He suggested to follow the guide of Aequanimitas, as taught by William Osler in his treatise about the virtue of imperturbability in the medical setting. That experience laid the foundation for my career in medicine," he said.
Dr. Monfardini first began as an endocrinologist, until his career path intersected with a giant in oncology. "One day, a colleague of mine said that an oncologist named Gianni Bonadonna, MD, was recruiting fellows for his clinical research program at the Istituto Nazionale dei Tumori of Milan. I met with Dr. Bonadonna, and we hit it off. He proposed that I follow patients with endocrine-responsive breast cancer, which I did. However, soon after, I also participated in a cancer clinical trial using doxorubicin in several cancer sites that reported very favorable results, which made me think about the enormous potential of systemic chemotherapy. That was my turning point. I wanted to be a part of the revolution in the treatment of cancer and switched from endocrinology to medical oncology," he shared.
Dr. Monfardini became Dr. Bonadonna's clinical assistant, which marked a pivotal period in his career. "Dr. Bonadonna was my master mentor in oncology. At that time, we had very few active anticancer agents available in the clinic. In 1961, Dr. Bonadonna went to America to pursue his interest in chemotherapy at Memorial Sloan Kettering Cancer Center in New York. He had a great learning experience at Memorial, but when he returned, he was unsettled that surgical oncology was the overriding method of treating patients with cancer. Remember, medical oncology was still in its nascent stage, and he was committed to making it standard of care in the clinic. As mentioned, we had doxorubicin, which had been developed in Italy and produced favorable outcomes. So we built on that success and continued testing it in clinical trials. I worked with Dr. Bonadonna as he pioneered discoveries in the early days of chemotherapy, which allowed combination chemotherapy regimens to be tested, and some of these treatments are still used today," said Dr. Monfardini.
A Second Learning Experience at Memorial Sloan Kettering
In 1969, Dr. Monfardini also had an opportunity to go to the United States and work at Memorial Sloan Kettering Cancer Center. "When I arrived at Memorial, David Karnofsky, MD, was the Chief of Medicine, but he was ill and died that same year. I worked under Bayard Clarkson, MD, studying the prognostic factors of chronic myeloid leukemia cases at Memorial. While there, positive results from the Italian trial of doxorubicin were released; somewhat to my surprise, they were met with little interest by my colleagues at Memorial. I even went to MD Anderson and presented the data to Emil Freireich, MD, and it had a much more interested reception. And after it was published, Dr. Bonadonna became an internationally noted researcher," said Dr. Monfardini.
When Dr. Monfardini returned to the Istituto Nazionale dei Tumori in Milan, he eagerly participated in several clinical trials looking at doxorubicin in combinations, which was groundbreaking at the time. "The most important combination trial looked at doxorubicin, bleomycin, vinblastine, and dacarbazine (ABVD), which proved as effective as combination chemotherapy (mechlorethamine, vincristine, procarbazine, and prednisone [MOPP]). A year later, I ran a study with a team that showed adding chemotherapy to radiation therapy improved outcomes in the initial stages of non-Hodgkin lymphoma. We were among the first researchers to make the connection between these two therapies, which ended up being practice-changing," said Dr. Monfardini.
Growing Reputation
Dr. Monfardini's reputation in the Italian oncology community was growing, and he had the good fortune to come under the mentorship of Umberto Veronesi, MD, Director of the Istituto Nazionale dei Tumori of Milan, who was at the time President of the International Union Against Cancer (UICC). "Professor Veronesi made me the Chairman of the UICC's cancer chemotherapy initiative, which was charged with disseminating the value of chemotherapy across areas in Asia, Africa, and South America. I had to organize the leaders in European medical oncology into a collective to spread the word about the positive outcomes associated with chemotherapy, which at the time was a paradigm shift," said Dr. Monfardini.
In 1985, a new hospital, the Centro di Riferimento Oncologico di Aviano, was seeking official recognition as a cancer institute, and Professor Veronesi tapped his rising star in oncology for the task.  "Professor Veronesi sent me there to develop the hospital into a recognized scientific cancer institute. It was a challenging job, but very satisfying. I became Head of the Medical Oncology Unit and later served as Scientific Director of the newly recognized Istituto Nazionale dei Tumori of Aviano. Professor Veronesi, who headed the Istituto of Milan, was another major influence on my career. He taught me to see the broader vision of oncology and view it on the international scale. Dr. Veronesi played a significant role in the development of breast-conserving surgery for breast cancer, establishing the quadrantectomy approach over radical mastectomy. He was truly a giant in the field, and I was lucky to have him be part of my career," said Dr. Monfardini.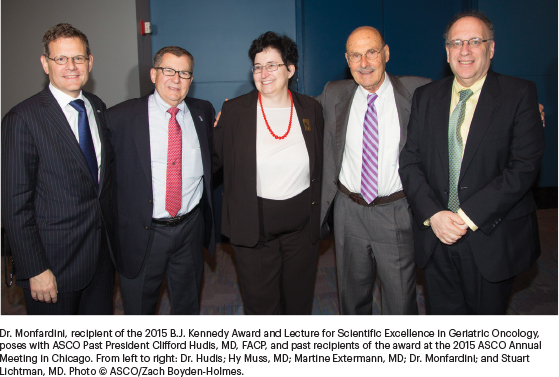 Geriatric Oncology 
In 1991, Dr. Monfardini became Scientific Director of the Centro di Riferimento Oncologico of Aviano. "It was a relatively small institute and, at the beginning, we were involved with AIDS-related tumors and published several well-received case series papers. But my primary interest became non-Hodgkin lymphoma in the elderly. Our work showed that older patients with cancer were more difficult to treat and had specific clinical needs beyond those of younger patients. We conducted a series of clinical trials with the elderly and published an article in 1990 in The Lancet; it raised awareness about widespread suboptimal treatment of elderly patients with cancer," said Dr. Monfardini.
As Dr. Monfardini's interest in geriatric oncology accelerated, he conducted a series of studies, culminating in the development of the multidimensional geriatric evaluation in elderly patients with cancer. "Older patients are not simply older but are geriatric patients because of interacting psychosocial and physical problems. Consequently, the health status of older persons cannot be evaluated by merely describing the single disease or the group of age, and that's what this tool described," said Dr. Monfardini.
In 1996, Dr. Monfardini moved to Naples to serve as Scientific Director of the Istituto Nazionale Tumori until 1998. At the Institute, he continued his involvement in geriatric oncology research. He subsequently went to Padua to serve as Head of the Medical Oncology Unit at the City Hospital until 2007, where he founded one of the first geriatric oncology programs in Europe. From 2008 to 2020, he developed the geriatric oncology activity in a Geriatric and Rehabilitation Institute at the Istituto Palazzolo, Fondazione Don Gnocchi, in Milan.
Advocating for the Elderly
In 1993, Dr. Monfardini and Rosemary Yancik, PhD, published a seminal paper that exposed the superimposable epidemiologic features in elderly patients with cancer in the United States and Europe as well as the widespread inequities in the clinical care of this patient population. In 1994, Dr. Monfardini and Ian Fentiman, MD, DSc, FRCS, authored one of the first books on geriatric oncology.  
"It was quite a struggle to get consensus among the international oncology community to accept geriatric oncology as a field of interest. But we finally did," said Dr. Monfardini. In 2000, he was one of the founding members of International Society of Geriatric Oncology (SIOG) and served as the Society's second president, after Paul Calabresi, MD.
Not Slowing Down
Dr. Monfardini founded the Geriatric Oncology Program at Istituto Palazzolo, Fondazione Don Gnocchi, in Milan. "This Institute was heavily hit by COVID-19 and fought the pandemic like other geriatric institutes and nursing homes in Italy. In some of my downtime, which is precious, I took time to write a series of articles with Lodovico Balducci, MD, about the history of geriatric oncology, which were published in The ASCO Post. I'm currently working on several other writing projects, which I enjoy very much," said Dr. Monfardini.
Asked to reflect on the future of oncology, Dr. Monfardini replied: "My hope is that the multidimensional geriatric evaluation we developed in the geriatric oncology field will be modified and adopted by other specialties in oncology. There is evidence that the work we've done in geriatric oncology has wide potential across the broader spectrum of cancer care. Moreover, I think we should look closer at the recruitment criteria for clinical trials and find ways to be more inclusive, especially of the elderly. Geriatric oncology is a wonderful field, and I'm very glad to still be part of it."
What does a busy oncology leader do to decompress? "Well, I can't play rugby anymore, but I still hold the spirit of the sport in my heart, which is to keep fighting and never give up. Now, I enjoy skiing and cycling. In fact, a friend of mine and I recently cycled to Rome on the Via Francigena, the 1,000-year-old road of the pilgrims. It was a lot of fun." 
---