A Doctor's Daughter Becomes a Pioneer in Cancer Survivorship
Patricia A. Ganz, MD, FASCO

Although quality of life has been an implicit medical outcome since the time of Hippocrates, integrating the explicit effort to assess the effects of cancer treatment on the patient's quality—and not quantity—of life was spearheaded by dedicated pioneers. One such trailblazer is Patricia A. Ganz, MD, FASCO, whose contributions to quality-of-life and quality-of-care issues have expanded the field's capacity to deliver high-value cancer care.
Early Experience in Medicine
Dr. Ganz was born in Los Angeles, but her parents moved to Beverly Hills when she was 5 years old because of the city's excellent school district. "My father was a general practitioner whose early career had been interrupted by service in the Army during World War II, and after the war my parents moved from Detroit to Los Angeles. My father practiced industrial medicine in an office setting; it was like an urgent care practice where they took care of people injured at work with traumatic injuries. He also had a more general practice where he had some hospitalized patients and did limited surgeries, such as appendectomies and hernia repairs," said Dr. Ganz.
Patricia A. Ganz, MD, FASCO

TITLE
Director, Center for Cancer Prevention and Control Research at the Jonsson Comprehensive Cancer Center at UCLA
MEDICAL DEGREE
MD, UCLA School of Medicine
ON HER TIME RUNNING A VA HOSPICE UNIT
"It was a formative period, as I determined that we should not wait until someone was in the last weeks of life to apply all of the supports of hospice. Instead, we focused on physical rehabilitation, pain and symptom control, and psychosocial support from the time of diagnosis until death. Even though many patients in my practice had advanced disease and eventually died, an increasing number became long-term survivors, even then."
She continued: "I remember having to drive by the hospital on weekends so he could see patients who were hospitalized. When I was about 10 years old, I would go with him to the office during the summer and help with some light secretarial work. All of the billing was done on a fee schedule from the insurance companies that covered work-related injuries. This was about the time that Medicare came into existence, and I saw the transformation that insurance coverage had for the aging population. My father's hours were very regular, sharing the daytime practice with another physician, and with moonlighting residents who worked nights and weekends. He did not have the stresses of a solo practitioner at that time. He came home early and regularly went to the gym and played handball. In retrospect, if I had been exposed to a busy physician who had little time for his family, I might never have considered a career in medicine."
An Independent Mother as Role Model
Dr. Ganz's mother had worked in her family business in Detroit before she herself started a family and, as her children got older, she grew itchy to get back to work and began seeking out business opportunities. "When I was about 12 years old, my mother and my uncle started an auto parts business, which they built and ultimately sold to a very large corporation. Again, this was during a period when women weren't out in the workforce and were certainly not starting businesses. Her gumption and success influenced my perspective on life. There were a number of other independent-minded women in the family who pushed the social envelope, so it was a healthy environment for a young girl to grow up in," said Dr. Ganz.
Dr. Ganz's father encouraged her to pursue a career in medicine, but she wasn't keen on the long haul in school required to become a doctor. "I went to a public high school that had a strong history of sending its graduates to highly competitive colleges, and I was accepted at Radcliffe College (Harvard University) among other Ivy League colleges.There were only 300 women in my class at Radcliffe with 1,200 men at Harvard; all of our classes were coeducational, and my graduating class was the last to have a separate graduation from Harvard's. It was a great experience, and I enjoyed being in Boston, which was very different from where I grew up. I majored in biology, but I also took a lot of liberal arts classes in art and government among others, simply to broaden my perspectives," said Dr. Ganz.
A Few Good Women
During summer vacations from college, Dr. Ganz returned home to California where she volunteered at the University of California, Los Angeles (UCLA), in a pediatric cardiology laboratory for three summers. "I also received a California Heart Association fellowship one summer, which is when I met my future husband, who, at the time, was a physics student who'd decided to give medicine a last chance in consideration of parents who wanted him to become a medical doctor. During my third year at Radcliffe, I decided that I didn't want to go on to graduate school. I realized that I loved human interaction, and that's when I decided to become a physician," said Dr. Ganz.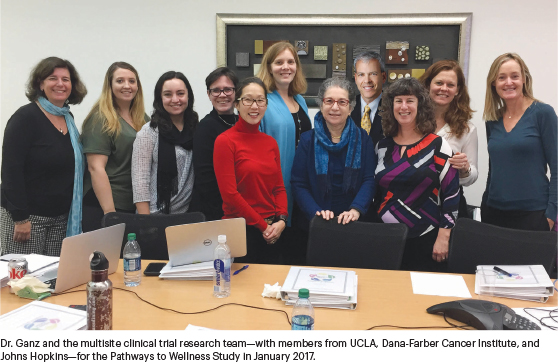 Dr. Ganz's college experience was forged during a tumultuous era: the Vietnam War was front-page news, and grassroots activism was reshaping America's sociopolitical landscape. Sexism was pervasive in medical schools, which frequently passed over highly qualified women under the assumption that they would end up quitting to get married and have babies, ultimately bringing down the school's national competitive ranking. "Very few women went to medical school then, but because I'd gone to Radcliffe and Harvard and competed against an overwhelming majority of bright men, I wasn't intimidated. I ended up going to UCLA, in part because it had a pass/fail system that was more conducive to creative thought than the nitpicky grading system employed in most schools. Then, of course, my husband-to-be was in Los Angeles, which likely played a part in my decision. I was one of only three women in my class," said Dr. Ganz.
From Cardiology to Oncology
During her first year of medical school, Dr. Ganz married the son of William Ganz, MD, a famous cardiologist who had made noted contributions to the field. During the summer between her first and second medical school years, Dr. Ganz worked in a cardiologist's laboratory, which, combined with her previous exposure, put her career on a glidepath to a career in cardiology. At the time, oncology was a nascent field in which surgeons provided the first line of cancer treatment.
"During my medical school education, UCLA didn't offer much exposure to oncology. However, by the time I began my internship, they had recruited a young dynamic hematologist-oncologist who started a clinical cancer ward, which was my first exposure to medical oncology. It caught my interest, and I began rethinking cardiology. One night, two men came into the cardiac care unit in full cardiac arrest, and they both ended up in vegetative states. This was before statins and other preventive interventions, and, to me, it looked there was nothing on the horizon to prevent or cure this illness. Coincidentally, I saw phase II clinical trials of cisplatin in men with advanced testicular cancer who had miraculous responses, so that added to my interest in oncology," said Dr. Ganz. "So, I made a big career change, thinking how exciting it would be to become an oncologist and participate in a field that one day might see cures for this dreaded disease, which at that time was often a death sentence," she added.
The other motivating factor was the "taking care of the whole person, not just the disease," aspect of cancer care. "In oncology, given that all your patients faced a potentially lethal disease, there was added intensity to the decision-making and the doctor-patient relationship that you don't necessarily get in other specialties," said Dr. Ganz.
Noncompliance Sparks an Idea
During Dr. Ganz's oncology fellowship, the vast majority of her colleagues were pursuing research on hematologic malignancies, and she was mentored by the lone solid tumor specialist. Adjuvant breast cancer therapy was just in its infancy, and supportive care drugs were nonexistent; many women complained—justifiably so—about the brutal side effects of their treatments. "I remember a patient's bloodwork that didn't have the usual low counts associated with the drugs she was on, and I asked her if she'd been taking her meds. She confessed that she hadn't, and that incident was a catalyst for my interest and future work in quality-of-life and outcomes research," said Dr. Ganz.
As Dr. Ganz thought about her future career objectives, she was offered a faculty position at a UCLA-affiliated Veterans Affairs (VA) Medical Center and a Los Angeles County public hospital that was forming an oncology program. The Chief of Medicine offered her an opportunity to develop a hospice on a VA intermediate-care ward.Although most of the patients were receiving radiation or chemotherapy for advanced cancer, they were not at the end of life.She preferred to think of this setting as a palliative care unit that provided services along the continuum of cancer care. This was to be one of Dr. Ganz's first opportunities to develop a program that would incorporate a focus on quality of life into the management of cancer, which influenced her later career path.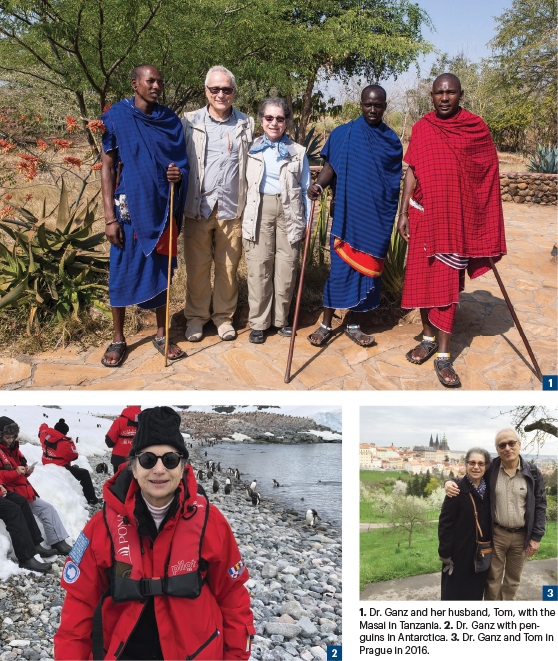 Along with running the palliative care unit at the VA hospital, Dr. Ganz also maintained her clinical work at UCLA and worked at the county oncology clinic, where her patient population comprised largely younger Latinos with cancer. "Each of the three systems taught me about specific complexities within our larger health-care delivery system. It was a formative period, as I determined that we should not wait until someone was in the last weeks of life to apply all of the supports of hospice. Instead, we focused on physical rehabilitation, pain and symptom control, and psychosocial support from the time of diagnosis until death. Even though many patients in my practice had advanced disease and eventually died, an increasing number became long-term survivors, even then."
Returning to Her Academic Roots
In 1992, Dr. Ganz returned to UCLA full time, taking a faculty position in the Department of Health Policy and Management in the School of Public Health, along with a research appointment in the cancer center.Within a year, she assumed the Directorship of the Center for Cancer Prevention and Control Research of the Jonsson Comprehensive Cancer Center at UCLA, where she has remained ever since. In this capacity, she leads a large research group that applies the scientific disciplines of public health to research on the prevention, detection, treatment, and supportive care of cancer patients and survivors. "My move back to UCLA was prompted by the realization that in order to make substantive changes in the system, I needed to be in a place where I could concentrate on policy, outcomes, and quality-of-life issues. I guess research administration and promoting population health research across the cancer control continuum best describes what I'm currently doing," she said.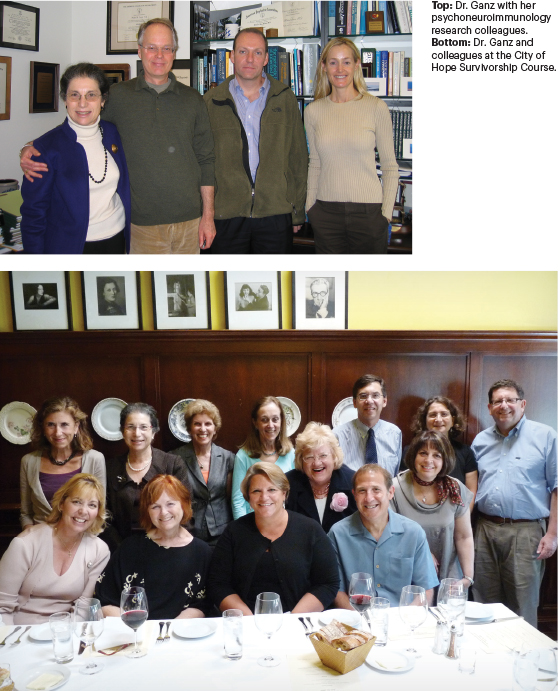 Dr. Ganz has a long history of involvement with the cancer survivorship movement, having been a founding member of the National Coalition for Cancer Survivorship (NCCS) in 1986.In 1996, she was named a Susan G. Komen Breast Cancer Foundation Professor of Survivorship and, in 2004, she served as Co-Chair of ASCO's Survivorship Task Force. In 2006, she was awarded funding to lead UCLA's Cancer Survivorship Center of Excellence as part of the LIVESTRONG Survivorship Center of Excellence Network. "A lot of my research and policy initiatives were helped by my involvement with the Institute of Medicine [IOM], which is now the National Academy of Medicine. I became a member in 2007 and was involved in the National Cancer Policy Forum, as well as in several of the IOM's reports, most notably, the 2005 report From Cancer Patient to Cancer Survivor: Lost in Transition and the 2013 report Delivering High-Quality Cancer Care: Charting a New Course for a System in Crisis," said Dr. Ganz.
Constant Challenges
Dr. Ganz has described her research career as one with a "10-year span of attention," during which she investigates an unmet need in the cancer field and, after others join in, she moves to another challenge. She current work, although multifaceted, has focused on survivorship challenges among younger breast cancer survivors. "If you develop cancer in your 30s, for instance, it's usually the only health issue you have, and we oncologists have added to that burden with the treatments we're giving you. So, it's important to understand the unique challenges faced by younger cancer survivors and develop tools to address their needs and long-term complications, such as depression in younger women with breast cancer," said Dr. Ganz.
What does a busy oncology leader do to decompress? "Well, I'm very fortunate that my husband is also a physician-scientist, and we both are passionate about our work. Aside from our careers, we love to travel and experience different cultures and cuisines. We also have two adult children in the area along with two grandchildren, so family is the other vital part of maintaining a balanced life." 
---