Internationally Regarded Cancer Immunologist Did Not Stray Far From Home
Jedd D. Wolchok, MD, PhD, FASCO


Internationally recognized immune-oncology melanoma expert Jedd D. Wolchok, MD, PhD, FASCO, was born and reared in Staten Island, not far from where he would shape his noted career at Memorial Sloan Kettering Cancer Center (MSK) in New York, New York. "I went to Princeton University and, during my undergraduate work there, did a summer internship at a research lab at MSK, where I was mentored by two true pioneers in the field of cancer immunology: Dr. Lloyd Old and Dr. Alan Houghton. They made a lasting impression on me, specifically in the area of how science could inform medicine in an almost real-time way. The idea of doing what we now term translational research was demonstrated in some of the work I was doing with Drs. Old and Houghton, which was almost 40 years ago," shared Dr. Wolchok.
When asked when a career in medicine began to take shape, Dr. Wolchok replied: "During my undergrad work, I was on the fence about medicine. I was very close with one of my uncles, who was a biology teacher, and he instilled in me a curiosity about science and medicine. However, my father was a professor of labor economics, and my mother was an elementary school teacher, so I was also interested in education and the social sciences. But whenever I began thinking about a career trajectory, the summer internship at MSK always loomed large. It was such an intellectually challenging and rewarding experience."
Growing Interest in Oncology
After graduating from Princeton University, Dr. Wolchok entered New York University School of Medicine (NYU). "I had a few other options but felt that the vibe at NYU at the time was aligned with my own personality and humanistic leanings. In retrospect, I cannot imagine a better place for me to have trained, because NYU has had a long and valued relationship with Bellevue Hospital. Not only was it a great place to learn medicine, but also to develop a sense of public service, which was as important for me then as it is now," said Dr. Wolchok.
Jedd D. Wolchok, MD, PhD, FASCO
TITLE
Lloyd J. Old/Virginia and Daniel K. Ludwig Chair in Clinical Investigation; Chief, Immuno-Oncology Service; Director, Parker Institute for Cancer Immunotherapy at Memorial Sloan Kettering Cancer Center, New York; Associate Director, Ludwig Center for Cancer Immunotherapy
MEDICAL DEGREE
MD and PhD, New York University School of Medicine, New York, New York
NOTABLE HONORS
Castle Connolly: New York Magazine Top Doctors (2013–2018)
The Solomon A. Berson Medical Alumni Achievement Award in Clinical and Translational Science from the NYU School of Medicine (2016)
Taubman Prize, University of Michigan (2016)
Board of Directors, ASCO (2015)
Dr. Melvin L. and Dr. Sylvia F. Griem Lectureship & Award Recipient (University of Chicago; 2015)
AICF Prize for Scientific Excellence in Medicine Award (2014)
Giant of Cancer Care in Melanoma Award (2014)
AACR Rosenthal Award (2014)
Dr. Wolchok explained that his decision to enter oncology was first nurtured by outstanding oncologists at NYU, such as Ronald Blum, MD, and by his PhD thesis mentor, Dr. Jan Vilcek, a prominent immunologist who is credited with the discovery of infliximab, which treats autoimmune disorders such as rheumatoid arthritis, psoriasis, and Crohn's disease. "Jan is a professional and life-long friend, mentor, and an example of a righteous human being. From the beginning of medical school, I never strayed too far from the goal of bringing together my training in immunology and clinical medicine and my growing interest in oncology. The influences of Drs. Old, Houghton, and Vilcek were vital in helping me form a love for science and medicine and how the application of rigorous science can enhance humanity."
Trial by Fire During the AIDS Crisis
Dr. Wolchok did his residency at Bellevue Hospital in the early 1990s, a period in which HIV-infected patients inundated the city's health-care system. "People infected with HIV were the bulk of our patient population, and it was an overwhelming medical scenario, one that was a huge learning experience on multiple levels for me as a young doctor. It gave me a vantage point to care for patients in various sectors of humanity, from the extremely well-privileged to the prison population. But no matter what their social status, we gave everyone the same care, and, unfortunately, they died the same way. Thankfully, life-saving drugs were developed shortly after my training ended," he related.
Dr. Wolchok shared some recent experiences with the coronavirus disease 2019 (COVID-19). "In early April, I volunteered for extra clinical duties to deal with the COVID-19 epidemic at MSK and at the New York State Physician Reserve, and it brought back the sense of patient and public health urgency I experienced during my residency at Bellevue. At the time, we were all sort of amateur infectious disease doctors, and there's a lot of that going on right now."
Focus on Melanoma
Following residency, Dr. Wolchok went to MSK to do his fellowship, returning to the same
laboratory he'd cut his research teeth in; his aim was to develop cancer vaccines. "In terms of the future of immunology and vaccines, melanoma has always been on that list. At the time, melanoma was largely refractory to standard cytotoxic chemotherapies and, in turn, was more or less handed over to the immunology community," said Dr. Wolchok. Working on melanoma in the laboratory and exposed to the clinical need throughout his different rotations, he gravitated to that area. "Naturally, the fact that one of my most important mentors, Dr. Houghton, was Chief of the Melanoma Service also played a part in my decision to specialize in that disease," continued Dr. Wolchok. "My colleague and friend, Dr. Paul Chapman, also played a role in my decision to pursue a career as a clinician-scientist focusing on melanoma."
It is common practice for noted academic oncologists to make several strategic moves during a career; however, Dr. Wolchok explained why his career aspirations never required a change of venue. "First off, MSK is a wonderful institution that delivers world-class care for patients with cancer and integrates science and medicine in a unique way. During my fellowship, I was surrounded by physician-scientists who took work from their own or colleagues' laboratory directly into the clinic. Seeing that gave me confidence that I could do the same, which was one reason I've never felt the need to go elsewhere."
A New Opportunity
What does a day in the life of the famous clinician-scientist look like: "I was Chief of the Melanoma Service at Memorial for the past 6 years," shared Dr. Wolchok, "and I have thoroughly appreciated the privilege of working with world-class colleagues. I've recently had a change in title and area of responsibility, which invariably affected my day, when the opportunity at MSK arose for us to develop a formal community of physician-scientists focused on immuno-oncology as their future."
Dr. Wolchok continued: "For example, until recently, there was not a formal path for graduating fellow or junior faculty members to develop an independent laboratory research program in immuno-oncology unless they were doing basic work. I was offered the opportunity to work alongside Dr. Charles Sawyers and Dr. Ross Levine to create the Immuno-Oncology Program, within the Human Oncology and Pathogenesis Program (HOPP). I still lead my terrific laboratory team and do work in the clinic 1 day a week, taking care of people with melanoma and evaluating new therapies. But the next chapter in my professional life is to create a community of 10 physician-scientists focused on the interface between immunology and cancer medicine."
"Balancing a professional and personal life is often hard but vital, because, in the end, one's legacy is not just written at work."

— Jedd D. Wolchok, MD, PhD, FASCO




Tweet this quote



The field of immunotherapy has come a long way in recent years, but where is it going next? "Working on ways to bring together immunotherapies with other types of anticancer approaches and with those promising agents in development in a thoughtfully and non-empiric process will push the field ahead," according to Dr. Wolchok. "Identifying, hopefully via blood sampling, features of a given patient and their tumor that allow for a more scientific selection of immunotherapy is another important step forward. In short, as we gain more knowledge in this exciting field, we should focus on novel combinations and pathways that offer better outcomes for our patients with cancer. The bottom line is we are in a field that offers tremendous promise; we need to be smart moving forward," he added.
Endeavors Outside of Work
The day-to-day challenges of an academic physician-scientist need to be mediated with off-work endeavors before potential burnout occurs, noted Dr. Wolchok. "The thing that keeps me grounded, first and foremost, is my family. My wife, Karen, also works at MSK as a music therapist and program manager in the Integrative Medicine Service, and our daughter, Rachel, who is a third-year student at Oberlin College, is studying religion and is a viola performer. Balancing a professional and personal life is often hard but vital, because, in the end, one's legacy is not just written at work."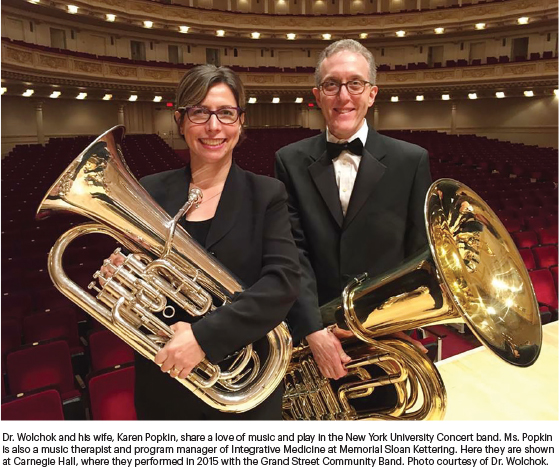 Dr. Wolchok continued: "I actually met my wife during grad school in the New York University Concert Band. She plays a tenor-voiced brass instrument called a euphonium, and I play the tuba. We practice together and still play in the NYU Concert Band." 
---