From the United States to Germany and Back Again to Become ASCO President in 2021–2022
Everett E. Vokes, MD, FASCO

ASCO President-Elect Everett E. Vokes, MD, FASCO, is the John E. Ultmann Professor, Chair of the Department of Medicine, and Physician-in-Chief of University of Chicago Medicine and Biological Sciences. After a journey from the United States to Germany and back again, Dr. Vokes arrived at the University of Chicago in 1983 as a hematology/oncology fellow. There, he established a career as an internationally recognized expert in the treatment of head/neck and lung cancers as well as translational research in those tumor types.
Everett E. Vokes, MD, FASCO
Dual Citizen
Dr. Vokes was born in New York City, where his parents lived and studied at The Juilliard School. Early on, the family relocated to Nashville, and at the age of four, his parents divorced. Dr. Vokes' mother's family were German immigrants, who had since returned to their original homeland.
"After the divorce, I went with my mother to Bonn, West Germany's capital city, where she planned to further her study as a pianist. Being a single parent while studying music was challenging for her, but I was fortunate to have a loving grandmother who took excellent care of me. She was a strong influence in my life," shared Dr. Vokes.
Everett E. Vokes, MD, FASCO
TITLE
John E. Ultmann Professor, Physician-in-Chief, and Chair of the Department of Medicine, University of Chicago
MEDICAL DEGREE
MD, University of Bonn Medical School, Bonn, Germany
NOTABLE HONORS
President, ASCO (2021–2022)
Chair, Cancer and Leukemia Group B, Respiratory Core Committee (2017)
ASCO Board Member (2009–2012)
ASCO Translational and Research Professorship (2008–2013)
Elected Member, Association of American Physicians (2007)
Waun Ki Hong Visiting Professor Award, MD Anderson Cancer Center (2003)
Best Cancer Specialists in the United States, Good Housekeeping (1997–1998)
Top Doctors, Chicago Magazine (1996–2019)
Vice Chair, Cancer and Leukemia Group B, Respiratory Core Committee (1996–2004)
Chairman, Radiation Therapy Oncology Group, Head and Neck Medical Oncology Subcommittee (1995–2006)
Although Dr. Vokes grew up in Germany, he was still an American citizen and felt at home in both countries. "My family has a long history in academics, which influenced my early thinking about pursuing an academic career. I think the road to becoming a physician was driven by a desire to heal and help people. I didn't think about going into clinical research until much later, during my fellowship years," explained Dr. Vokes.
Under the German educational system, students do 13 years of school. Students are required to choose a field of study before entering a university. "I decided on medicine, which was a competitive field to get into. On the other hand, being a publicly funded institution, the cost was almost nothing. In 1973, I entered the University of Bonn Medical School. For the first 2 years, students study the science disciplines, biology, chemistry, physics, and anatomy—similar to premed studies in the United States. The next 4 years were dedicated to clinical lectures and training," Dr. Vokes continued.
During medical school, Dr. Vokes had not yet decided on a specialty. "I did a clerkship at a hospital in Sydney, Australia. During my time there, I had my first exposure to oncology and to the idea of treating a malignancy with a systemically active therapy, which in that particular setting was combination chemotherapy for lymphoma. I was fascinated by the science behind oncology and the potential to truly make a difference. That's when I decided to make oncology my career," said Dr. Vokes.
Back to the United States
Toward the end of medical school, Dr. Vokes played with the idea of moving back to the United States for his residency. "I thought training in the United States would offer me a terrific learning opportunity. I was an America citizen, but I'd spent the better part of my life in Germany, so there was a lot to consider. I ended up taking the requisite exams to become credentialed in the United States and applied to several hospitals. I was accepted into an internal medicine residency at Ravenswood Hospital Medical Center, a community hospital in Chicago. I spent 2 years there and also met my wife, Tamara, who is from Yugoslavia, now Serbia," he shared.
Dr. Vokes added: "Tamara was a year ahead of me. She wanted to become an endocrinologist and was accepted to a fellowship at the University of California, Los Angeles. So, we spent a year in Los Angeles, where I was at the University of Southern California as a senior resident. We were still intrigued by the depth of the long scholarly tradition in endocrinology and hematology/oncology at the University of Chicago, so after a year, we went back to Chicago in 1983. I did my hematology/oncology fellowship in Chicago, and I'm still here."
Deciding on a Specialty
Asked about his decision to specialize in head/neck and lung cancers, Dr. Vokes responded: "Young oncology fellows often initially think about lymphoma or other hematologic malignancies because that's where you see the most immediate treatment effect. But, as it turned out, there were patients with head and neck cancer being treated at the University of Chicago Medical Center with induction chemotherapy, which was then a new concept, and I saw tumor shrinkage. Near the end of my fellowship, I was given an opportunity to develop the head and neck oncology program with support and mentorship from the Chief of Hematology/Oncology, Harvey Golomb (a former ASCO President), and in strong collaboration with Ralph ­Weichselbaum, which continues to this day. I rapidly discovered the tumors shrink with chemotherapy, but they recur if you do not continue with radiation or surgery."
Dr. Vokes continued: "However, the work gained speed, and we tested various induction chemotherapies and also regimens with concurrent radiotherapy, which turned out to be the better strategy and was ultimately shown to increase cure rates. Moreover, Waun Ki Hong and others had started to investigate practice-changing organ-preservation strategies. So, it was an exciting time to be able to save people with head and neck cancer and also to save the larynx and other anatomic structures in the head and neck. Then, antiemetics, growth factors, and the taxanes came on board, and eventually, of course, the new targeted therapies and ­immunotherapies."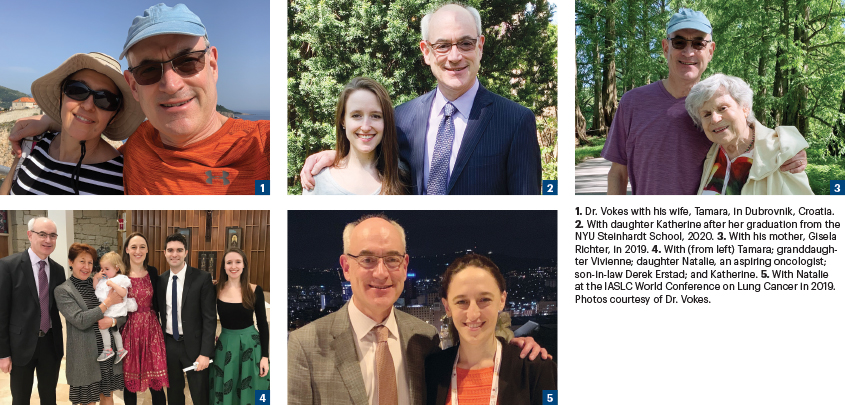 A Day in the Life
Dr. Vokes reflected on his decision to remain at Chicago Medical Center for the duration of his career. "I was lucky to be at a great institution with very fine mentors, such as Harvey Golomb, Ralph Weichselbaum, Richard Schilsky, John Ultmann, and colleagues such as Janet Rowley and Mark Ratain. And the institution also provided me the opportunity to expand my career here. It's been a very rewarding experience." Integration in the national and international community especially in the field of lung cancer through the Cooperative Group system under Mark Green and many close friends and the work of the International Association for the Study of Lung Cancer were also of great significance."
As Chair of the Department of Medicine, Dr. Vokes wears multiple hats. "A good deal of administrative work goes along with my position. And now during the COVID-19 crisis, there are extra challenges in providing day-to-day services for our patients. "Our clinical trials have been largely halted for the time being, which is difficult to deal with, given their importance in advancing clinical cancer care. On the other hand I have been impressed with the quality and number of investigator-initiated trials that our faculty generated within just a few weeks to study COVID and optimize our therapeutic approach." There are also the financial implications of the pandemic, which need to be addressed on a daily basis. Outside of administrative duties, oncology continues as my main focus. I have a busy weekly clinic in which I see patients with head/neck and lung cancers. Even though the administrative work has increased over the years, I try to balance it with oncology work," commented Dr. Vokes.
ASCO President-Elect
Dr. Vokes shared his enthusiasm about being ASCO's President-Elect. "ASCO has always been an important part of my career since becoming a member in 1986. Being part of the Society has given me the chance to meet and interact with colleagues in multiple specialties from around the world. I was also lucky to be a recipient of ASCO's Translational Research Professorship, which really helped to support the careers of several of our fellows. Now, ASCO is supporting my daughter Natalie (2019 Endowed Merit Award recipient), who is also an oncologist. ASCO has and continues to be immensely influential in advancing the highest standards of care for our patients with cancer and for us—the oncologists who provide that care."
Dr. Vokes put a positive spin on possible benefits from the COVID-19 pandemic. "Crises have the potential to rally people and accelerate good ideas. We have seen that with the use of telemedicine and some innovations in clinical trials administration. I'm intrigued by learning how to optimize the various medical applications of telemedicine to have greater reach in underserved communities as well as global oncology. In addition, the use of artificial intelligence in areas such as diagnostics offers yet another promising step forward. I also think the crisis will have a long-term effect on how we conduct meetings. To a large degree, we are at a crossroads, and with that comes forced acceleration of innovation. I think we should use this time to reflect and learn."
Motivated by New Advances
Despite multiple duties, Dr. Vokes is still actively engaged and motivated by clinical research in head and neck cancer and the integration of immunotherapies into de-escalation strategies to reduce long-term toxicities of curative-intent therapies. "We are clearly making progress in that direction in human papillomavirus [HPV]-positive cancer and hope to bring that success into HPV-negative disease. In addition, in stage III lung cancer, we now have proof of principle that immunotherapies can prolong life and increase cure rates. However, we need to work out the best strategy, whether it's induction, concurrent, or adjuvant. We don't know yet, and the right trials are needed to answer that vital question. I look forward to moving the field forward."
How does a busy clinician-researcher decompress? "Tamara and I have two beautiful daughters. Natalie is an oncologist currently finishing her training at the Dana-Farber Cancer Institute. She and her husband, Derek, who is a surgical oncologist, have a 2-year-old daughter. Katherine is a vocalist and composer living in New York City and recently completed a masters in music theory and composition with a focus in screen scoring at New York University. However, due to the situation there, she's been living with us for the past several weeks. We love biking and traveling, both of which have been postponed. I'm looking forward to being able to do those activities hopefully in the not-too-distant future," said Dr. Vokes.
---