Expert in Clinical Trial Methodology Makes His Mark in Genitourinary Cancer
Ian Tannock, MD, PhD, DSc, FASCO


In 2019, at the ASCO Annual Meeting, Ian Tannock, MD, PhD, DSc, FASCO, was honored with the Allen S. Lichter Visionary Award for his contributions to the fields of genitourinary and breast cancers as well as his efforts to optimize clinical trial design. The title of his lecture was "Clinical Trials and Their Application: Should We Believe What We Read?" Dr. Tannock is Emeritus Professor of Medicine and Medical Biophysics at Princess Margaret Cancer Centre and the University of Toronto.
A Strong Student
Dr. Tannock was born on November 22, 1943, in a royal home converted in wartime to a maternity hospital in Hertfordshire, United Kingdom, about 20 miles north of London. "My father was an aircraft engineer and worked to produce fighter planes, so he was exempt from military service. I grew up in St. Albans and attended a local primary school. Then I went on to a scholarship at St. Albans School, which is noted for being a strong academic institute. I did well at school, particularly in math, and won a scholarship to Cambridge University when I was 18," he said.
Dr. Tannock continued: "I enjoyed sports such as rugby but was average in ability. I had some good teachers and recall a teacher of English literature who was very stimulating; I have always enjoyed reading. After graduation, I won a small grant to study for 3 months in Germany at the University of Mainz, where I shared a spartan room with a German student. By the end of this time, I could speak German well, although by now I've forgotten most (but not all) of the vocabulary."
Redirecting His Path
Unlike the United States, explained Dr. Tannock, in the British educational system, students begin to think about specializing at about 15 years old. Mathematics came easy to Dr. Tannock, giving him time from studying to pursue other interests of a teenager. "At Cambridge, I soon discovered I wasn't drawn to mathematics; it was too theoretical. Instead, I wanted to study medicine, but it was difficult to change course in the British system of early specialization. I had some career counseling and switched my major to physics. After obtaining my bachelor's degree, I was accepted into a PhD program in biophysics at the Institute of Cancer Research in South London, which is connected with the Royal Marsden Hospital and is part of London University," he shared.
Ian Tannock, MD, PhD, DSc, FASCO
TITLE
Emeritus Professor of Medicine and Medical Biophysics at Princess Margaret Cancer Centre and the University of Toronto
MEDICAL DEGREE
MD, University of Pennsylvania, Philadelphia
NOTABLE HONORS
ASCO: Allen S. Lichter Visionary Leader Award and Lecture (2019)
Member, Order of Canada, Government of Canada (2013)
ESMO Award (2012)
DSc (Med) honoris causa UK (Honorary Degree), London University, United Kingdom (2009)
Fellow of ASCO (2008)
O. Harold Warwick Prize, National Cancer Institute of Canada, Toronto (2003)
Professor of Survivorship Award, Susan Komen Breast Cancer Foundation (2001)
The Spinoza Professor, University of Amsterdam, Netherlands (1995)
Honorary Membership, European Society of Therapeutic Radiation Oncology (1992)
The William Rudder Fellow, Queensland, Australia (1992)
Dr. Tannock's doctoral research focused on cell proliferation in experimental tumors, using thymidine autoradiography, with an emphasis on the tumor microenvironment. "My supervisors, Drs. Gordon Steel and Len Lamerton stimulated my interest in biomedical research. During that time, I married my wife, Rosemary," he added.
Medical School in the States
In late 1968, Dr. Tannock and his family went across the pond, where Dr. Tannock did a 2-year postdoctoral program in the Section of Experimental Radiotherapy at MD Anderson Cancer Center in Houston, under the supervision of Dr. Herman Suit, MD, PhD. "My eldest son, Stuart, was born there," he noted. "I finally decided to apply to medical school and was accepted at the University of Pennsylvania in Philadelphia in 1971. I earned my medical degree in 3 years, since I was able to fast track because of my biomedical knowledge and previous research. My daughter Lisa was born there."
Dr. Tannock shared an amusing incident. "During my first year in medical school, I was invited to speak at a meeting in London (with expenses paid) and played truant from medical school to do that, only to have a spontaneous pneumothorax that kept me in London for 3 weeks! Fortunately, the Penn medical school took the positive view; it was good for one of its first-year students to be invited to speak at an international meeting."
Decision to Pursue Oncology
Dr. Tannock did his residency in internal medicine at Toronto General Hospital (TGH), the major teaching hospital at the University of Toronto, well known for the discovery and first use of insulin. His decision to specialize in oncology was formed during his doctoral studies, in which he specialized in tumor biology. It was later confirmed during his postdoctoral training at MD Anderson, where he realized that oncology offered the opportunity to do clinical work and research in a field with the potential to make profound advances.
Dr. Tannock and his wife decided to relocate their family to Canada because he thought the culture combined some of the better attributes of both the United Kingdom and the United States. "I also wanted to specialize in medical oncology, and Princess Margaret Hospital (PMH) and its associated Ontario Cancer Institute were excellent. Moreover, I knew some people there and had given a seminar there 5 years earlier. After 2 years of internal medicine at TGH, I did my oncology residency at PMH (you would call this a fellowship in United States, but we reserve that word for people who have completed their training in a subspecialty)," said Dr. Tannock.
Princess Margaret Cancer Centre
From 1974 to 1978, he completed his internal medicine and medical oncology training in 4 years, receiving 1 year of credit for his previous research efforts. "My training included 6 months of radiation therapy, and it's a pity that more recent graduates in medical oncology don't have experience in related specialities. Since I saw opportunities in genitourinary oncology, which at that time barely existed, except for testicular cancer, I took a 2-month elective in urology, working with Dr. Michael Jewett, who has become a life-long colleague and friend," said Dr. Tannock.
He continued: "I had many other good mentors at PMH as well as fellow residents, including Mary Gospodarowicz, MD, who is a radiation oncologist. She became President of the Union for International Cancer Control and Medical Director of PMH. The three of us have shared in the management of many patients with genitourinary cancer."
Dr. Tannock retired from active practice and research at PMH (now Princess Margaret Cancer Centre) in 2014. "I still teach clinical research fellows and oncology residents a few times per year. I'm also Emeritus Professor of Medical Oncology and Medical Biophysics there and at the University," noted Dr. Tannock.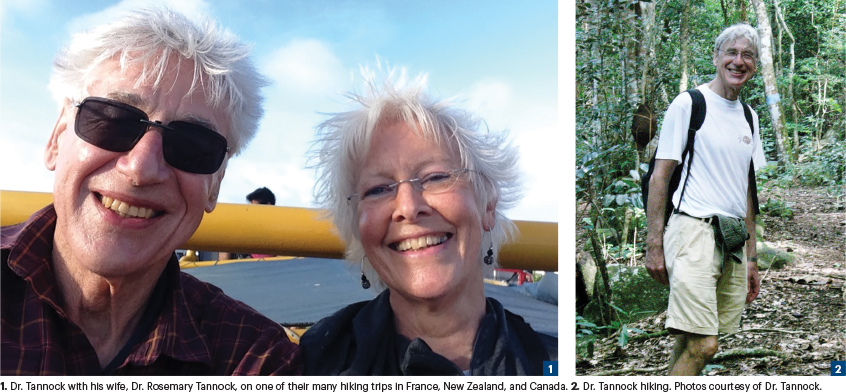 Dr. Tannock spent his entire professional career at Princess Margaret Cancer Centre, except for 1 year of sabbatical in Lyon, France, from 1998 to 1999, where he worked on a textbook and improved his French. "At Princess Margaret Cancer Centre, I divided my time between my clinical practice and clinical research, focusing on genitourinary and breast cancers, and my laboratory, which is a few floors up in the same building. I kept my lab group small and studied problems related to chemotherapy and the microenvironment of solid tumors, such as limited drug distribution, as a cause of drug resistance," said Dr. Tannock. Most of his clinical work was in outpatient clinics, where he developed a critical interest in clinical trials and was able to lead some of them, particularly in prostate cancer.
Seminal Study
In the 1990s, Dr. Tannock led an international study to determine whether chemotherapy could improve symptom control and quality of life in patients with advanced prostate cancer. Up to that point, no chemotherapy agent had been approved for prostate cancer, but mitoxantrone was approved by the U.S. Food and Drug Administration in 1996, based on his Canadian study.
In 2004, Dr. Tannock published the results of a second study he authored in The New England Journal of Medicine, which demonstrated that docetaxel improved survival and symptom control for men with hormone-resistant metastatic prostate cancer. It remains the preferred treatment to this day.
"It is intriguing that 30 to 40 years ago at ASCO meetings, there would be perhaps 50 to 100 people in the session on genitourinary oncology, and now there are thousands. I also developed a reputation as a skeptic and as a (hopefully constructive) critic of the hype often associated with many cancer treatments," noted Dr. Tannock. "This led to papers that attempted to improve the way clinical trials were designed and analyzed, with appeals to avoid personal conflict of interest and to lobby against the obscenely high pricing of anticancer treatments."
Career Highlights
When asked about a career highlight, Dr. Tannock focused on his time at Princess Margaret Cancer Centre. "I would say my leadership role there in the development and expansion of the clinical research fellowship program is a highlight. Throughout my career, I supervised two fellows at any one time, and these young qualified medical oncologists came from many different countries to spend usually 2 years at Princess Margaret Cancer Centre. I meet with many of them for dinner at the ASCO meetings and am proud that many of them now hold international leadership positions."
Many of Dr. Tannock's publications have a fellow as first author, and their collaborations have developed many ideas to launch studies together. "There are now more than 60 such fellows working at PMH with various faculty supervisors, and we have an advantage over most U.S. institutions in that these clinical research fellows can obtain an academic license; hence, they can treat patients, under conditions similar to our own oncology trainees, in clinics. However, at least 50% of their time is protected for research projects," he explained.
Retired but Busy
Asked about his current activities in retirement, Dr. Tannock said: "Since I retired in 2014, I have continued to teach widely, both locally and in high-income and low- and middle-income countries. I also have continued to write papers, many of them critical commentaries or editorials, often with former fellows. For example, I have spoken and taught at ASCO and at the European Society for Medical Oncology. I have chaired ASCO's International Education Study Group for the past 3 years and have taught in several clinical trials workshops in middle-income countries, and week-long ones, most recently in Europe and in India—all sponsored at least in part by ASCO."
"I have also done volunteer work, teaching in low-middle income countries such as India, Pakistan, Nepal, Kenya, and Vietnam. So, my typical day includes preparation for lectures given locally and internationally as well as writing and reviewing for select journals."
What lies ahead for Dr. Tannock? "As long as I remain fit and healthy, and people like my teaching and articles, it will be more of the same," he said. "Obviously, I am presently restricted by COVID-19. However, I have gone through recredentialing, so if need be, I can participate in telemedicine at Princess Margaret Cancer Centre; most of the follow-up consultations are now being done this way. I had planned in March to teach intensively in Uruguay, but this, together with other speaking commitments for 2020, has been postponed."
Any parting words for the next generation of oncologists? "Always be ready to ask for advice, no matter how senior you are. Always keep constructively critical of what you read in the literature," suggested Dr. Tannock. 
---