An Early Interest in Cancer Immunology Inspires a Life's Work in Melanoma
F. Stephen Hodi, MD

F. Stephen Hodi, MD, Director of the Melanoma Center and the Center for Immuno-Oncology at Dana-Farber/Brigham and Women's Cancer Center, was born in Framingham and grew up in the town of Acton, a western suburb of Boston. "My dad was an engineer, and I was influenced by puzzle-solving and using applied science to figure things out. In high school, I had a science teacher who got me excited about biology. So, that set the groundwork for my later decision to pursue a career in medicine," shared Dr. Hodi.

F. Stephen Hodi, MD
A Young Caregiver
After high school graduation, Dr. Hodi entered Harvard University in 1984, majoring in biochemical sciences. "I'd grown up taking care of my grandparents on my mother's side of the family. They'd both had strokes, so we rotated care when I was in high school. After playing hockey, I'd go over and stay with them, helping out with whatever was needed. It was difficult, but I think caring for people with chronic illness at an early age was formative in my decision to go into medicine and informed part of who I am as a doctor," he said.
Dr. Hodi continued: "Most people who want to become a doctor take premed in college, doing all the prerequisite science courses, and then go straight into medical school. But I wanted to get a real-world taste of what it was like to treat sick people, so during my undergraduate work at Harvard, I became an EMT in Boston for a couple of summers. I really enjoyed it, as it brought me into the action of caring for people in tough medical situations."
F. Stephen Hodi, MD
TITLE
Professor of Medicine, Harvard Medical School; Professor of Medical Oncology and Sharon Crowley Martin Chair in Melanoma, Dana-Farber Cancer Institute; Director of the Melanoma Center and the Center for Immuno-Oncology, Dana-Farber/Brigham and Women's Cancer Center, Boston
MEDICAL DEGREE
MD, Cornell University Medical College, New York
NOTABLE HONORS
Chair of the AACR–Ocular Melanoma Foundation Fellowship Scientific Review Committee (2015–2016)
Secretary/Treasurer for the Society for the Immunotherapy of Cancer (2014–2017)
Founding Member of the Society for Melanoma Research
Why Internal Medicine and Not Surgery
Dr. Hodi graduated from Harvard University in 1988 and then entered Cornell University Medical College in New York City. Asked about his decision to go into oncology, he said: "In medical school you're very busy and plow through it, not getting much chance to do research, which I was looking forward to. I liked the thinking process of surgery, but you have to love being in the operating room; I found my mind was wandering a bit there, and it wasn't the perfect fit. I knew I wanted to have relationships with patients, so I went into internal medicine."
As an undergraduate, Dr. Hodi studied immunology. "Since the biggest problem out there was cancer, figuring out how the immune system interacts with malignant cells really caught my interest," he explained. "Plus, there was an opportunity to get into a specialty that addressed an unmet need."
After receiving his medical degree from Cornell, Dr. Hodi entered the Hospital of the University of Pennsylvania in 1992 as an intern, staying on and completing his residency in internal medicine as a senior assistant resident in 1995. "It was a valuable experience, as I built solid relationships with the attendings, learning how they cared for their patients and seeing what was and was not effective. I also had an opportunity to do some research, which as a resident working 100 hours a week is difficult to do. I had exposure to the oncology ward, which was a rewarding experience in my training," he commented.
Immunology Considered Offbeat at the Time
Dr. Hodi began a medical oncology fellowship at Dana-Farber Cancer Institute in 1995. "Back when I was doing my fellowship, immunology was not on the radar; in fact, people kind of made fun of the idea of pursuing a career in the field at that time," noted Dr. Hodi. "There were two cancers in which chemotherapy was ineffective back then—kidney cancer and melanoma—and immunology was beginning to play a role. However, it has been a long, difficult road on the way to immunology's current status in oncology," he said.
"Caring for people with chronic illness at an early age was formative in my decision to go into medicine and informed part of who I am as a doctor."

— F. Stephen Hodi, MD




Tweet this quote



During his clinical year of fellowship, Dr. Hodi had the opportunity to work with two mentors: "Back then, the clinic and lab were totally different worlds, isolated from each other, and trying to have a mixture of both experiences was challenging. It was kind of an identity crisis, figuring out where you wanted to be and launch your career from. I was fortunate to find both a clinical and lab mentor who thought about the transitional research part of a career. I was taught the clinical patient aspects of patient care but also learned how to write clinical trial protocols as well as the basic science and how to design lab experiments. I began to look at how to apply what I leaned both in the clinic and in the lab into one synergistic discipline. That's how translational research was developed," said Dr. Hodi.
Sharing Time in the Clinic and in the Lab
Asked to describe a typical day in his work life, Dr. Hodi responded: "As I got older and became a professor, I attended more and more committees than in the earlier stages of my career. About 25% of my work is in the clinic, mostly seeing patients with melanoma. I run trials and mentor others in the skills needed to design and conduct trials. I switch back and forth between the immunology center and the melanoma center, which is exciting."
Dr. Hodi also runs a small translational laboratory 2 days a week. "We work mostly around angiogenesis regulation and core-like labs that do immune assessment of the blood and pathology samples from the immune-oncology center," he continued.
"Then there are a host of meetings that are interspersed during the day. The good part is that the days are filled with variety. It is very important to answer questions from the laboratory work and bring those answers into the clinic, and vice versa, taking knowledge gained in the clinic back to the lab. So, it is sort of a two-way translational street."
Dr. Hodi hopes we are just in the first chapter of novel therapies for cancer. "I would hope that more specifically in the immuno-oncology field, we are reaching a better understanding of the science behind immunology and how to apply it in the clinic" he expanded. "Furthermore, preclinical models are helping us to translate that knowledge into humans on trial. Not only do we need to go from the lab to the clinic, but we need to go back to the lab to give us deeper data on what works or doesn't work in patients with cancer. That's the key driver of the future of immunology."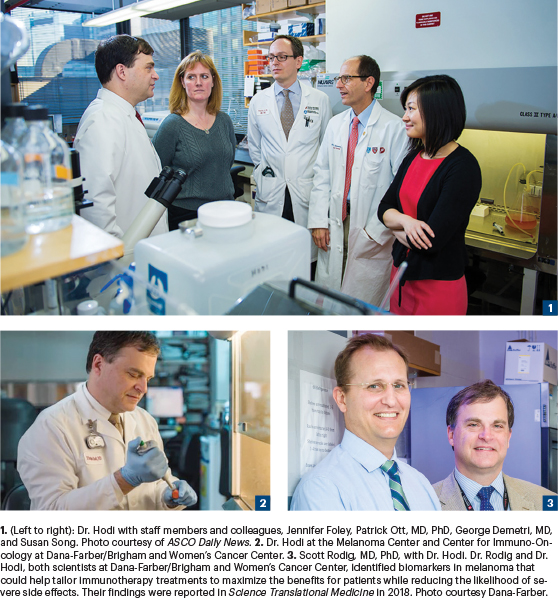 Challenges of the COVID-19 Pandemic
Asked about how COVID-19 has impacted a major cancer institute, Dr. Hodi said: "It has been a terrible source of disruption. It's difficult to see patients in what used to be normal procedures. It's disrupted our clinical trial work because it's impossible to obtain biopsies from the patients we want to accrue. All of the Dana-Farber labs are shut down. I've had no people working in my labs for the past 6 to 10 weeks. I understand the reasoning behind the quarantine, but it's challenging for all of us here who want to work to advance cancer care."
Given the added pressure of the COVID-19 pandemic, there's more need now than ever to find ways to decompress. Dr. Hodi looks to his wife and three children for that. "I got married a little later in life, so my kids are all of school age, which is an active time that keeps us busy. I like watching baseball and traveling, both of which aren't possible right now. It's all about striving for balance, especially in a time like this, but it will pass."
Professional Ties and Research Interests
Dr. Hodi is a member of the National Comprehensive Cancer Network, ASCO, the American Association for Cancer Research, the Eastern Cooperative Oncology Group Melanoma Committee, the Society for Immunotherapy of Cancer, the European Academy of Tumor Immunology, and a founding member of the Society for Melanoma Research. He is an internationally recognized leader in the development of immune therapy and melanoma therapeutics. His clinical investigation efforts have pioneered the use of immune checkpoint blockade and combinatorial approaches to treat cancer.
---