A Lung Cancer Specialist's Winding Journey From Venezuela to Wisconsin
Narjust Duma, MD

Lung cancer specialist Narjust Duma, MD, was born and reared in Mérida, Venezuela, a city nestled on a plateau in the Venezuelan Andes. "I'm the daughter of two surgeons. After my parents divorced, I lived with my mother and spent a lot of time at the hospital where she worked. When she was in surgery, I hung out at the nurse's station and remember them helping me with my homework. So, in a way, the hospital was my home when I was growing up, and that experience led to my desire to become a doctor like my mother," said Dr. Duma.

Narjust Duma, MD
An Early Mentor
Dr. Duma singled out her grandmother, a fiercely determined woman, as a major influence in helping to shape her career path. "My grandmother was a very organized Spanish woman who took the time to teach me how to read, not just the mechanics, but how to immerse myself into the book and draw out all of its meaning. She also taught me how to study: by that I mean the way to organize myself and approach studying, which helped me throughout my education. When I was 10, my grandmother made me read 20 pages of a book before I could go out and play with my friends," said Dr. Duma.
During Dr. Duma's high school years, Venezuela experienced political turmoil that resulted in a coup d'état, leaving the country without a government. Moreover, all of the public universities were closed, leaving the aspiring doctor no option but to flee to the Dominican Republic at 17, where she had some family ties. Dr. Duma recalled feeling like an outsider, as the culture was very different from her life in Venezuela as part of a family of surgeons and intellectuals. She eventually adapted to her new home, entering the Universidad Catolica Nordestana to earn her medical degree.
Narjust Duma, MD
TITLE
Assistant Professor, Division of Hematology/Oncology, Medical Oncology, and Palliative Care, University of Wisconsin School of Medicine and Public Health, University of Wisconsin Carbone Cancer Center, Madison, Wisconsin
MEDICAL DEGREE
MD, Universidad Catolica Nordestana, Dominican Republic (valedictorian)
NOTABLE HONORS
Mayo Brothers Distinguished Fellowship Award (2019)
Merit Award/ASCO Employees Endowed Merit Award (2019)
Diversity Award, Mayo Clinic School of Graduate Medical Education (2018)
Next-Generation Innovators Award (2018)
Resident of the Year, Hispanic Medical Association (2018)
Minority Scholar in Cancer Research Award, American Association of Cancer Research (AACR) Annual Meeting (2018)
Scholar in Training Award, AACR Conference on the Science of Cancer Health Disparities in Racial/Ethnic Minorities and the Medically Underserved (2017, 2018)
Most Scholarly Resident Award, Department of Internal Medicine, Rutgers New Jersey Medical School (2015, 2016)
"I had an early experience of feeling like the other, as I'd developed a Dominican accent, Dr. Duma continued. "When I went back to Venezuela, I sounded like a foreigner, as the accent and culture are distinctly different. I did not belong in the Dominican Republic, but I was no longer as ­Venezuelan as my peers."
During medical school, Dr. Duma was offered a chance to do rotations in a hospital in the United States. "I didn't want to pass up such a great opportunity, but at the same time, being a Latina, I was nervous about being out of place. Soon after I arrived in the United States, I was stereotyped as a typical Latina, which was quite different from who I was. I went through a pretty quick culture-bias learning curve," said Dr. Duma. "But I also met my future husband, who is originally from North Dakota."
Two Patients With Cancer
Dr. Duma returned to the Dominican Republic, with her medical degree, graduating summa cum laude and serving as the school's valedictorian. When asked about her decision to pursue a career in oncology, Dr. Duma responded: "Since I came from a family of surgeons, there was an expectation I would follow that medical tradition. When I was in medical school, I did a 2-week rotation on the oncology ward, where I met a patient, Maria (pseudonym), who had metastatic lung cancer. I noticed she didn't have any family visits, and over my 2-week rotation, we developed a relationship. Afterward, I would leave my surgery rotation early and go back to the oncology ward to interact with Maria. Unfortunately, she died of the disease, and her roommate said that before Maria passed away, she told her that God had sent her the daughter she never had, meaning me. I remember crying for days. I told my dad I didn't want to be a surgeon; I wanted to be a medical oncologist. He insisted it was only a stage because of my youth and I'd come to my senses, but I'd made up my mind."
Dr. Duma then returned to the United States for an internal medicine residency program at Rutgers New Jersey Medical School. "Since I first entered medical school, I always had a passion for health-care disparities. So, during my time at Rutgers, I worked in Newark with Hispanic patients and refugees from Myanmar and Somalia who were patients in the clinic. I was fortunate to have the opportunity to develop a support group for Hispanic breast cancer survivors. It was a terrific experience, laying the underpinnings for much of my later work," she explained.
After her residency, Dr. Duma matched for a hematology-medical oncology fellowship at the Mayo Clinic in Rochester, Minnesota. "After the first few months at the Mayo, I decided to specialize in women with lung cancer, and the decision was once again driven by a patient, a 43-year-old woman named Mary—a never-smoker, active runner, wife, and mother who had metastatic non–small cell lung cancer. When I broke the bad news to her about her diagnosis, she immediately asked me not to tell her family. I was stunned, because she was afraid of the stigma associated with lung cancer," she noted, adding, "About 70% of my patients are women, and of those patients, at least 60% are never-smokers."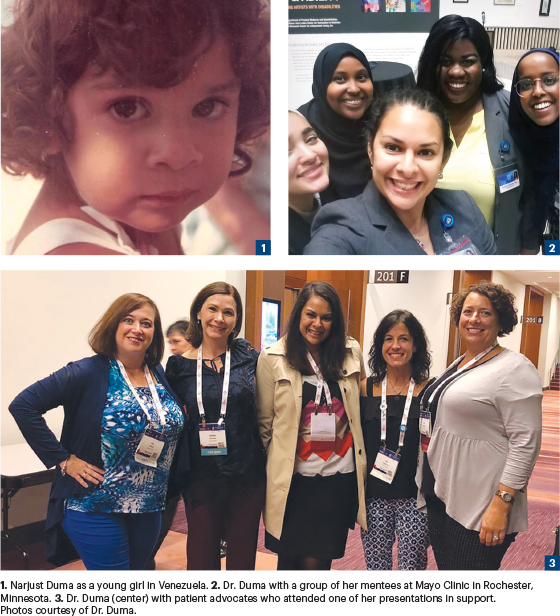 Dr. Duma described how their doctor-patient relationship grew during the ups and downs of treatments, during which Mary insisted that Dr. Duma not reveal she was battling lung cancer. "I also developed a strong relationship with Mary's family. She had adverse reactions to erlotinib but did well on second-line therapy for about 6 months. On scans, we discovered her disease was progressing. We started her on platinum doublets, but she began to weaken and deteriorate. She was transferred to hospice and died at home a few weeks later with her family. Her family never found out she died of lung cancer. It broke my heart and ultimately shaped my career path," Dr. Duma shared.
'Social Justice Scientist'
As her fellowship at the Mayo Clinic wound down, Dr. Duma said she began looking for an institution that would support her idea of developing a clinic for women with lung cancer. "I found that eagerness to support my idea at UW Health. The clinic is not fully developed, but we're working hard to get it done. For one, we need a psychologist, a sexual therapist, and a social worker to deal with the multiple issues these women face, as many have young children and need to work full time. A colleague of mine once called me a social justice scientist, and my first thought was, 'it has a ring to it.' And actually, that's how I would describe myself," Dr. Duma said.
Another factor in her decision to make a career at UW Health was her fondness of the city of Madison's young vibe and beautiful lakes. Along with her clinical practice, she is engaged in research focusing on lung cancer in women, their survivorship issues, and cancer care disparities. "I also focus on diversity and inclusion and medical education. That includes gender equity in medicine, such as equal pay and equal opportunities, and also mentoring minority students. I don't want any student or resident to have the same feeling I had during training, of not belonging, because I was the only Latina. I still am the only Latina in many situations," Dr. Duma said, laughing good-naturedly.
A Solid Plan for the Future
"My long-term goal is to become a dean of diversity and inclusion at a medical school. That would be my dream position in the next 20 years or so."

— Narjust Duma, MD




Tweet this quote



Dr. Duma's plan moving forward is to take the evolving model of a clinic for women with lung cancer to a national level. "Along with that, I want to develop ways to increase the number of women enrolling in lung cancer clinical trials. One of my long-term goals is to become a dean of diversity and inclusion at a medical school. That would be my dream position in the next 20 years or so," said Dr. Duma.
How does a busy social justice scientist decompress? "During residency, I was so busy that I never thought about finding hobbies to help me destress. You shower and you crash; then you get up and start all over. So, I'm just now learning to seek out ways to get away from work. Something I do enjoy is making empanadas. Last Sunday, I was a bit stressed out because I was waiting for my own COVID-19 test, so I baked about 60 empanadas!"
---