Never Forgetting His Roots Helps Surgical Oncologist Better Connect With His Patients
Raja M. Flores, MD


Raja M. Flores, MD
Raja M. Flores, MD, grew up in New York's Meatpacking District, a rough West Side neighborhood, light years before its gentrification into a hip commercial area, home to the Whitney Museum of American Art, high-end designer clothing stores and chic bars, and a stretch of the High Line (an elevated park built atop former railroad tracks). "My dad left us when I was 6, and my mom and I lived in a little rent-controlled shoebox in the Meatpacking District. The landlord never kept the place up. We tried to upgrade the conditions. One day I came home, and the landlord had changed the locks and evicted us," said Dr. Flores.
However, despite the hardships of daily life, Dr. Flores already had started to step away from the lure of the mean streets and excel in school. "Now that I look back, I always had some kind of program that was helping me stay the course. My grammar school was 90% Hispanic, and 100% poor. They gave us uniforms and free lunch. I was in the Higher Achiever Program, which allowed me to get into Xavier High School, a Jesuit university preparatory high school for boys in Chelsea," said Dr. Flores.
A Boxing Trainer's Influence
"High school years were not my best academically," continued Dr. Flores. "I was more into hanging out than studying. Then I started boxing in the old Gleason's Gym on 30th Street near the old Madison Square Garden. It was a terrific experience. My trainer was a guy named Bobby Mcquillar. He taught me a lot about boxing, but he stressed that you can be tough and sensitive together. He had a big influence on my development as a person, and it kept me out of trouble."
NAME
Raja M. Flores, MD
TITLE
Chairman, Department of Thoracic Surgery, Mount Sinai Hospital; Ames Professor of Cardiothoracic Surgery, Icahn School of Medicine at Mount Sinai, New York, New York
MEDICAL DEGREES
MD, Albert Einstein School of Medicine, Bronx, New York
NOTABLE HONOR
Irving Selikoff Lifetime Achievement Award (2017)
Dr. Flores' guidance counselor at Xavier High School suggested that given his unremarkable scholastic achievements, he should consider applying to City College, a public institution that many of the city's underserved populations attended.
"Then one day, I was walking through Washington Square Park in the Village with a friend, one of the only guys I knew who was attending college. He told me I should check out New York University (NYU). Just on a lark, I filled out an application, and to my surprise, the administration offered me a spot in the Higher Education Opportunity Program. My counselor, Nilda Soto-Nieves, set me up with summer courses to prepare for college. I got an A in chemistry and calculus. I was amazed but at the same time also realized it wasn't magic. I simply put in the time, and my grades reflected the effort. It was a good lesson that helped me throughout college."
Dr. Flores entered NYU in 1984. "I loved NYU. It was a great learning experience that opened my eyes to a world I never saw as a kid," said Dr. Flores. He received a BA in biochemistry from NYU in 1988; due to his stellar scholastic performance, he received a Regents Scholarship to Albert Einstein School of Medicine. He commented that without the financial aid provided by NYU's Higher Education Opportunity Program, his invaluable mentor Ms. Soto-Nieves, and the Regents Scholarship at Albert Einstein, he couldn't have stayed in school. "The opportunities I had from programs and mentors are a big part of my success, and I never forget that," said Dr. Flores.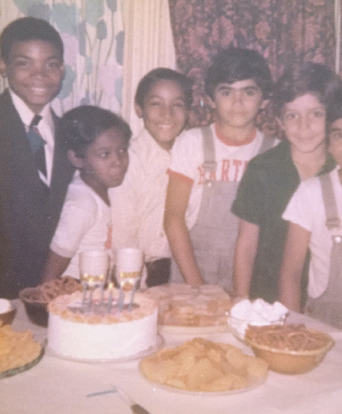 Dr. Flores (on the right in black shirt) at his birthday party.
Tough Lessons on the Road to Medicine
Asked about his decision to pursue a career in medicine, Dr. Flores said that from an early age he hated seeing people suffer. "Growing up I saw a lot of violence. I remember some kid had a midline incision and asked what happened. Well, he'd been stabbed but survived because of the ER docs. Other kids who'd been shot had colostomies, which everyone made fun of. But the next thing we knew was that they went back to the hospital to get the colostomy reversed. And I thought to myself how cool it must be to help someone who'd been critically injured," he added.
When Dr. Flores' father left home, his mother became the sole parent, nurturing her bright son's academic path. "My mother bought flash cards with the times tables, promising me $5 if I memorized them. That little experiment made learning fun and implanted the reward system that comes from achieving a goal. Small as it was, learning the times tables put me on a different level than my classmates, who barely spoke English," he explained.
"I love the hands-on aspect of surgery and the immediate results that come in the OR."

— Raja M. Flores, MD




Tweet this quote



Surgery at First Sight
During his first day in anatomy class, Dr. Flores observed the dissection of a cadaver; from that moment, he was sure he wanted to become a surgeon. "I love the hands-on aspect of surgery and the immediate results that come in the OR. But I also love taking care of patients on an emotional level," he said.
Dr. Flores continued: "As a kid, we didn't have a primary care doctor; it was the emergency room. If I had a temperature of 103°F or got cut or broke my nose, my mother took me to the ER. And while there, I began to notice how some doctors treated all their patients with equal care, but others treated the poorer patients with disrespect. It made me feel horrible seeing people in a vulnerable position being treated like they were garbage. I always had a hang up about being poor, and as a doctor I wanted not only to repair the body, but also care for underprivileged people to give them a sense of dignity."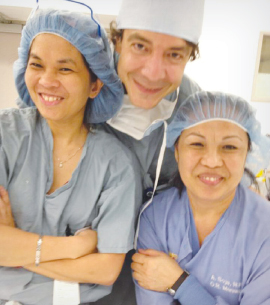 Dr. Flores with OR nurses Cynthia and Sonya
Two Surgical Mentors
Dr. Flores noted that two African American surgeons, Harry Delany, MD, and Milton Gumbs, MD, served as mentors and role models, having a special effect on how he viewed surgery. "They were down to earth, truly caring people, and their confidence in the OR impressed on me that you don't have to be arrogant to be a great surgeon. At first, I wanted to become a trauma surgeon, treating gunshot and accident victims. But a lot of that work is in the middle of the night. I wanted kids, and that lifestyle wouldn't suit well with a family. So, after I received my MD from Albert Einstein, I did my internship and surgical residency at Columbia-Presbyterian Medical Center, which at that time had the best surgical program in New York. When I got exposed to thoracic cancer surgery, I knew that's what I wanted to do."
Connecting to Patients
After completing his residency in 1997, Dr. Flores was accepted to a thoracic oncology clinical research fellowship at Brigham and Women's Hospital/Dana-Farber Cancer Institute in Boston. "When I got to Brigham, my mentor specialized in mesothelioma, so I began to do a lot of research, which I found fascinating. But I also really connected with patients, many of whom were blue-collar guys, insulators, asbestos workers, pipe fitters, and shipyard workers. With my blue-collar background, I could identify with them, and they could see that I knew how this disease was hitting them."
"What I love about my job is building trust and having a real one-on-one conversation with my patients."

— Raja M. Flores, MD




Tweet this quote



After his fellowship, Dr. Flores' first surgical position was at Memorial Sloan Kettering Cancer Center (MSK) in New York, a position he held for 10 years. "I began to feel a bit of guilt taking care of patients with cancer on the Upper East Side, the majority of whom did not reflect the demographics of where I grew up. When I was offered the job at Mount Sinai, I was thrilled, because not only was it a great career opportunity, but I'd also be taking care of people from Spanish Harlem," revealed Dr. Flores.
While at MSK, Dr. Flores set up an outreach program for disadvantaged youth, showing them the possible opportunities that a medical career offered. "I realize that my humble beginnings would have been much more difficult to overcome without the programs and mentors who helped me along the way," he added.
Dr. Flores continued: "I've been at Mount Sinai for 10 years now, focusing mainly on mesothelioma. I have become sort of a physician-advocate because mesothelioma is largely caused by asbestos and smoking, which are preventable causes. It's a tragedy because I'll see a patient who had a tracheostomy smoking a cigarette waiting for the bus to Atlantic City. I know that patient; he's the kind of guy I grew up with."
"It helps me to identify with a patient, and it helps a patient trust me. I leave the doctor talk aside and speak to patients in plain, sincere language. That's what I love about my job: building trust and having a real one-on-one conversation with my patients. I never neglect my patients. I'm there for them all the way through their treatment," shared Dr. Flores.
Dr. Flores with his son, Harry, at Fenway Park in Boston. The Yankees played the Red Sox in the playoffs, and Aaron Judge just hit a homerun.
Family Life Is Key
Asked about potential burnout and the art of balancing a career and a personal life, Dr. Flores said: "That's a tough one. First off, I think physical activity is key. I still hit the heavy bag and speed bag every other day, which is a great workout. I also spend a lot of time with my three kids. My youngest is 16 now, and it is rare that I miss dinner with them. Even as a very busy surgeon, I make that a priority. Truthfully, my kids keep me balanced, because when I actively participate in their lives, it puts everything in perspective." ■
---