Arti Hurria, MD, FASCO
A Tribute to a Leader in Geriatric Oncology

The oncology community was deeply saddened by the untimely passing of Arti Hurria, MD, FASCO, a nationally regarded expert and advocate for elderly patients with cancer. Dr. Hurria died on November 7, 2018, in a traffic accident. At the time of her tragic death, Dr. Hurria was Director of the City of Hope's Center for Cancer and Aging. She had recently received a National Institute of Health grant to help her nurture the next generation of geriatric oncology researchers.
About that opportunity, Dr. Hurria said: "I have the honor of hanging out with all of these young bright mentees who are bursting with enthusiasm about their future in oncology. The best thing I can pass on to them is to always remember that compassion and active listening is core to what we do, why we became doctors in the first place."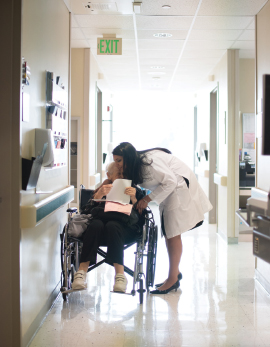 Dr. Hurria with a patient
Destined for Medicine
Dr. Hurria was born in Brooklyn, New York, to Indian immigrants, both of whom are medical doctors. She attributed her stimulating home life, which centered on science and medicine, as the catalyst for her decision to become a physician. When she was 8 years old, her parents relocated to Southern California, in part to escape the bitter winters in New York.
After graduating high school, Dr. Hurria was accepted to a special 7-year combined medical program at Northwestern University and then Northwestern Medical School. She began as a psychology major, skill sets that would later serve her well as an oncologist. During her second year in medical school, Dr. Hurria met Steve Rosen, MD, who would be instrumental in her decision to pursue oncology. "I began shadowing Steve during his clinic on Tuesdays," she commented. "From there, I did my internal medicine rotation in oncology and made my firm decision to become an oncologist. Steve was a great mentor, who truly influenced my career path."
Beth Israel Medical Center
In 1995, Dr. Hurria moved to Boston for an internship at Beth Israel Medical Center, which has a strong geriatrics program along with oncology programs. "I fell in love with that patient population," revealed Dr. Hurria. However, at that time, there were no dual geriatric-oncology residency programs. So, Dr. Hurria asked whether she could do a joint residency, and they said yes, because they saw that it filled an emerging need.
In addition, Dr. Hurria completed a geriatrics fellowship at Harvard to bolster her skills and knowledge in treating older patients before entering her oncology fellowship at Memorial Sloan Kettering Cancer Center (MSK) in 1999, a time when the field of geriatric oncology was just beginning to emerge. It was at MSK where Dr. Hurria met another important mentor, George Bosl, MD, who was Chair of Medicine at the time.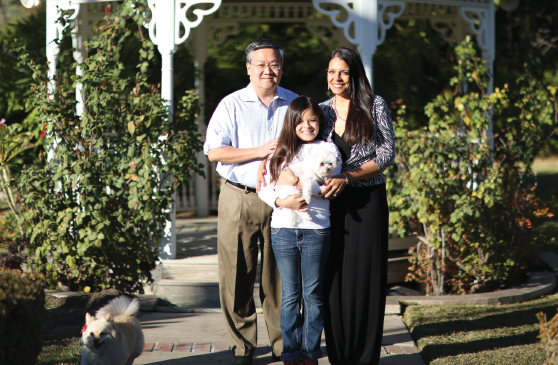 Dr. Hurria with her husband, Dr. Thomas Lee, and their daughter, Serena Lee, and Biscuit
Together, they wrote a P-20 Grant to bring cancer care and geriatrics together in a comprehensive cancer center. That experience solidified Dr. Hurria's decision to enhance the field of geriatric oncology and also set in motion her move to City of Hope, where she made her mark in geriatric oncology and remained for the duration of her remarkable career.
A Life of Excellence
Dr. Hurria served as founding editor of the Journal of Geriatric Oncology. She was Chair and Founder of the Cancer and Aging Research Group, Co-Chair of the Alliance Cancer in the Elderly Committee, past President of the International Society of Geriatric Oncology, and past Chair of the National Comprehensive Cancer Network® (NCCN®) Older Adult Oncology Committee. She received many awards and honors, including ASCO's B. J. Kennedy Award for Scientific Excellence in Geriatric Oncology, the International Society of Geriatric Oncology's Paul Calabresi award, the Paul B. Beeson Career Development Award  in Aging (K23), and the Frederick Steen Memorial Award for Humanism in Medicine. 
Friends Remember Dr. Arti Hurria

Chau T. Dang, MD
Chau T. Dang, MD
Regional Care Network Medical Site Director, Memorial Sloan Kettering Cancer Center Westchester
I first met Dr. Arti Hurria when she joined Memorial Sloan Kettering Cancer Center as a fellow. I was immediately struck by her calm composure and incredible intellect. Our friendship, based on a deep appreciation of humanity, blossomed into a relationship that happens rarely in a lifetime. Arti gave herself unconditionally to her family, friends, patients, and the world. In her presence, she made you feel that you were the only person in the room—and did so with such genuine love and interest.
As a physician, she was exactly the same. On one occasion in clinic, one of her patients had an acute event and needed to be transported to the emergency room. Arti never left her patient's side, rode in the ambulance holding her hands, and ensured that proper care was delivered before she could return to the clinic. Her patients loved and admired her, taking comfort in knowing she'd always be there, day or night, under any circumstance.
Arti was also an incredible visionary in the geriatric oncology community. Needless to say, her multiple accomplishments seemed impossible to achieve in one lifetime, but Arti was steadfast and never wavered. Yet, in the midst of the whirlwind to achieve her goals, she never spoke about herself or her accomplishments. Words are just inadequate to describe her, and I am forever indebted to her for her essence, her friendship, her love.

Hyman Muss, MD
Hyman Muss, MD
School of Medicine, University of North Carolina (UNC)–Chapel Hill; Breast Cancer, Geriatric Oncology Program; Mary Jones Hudson Distinguished Professorship in Geriatric Oncology
In a career, rarely do you meet someone who is extremely intelligent, kind, and at a young age gets as much enjoyment in seeing a mentee give a talk at an ASCO meeting as if she were giving it herself. That was Arti, and it's an art of inclusiveness that you cannot teach. She had the incredible ability to get everyone excited about working on a joint project, and her infectious enthusiasm was one reason so many advances were made in geriatric oncology.
She was very kind to note me as one of her mentors, but I must say, she did much more for me than I did for her. A little more than a year ago, she invited my wife and me to be visiting professors at City of Hope. My wife Loretta is a retired nurse but now works at UNC's Cancer Center developing support groups and family advisory councils. It was so generous of Arti, and she and my wife became close during that time. You couldn't help but love her.
Arti truly made the world richer, and she will forever be remembered for her spirit. We not only have lost a world leader in geriatric oncology, but a wonderful friend. Arti personified graciousness and a "get-it-done" mentality—always with a smile. She was a colleague, mentor, and confidante to so many of us. We will miss her dearly.

Norman E. Sharpless, MD
Norman E. Sharpless, MD
Director, National Cancer Institute
My colleague Hy Muss, MD, introduced me to Arti in 2008. From the start, it was clear to me that Arti was special in that she was fascinated with the basic science of aging in order to translate that knowledge into clinical care for elderly patients with cancer. She was a true leader in geriatric oncology, but she spent a lot of time training and mentoring young doctors so they could further the specialty she loved. She was a true visionary, and her tragic death is a huge loss for the geriatric oncology community.
Supriya G. Mohile, MD, MS
University of Rochester Medical Center
Arti was one of my closest professional friends. We met in 2003; she was a few years ahead of me, and she graciously provided guidance for my career. I spoke to her every week for the past 15 years or so, and early on we bonded in our mission to provide specialized care delivery and better outcomes for elderly patients with cancer.

Supriya G. Mohile, MD, MS
ASCO partnered with the Hartford Foundation to fund training programs for young oncologists interested in geriatric oncology. I was one of the first participants in the program, and Arti became one of my informal peer mentors. There were only about 20 of us, and at the time there was a lot of misunderstanding about geriatric oncology. Arti, being the visionary leader she was, put together the Cancer and Aging Research Group (CARG) meeting at City of Hope. It was an informal group; Arti took the initiative to have to conference calls once a month on Tuesday afternoons, and anyone who was interested in the field could participate and ask for help or offer advice. It was one of the many things she did that highlighted her inclusive nature.
I'm sad that she's not here to contribute more to the field she was so passionate about, but she left us with her vision to serve as a roadmap on the way forward.

Stewart M. Lichtman, MD, FACP, FASCO
Stewart M. Lichtman, MD, FACP, FASCO
Memorial Sloan Kettering Cancer Center
I met Arti about 20 years ago at an ASCO Annual Meeting. I'd just finished giving a lecture, and Arti, who was a fellow at the time, came up to me and was extremely enthusiastic about my talk. I'd never had that kind of reaction before. Little did I know that this young fellow would become such a luminary in oncology. When I moved to Memorial Sloan Kettering in 2004, Arti was already there. Ironically, here I was about 15 years her senior, but in a way Arti became my mentor.
At the time, geriatric oncology was barely considered a specialty, and I said to Arti that there are only about 10 of us in the whole country. Do you think we can keep this going? Arti said absolutely; she never had a doubt. She had a phenomenal leadership style that brought people together. When I was Treasurer of the International Society of Geriatric Oncology (SIOG), Arti was President. I was having doubts about my ability in the role, and I shared them with her. She discounted my doubts and made me feel fully confident. I later became President of SIOG. Arti was selfless in her support of her colleagues in the field.
No one is irreplaceable in his or her job. But if anyone came close to being so, it was Arti. Suddenly she's not here, and there are holes in about ten different projects and initiatives. I wrote a remembrance of Arti for SIOG, in which I noted that I last saw Arti in Chicago, discussing new clinical trials. She advocated strongly for optimal care for older patients with cancer. It was something she did so well. She commanded respect, and certainly deserved it, but she had a way of doing so that wasn't confrontational; it was firm and authoritative.
After all is said and done, along with her incredible accomplishments, Arti was just a nice person you loved being with. ■
---