A Lifetime Dedicated to Patients With Lung Cancer
Paul A. Bunn, Jr, MD, FASCO

Former ASCO President Paul Bunn, Jr, MD, FASCO, was born at the New York Hospital, the second oldest hospital in New York City and the third oldest in the nation. He grew up in DeWitt, New York, an eastern suburb of Syracuse, and went through the public-school system graduating from Jamesville-Dewitt High School in 1963.

Paul Bunn, Jr, MD, FASCO
"My father was a physician, and my grandfather died of tuberculosis (TB). When my father was in medical school, he contracted TB from caring for patients with TB, as did many of his classmates. After he became an internist specializing in infectious diseases, he decided to focus on the causes of resistance to single antibiotics such as streptomycin and how to combine agents to cure the disease. Obviously, subsequent combinations were able to cure the disease. Many of these issues parallel the current state of treating lung cancers with driver alterations. At that time, however, I was convinced that I wasn't going to follow in my father's footsteps and become a physician," said Dr. Bunn.
After graduating high school, Dr. Bunn entered Amherst College in Massachusetts, initially majoring in political science. "During my freshman year, I did very well in math and physics, and my physics professor suggested that perhaps I should pursue a path in the sciences. So, I switched my major to biology and later became pre-med." In addition to academics, I enjoyed athletics and was pleased to play on an undefeated Division 3 football team and an undefeated lacrosse that finished 5th in the country in Division 1. I was honored to receive the Howard Hill Mossman award for "bringing the highest honor to Amherst College in athletics." I still enjoy tennis, skiing, and bicycling to this day. I also learned a tremendous amount from my college fraternity brothers. 
Dr. Bunn graduated Amherst College in 1967 with a major in biology and returned to his birthplace in metropolitan New York, where he attended Cornell University Medical Center. "I was exposed to incredible clinicians such as Rees Pritchard, MD, and Martin Gardy, MD, who taught me how to put patients first. I also learned the principles of medical research from terrific mentors such as Walter Riker," shared Dr. Bunn.
NAME
Paul A. Bunn, Jr, MD, FASCO
TITLE
Distinguished Professor, Division of Medical Oncology, University of Colorado; James Dudley Chair in Lung Cancer Research
MEDICAL DEGREE
MD, Cornell University
NOTABLE HONORS
David A. Karnofsky Memorial Award and Lecture (2016)
Specialized Programs of Research Excellence (SPORE) Leadership Award (2004)
International Association for the Study of Lung Cancer Merit Award (2003)
American Italian Cancer Research Foundation Award (2002)
James Addison Sewall Award, University of Colorado (2001)
James Mitchell–Paul C. Kiernan Foundation Scholar Award (1998)
U.S. Public Health Service Medal of Commendation (1984)
Sondra Lee Shaw Research Honors award and AOA Cornell Univ. Medical College (1971)
Howard Hill Mossman Award Amherst College (1967)
From the NCI to California and Back Again
Although Dr. Bunn had decided to pursue a discipline in internal medicine, he couldn't nail down a specialty. "One of my professors, Richard T. Silver, MD, had worked at the National Cancer Institute (NCI) prior to returning to Cornell. He knew I liked research and thought it would be a good idea for me to apply for an NCI fellowship, which I did. It was a good idea on two levels. It gave me the opportunity to do research at NCI and by serving in the U.S. Public Health Service I'd meet my military obligation and not have to chance being drafted into the service, as the Vietnam War was still raging," explained Dr. Bunn.
After receiving his MD from Cornell University Medical Center in 1971, Dr. Bunn did an internship and residency in Internal Medicine at H C Moffitt Hospital at the University of California, San Francisco (UCSF). "During my internship, they changed the structure of NCI," he added. "I was originally set to enter the leukemia branch, which had become the pediatric oncology division, something I wasn't interested in. But one of my attendings, Martin Cline, wrote a recommendation letter, and I was able to land a position as a clinical associate in the NCI's Medicine Branch under the direction of Vincent T. DeVita, Jr, MD."
Dr. Bunn continued: "When I completed my fellowship at the NCI, I was offered a position at UCSD with Dr. John Mendelsohn and a position as a Senior Investigator at the NCI.  By that time, Dr. DeVita had been promoted to Head of NCI and convinced me to return to NCI and work in a new branch dedicated to lung cancer research led by Dr. John Minna with Drs. Dan Ihde, Adi Gazdar, Mary Matthews, Martin Cohen and later Desmond Carney and many outstanding fellows. The Lung Cancer Branch was located at the Washington, DC, Veterans Affairs Medical Center because of the large lung cancer population. Our research idea was to biopsy tumors from all patients with cancer, not just lung cancer, and from that we'd develop cell lines to study in the laboratory. Arguably, much that we have learned about lung cancer and HIV/AIDS came from those very cell lines."
"I am a firm believer in the value of community-based cancer care."

— Paul Bunn, Jr, MD, FASCO




Tweet this quote



Time for a Change
Although his work at the NCI was extremely productive, after 11 years, Dr. Bunn decided it was time to leave the public sector and pursue other options. "I was looking for an academic situation that was in the process of building a top-notch cancer center and also a good place to raise a family. So, I accepted a position as Head of the Division of Medical Oncology at the University of Colorado Cancer Center in 1984, and I've been here ever since," said Dr. Bunn.
Dr. Bunn was named as the first Director of the University of Colorado Cancer Center (UCCC) in 1986, and the Center received NCI designation and a grant award in 1987. Dr. Bunn remained as the UCCC Director until 2009. In 1992, the University of Colorado Cancer Center was awarded the federal government's first Specialized Program of Research Excellence (SPORE) grant in lung cancer on which Dr. Bunn was the principal investigator and which has been continuously funded since then.
"Looking into the eyes of a patient with cancer, having a conversation, listening, and finding ways to reach better outcomes are what is special about oncology."

— Paul Bunn, Jr, MD, FASCO




Tweet this quote



In the late 1990s, Dr. Bunn and his associates looked at multiple biomarkers for molecularly targeted therapies for non–small cell lung cancer. Their work helped develop important epidermal growth factor receptor tyrosine kinase inhibitors for patients with that mutation. Dr. Bunn was elected President of the American Association of Cancer Institutes (AACI) during this period and served on the U.S. Food and Drug Administration's Oncology Drugs Advisory Committee, which he chaired from 1986 to 1987. Dr. Bunn considers himself to be extremely fortunate to have had such marvelous colleagues at the UCCC including many mentors and outstanding fellows who have gone on to productive careers in oncology.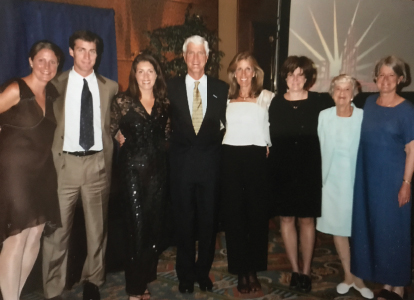 Dr. Bunn with his mother, sisters, wife, and children when ASCO President
ASCO President
Dr. Bunn served on ASCO's Board of Directors from 2000 to 2003 and was elected as President-Elect in 2003.  The theme during Dr. Bunn's ASCO presidency was "Commitment, Care, Compassion: Honoring People With Cancer." Asked to reflect on his ASCO presidency, Dr. Bunn noted that since he became a member of ASCO in 1977, the Society has undergone numerous systemic changes and dealt with a host of challenges.
"Since I became a member, ASCO has grown remarkably, and that growth, while a good thing, has also created numerous challenges. Obviously, one was how to handle such massive expansion in membership and the size of the annual meeting. There were other issues raised during my Presidency, but it's important to remember that ASCO began as an organization of medical oncologists who were by and large academic. By the time of my Presidency, practicing oncologists had become a major presence in the Society, and they wanted ASCO to work with Congress to ensure that their reimbursement levels were sustainable to the needs of their practices. It was the beginning of difficult times for private practitioners, and I am a firm believer in the value of community-based cancer care."
Dr. Bunn continued: "Another issue was tobacco cessation, and being a lung cancer specialist, it is something I am passionate about. We increased our efforts in cancer prevention and tobacco control and established a committee on prevention. David Pfister, MD, led a task force that revised and published the ASCO Tobacco Policy Statement. We also expanded our efforts on Capitol Hill, lobbying for more prevention and tobacco-control measures. Raising taxes on cigarettes was a specific control measure we wanted, because, for one, it works."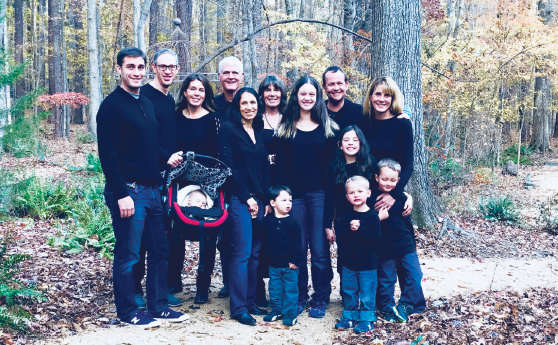 Dr. Bunn with his family
Another important issue, one that helped diversify ASCO across the multidisciplinary landscape of oncology, was dealing with the emergence of disease-specific oncology. "It was at that time that a number of cancer-specific meetings were started across the country. Some were successful, others not so much so. But the end result has proven valuable for cancer care providers across disciplines. We also recognized that about one-third of all new ASCO members are from countries outside the United States, and our International Affairs Committee was enlarged to include representatives from many of the important international oncology organizations. Growth is a good thing; it just has to be managed, and ASCO has done a good job doing that."
International Association for the Study of Lung Cancer (IASLC)
Dr. Bunn joined the IASLC in 1978 and was elected to the Board of Directors in 1992, chaired the World Conference on Lung Cancer in Colorado Springs in 1994, and served as IASLC President from 1997 to 2000.  Dr. Bunn served as the Executive Director of the IASLC from 2003 to 2013, a period of remarkable growth of the international, multidisciplinary organization.
PROFESSIONAL POSITIONS
ASCO
Board of Directors (1995–1999)
President-Elect (2001)
President (2002), Past President (2003)
International Association for the Study of Lung Cancer
Board of Directors (1988–2000)
President-Elect (1991–1994)
President (1994–1997)
Past-President (1997–2000)
Executive Director (2003–2013)
American Association of Cancer Research
Institute's Board of Directors (1994–1997) and (2000–2003)
President-Elect (1994)
President (1995)
Past President (1996)
U.S. Food and Drug Administration
Member Oncologic Drugs Advisory Committee, (1992–1996)
Chair (1995–1996)
A Day in the Life
Dr. Bunn considers himself to be extraordinarily lucky that his three children, Rebecca, Kristen, and Paul, have elected to live in Colorado and allow him to see them with their families and wives (Steve, Eric, and Nancy) and their children, his six grandchildren (Abby, Caitlin, Carter, Xavier, Sebastian, and Pablo). Skiing and tennis are particularly exhilarating. "I'm fortunate to have three terrific kids and their spouses, a wonderful wife, and six grandchildren," he added. "Family is the number one thing in a person's life, so not having a large administrative job anymore helps me have a deeper family life."
He continues to dedicate his career to identifying novel therapy strategies for lung cancer and ways to improve the outcomes of patients with lung cancer. "One good aspect of my current position is that all the administrative work I did when I was director is basically gone. I'm only responsible for one faculty member, and that's me," said Dr. Bunn.
Closing Thoughts
Asked about the growing incidence of physician burnout, Dr. Bunn replied: "Insurance companies and the pharmaceutical industry are big business, and we don't want to see the practice of medicine go that route. The goal of our profession is to help individual patients, and we're seeing major conflicts arising, not the least of which is signified by electronic information systems, which most physicians hate."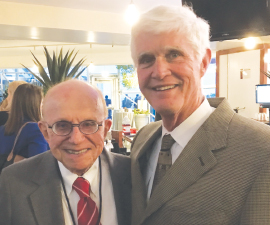 Dr. Bunn with his mentor, Dr. Richard Silver, proudly giving the Richard Silver lectureship at Cornell
"The increasing physician workload has worsened burnout and created redundancy in the medical charting process. Unfortunately, hospitals want physicians to be providers, not physicians. And when a doctor spends more time looking at a computer screen than a patient with cancer, it creates dissatisfaction with the profession, which also leads to burnout syndrome. Physicians, in many ways, have lost control of their profession, and that's a bad thing for our patients."
Dr. Bunn stressed the importance of family life and extracurricular activities. To that end, he's an avid outdoorsman, taking full advantage of the natural splendors of Colorado. But at the end of the day, despite incredible technologic advances, Dr. Bunn emphasized one thing about the practice of medicine that should not change. "Looking into the eyes of a patient with cancer, having a conversation, listening, and finding ways to reach better outcomes are what is special about oncology. And every oncologist will say the same thing: that's why we do it. It's just that simple." ■
---