A Career Path Balancing Research, Patient Care, and Everyday Life
Laurie H. Sehn, MD, MPH


Laurie H. Sehn, MD, MPH
In elementary school, Laurie H. Sehn, MD, MPH, dreamed of becoming a teacher. However, as she moved through high school, her passion for science blossomed, as did her desire to have an impact on people's lives. "I began to seriously consider medicine because it provided the dual opportunity to explore and potentially advance science and to help humanity on an individual level," she said.
Exposure to the Scientific Method
Dr. Sehn did her undergraduate degree in physiology. "I completed an honors program, during which I had the opportunity to join a lab focused on mathematical modeling of cardiac rhythms, with a professor who studied chaos theory. It was my first exposure to the scientific method, which turned out to be formative in my career path in medicine."
Academic medicine gave me the best of both worlds: patient care and research.

— Laurie H. Sehn, MD, MPH




Tweet this quote



After graduating from McGill University Faculty of Medicine, Montreal, Canada, in 1991, Dr. Sehn trained in internal medicine at Columbia Presbyterian Medical Center, Columbia University, New York. Her prime motivation for leaving her native Canada for New York was an early captivation with the Big Apple and the desire to take on a new challenge within a renowned academic institution.
"I think it's important for people to step out of their comfort zone. I did experience a huge wave of culture shock at the beginning," she admitted. "There was a constant adrenaline rush that I felt when I left my studio apartment and hit the streets with millions of people from all over the world. I lived close to Central Park and used that magnificent place as a kind of personal refuge from the sometimes overwhelming energy of the city." However, her fondest memories pertain to the tremendous support she received from faculty and co-residents, during this crucial transition from medical student to independent physician.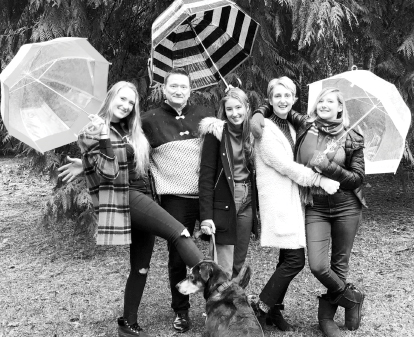 Dr. Sehn with her husband and daughters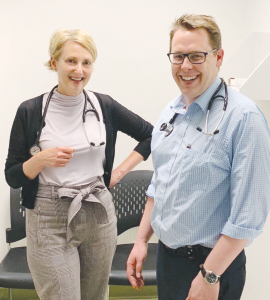 Dr. Sehn with her colleague, Dr. Dave Scott
Connecting With Patients
Asked about her decision to pursue a career in oncology, Dr. Sehn said, "Before I'd had any real exposure to clinical medicine, I chose to do an oncology elective in medical school. Up until then, I'd had minimal interaction with patients, and suddenly working with cancer patients had a profound effect on me. I saw how this disease not only affected their bodies and minds, but disrupted their entire lives."
Dr. Sehn continued: "My attending at that time was an oncologist who was so passionate about caring for his patients that it was infectious. And this was at a time when treatment options were limited to the early chemotherapies developed in the 1970s and 1980s, many of which had harsh side-effect profiles. But I saw that the doctor-patient interaction in oncology was intense and special, and that the field was changing rapidly. I wanted to be a part of it as it evolved. These early positive experiences can have a profound influence on a career path. I never looked back or questioned my decision to become an oncologist."
A Career in Academic Medicine
Following her internship at Columbia Presbyterian Medical Center, Dr. Sehn trained in hematology-oncology at the Dana-Farber Cancer Institute and Brigham and Women's Hospital, Harvard University, Boston. "During my training at Columbia, exposure to patients undergoing autologous bone marrow transplantation sparked my interest in hematology," she explained. Witnessing the dramatic benefit experienced by some patients who received this intensive procedure was the inspiration behind her decision to focus on hematologic malignancies.
Be open to opportunities as they arise, because you never know when a new project or experience may take your career down an exciting new path.

— Laurie H. Sehn, MD, MPH




Tweet this quote



"At Harvard, I had incredible mentors who encouraged me to take on several research projects. That's when I became interested in academic medicine. It seemed to offer the best of both worlds: patient care and scientific research. The possibility of advancing patient care through clinical investigation and dissecting the underlying biology through translational research was a big motivator in my decision to pursue an academic career."
As Dr. Sehn became more actively involved in research, she realized that many of the tools she needed to further her career were not taught directly in medical school. "I needed to acquire skills in clinical trial methodology, statistics, and outcomes analysis, so I pursued a Masters of Public Health degree within the clinical effectiveness track at the Harvard School of Public Health, Harvard University. This was a phenomenal experience. It was a multicultural oasis in which students from all over the world shared ideas and aimed to find solutions to health problems that occur on a population scale."
She continued: "Obviously, health-care issues differ between countries, but there are many commonalities. There will always be limited resources, and with growing health-care costs, particularly in cancer therapy, eliminating the disparities between populations and individuals is one of our greatest challenges."
Influential Mentors
Asked about mentors who helped her career bloom, Dr. Sehn responded, "I've had so many mentors over the years that it would be impossible to name them all. The ones who were most influential in my selection of a career path as a clinical researcher in hematology were Dr. Joseph Antin and Dr. Robert Soiffer, at the Dana-Farber Cancer Institute, when I was doing my fellowship in Boston. They provided endless time and direction as I undertook several research projects with their guidance. Their passion for hematologic malignancies was obvious and hugely influential on me."
The remarkable progress in cancer care has led to many more success stories, and there is nothing more rewarding for an oncologist than to be able to share in them.

— Laurie H. Sehn, MD, MPH




Tweet this quote



In her current position at BC Cancer in Vancouver, Dr. Joseph Connors was her most influential mentor. "He offered continual advice and guidance throughout my career, and despite his busy schedule always found time to help whenever needed. Not only was he a key mentor for my academic career, but he had a powerful influence on how I care for my patients."
Dr. Sehn serves as Chair of the Lymphoma Tumor Group, a position that requires multiple hats. "In BC, cancer is treated on a provincial scale within a single-payer system. It involves a lot of advocacy to provide cutting-edge treatment in real time for our patients with lymphoid cancers. My schedule is split between patient care, clinical and translational research in lymphoid cancer, as well as administrative duties that involve the creation of policy guidelines." Dr. Sehn also highlighted that one of the most important and rewarding aspects of her job involves teaching and mentoring trainees, hoping to inspire the next generation of lymphoma specialists.
Advice for Younger Oncologists
Dr. Sehn works with trainees at all levels and has observed an increase in stress levels over the years. "The environment has become more competitive, with greater challenges to finding academic positions or acquiring grants. Everyone seems to be concerned about how the future will unfold, which only adds to the stress level," she commented.
Her advice to young oncologists is to enjoy the present. "Yes, it's important to have long-term goals, but follow your passion and focus on what you can accomplish today, and the future will take care of itself," she shared. "Moreover, be open to opportunities as they arise, because you never know when a new project or experience may take your career down an exciting new path." When searching for a mentor she suggests "finding the people who are most inspired by what they do, since these are the people who will inspire you."
Schedule Personal Down Time
According to Dr. Sehn, physician burnout is a huge problem that needs more attention. "I have become more aware of the risk of burnout, as it is a core challenge in today's oncology environment. Achieving a healthy balance in one's career and life doesn't just happen; it requires effort and planning. We need to continuously take a step back and look at the big picture. Today, with e-mail and the Internet, unless you make a conscious effort to disconnect from work, the dividing line between work and personal life is easily blurred. It's important to build personal down time and recreation into our schedules and to ensure that time is protected or it simply won't happen."
Personal Priorities
After living in big East Coast cities from Canada to the United States, moving to the Pacific Northwest has converted Dr. Sehn into a lover of the outdoors. "Most of my hobbies tend to revolve around the outdoors. We live a block away from a beautiful nature reserve. At the end of a tough day, running along the paths of this gorgeous rainforest immediately relaxes me," she said. "Another thing I find relaxing is cooking, no matter how busy my day has been, I'll always find time in the evening to create a meal and enjoy it with my family."
NAME
Laurie H. Sehn, MD, MPH
TITLE
Chair, Lymphoma Tumour Group, BC Cancer Agency, Vancouver, British Columbia, Canada
MEDICAL DEGREE
MD, McGill University Faculty of Medicine, Montreal, Canada; MPH, Harvard School of Public Health, Harvard University, Cambridge, Massachusetts
Although some people may think that work will get easier as their careers advance, Dr. Sehn believes that is not the case. "The demands on your time will go up as you take on more responsibility," she added. "You must learn to prioritize. My family will always be my number one priority, no matter how busy my work life gets. I have three daughters between the ages of 18 and 21, and my husband is an academic neurologist, balancing both clinical duties and a busy lab. I try to limit my commitments so I'm able to create the right balance between my personal and professional lives."
Dr. Sehn said that one of the best pieces of advice she received was to only say yes to the things you know you have time to do well. "You need to become your own gatekeeper, which means being able to say no, something many doctors have a problem doing. In the end, I am incredibly grateful that I have a job that continuously challenges me and that I truly love. The remarkable progress in cancer care has led to many more success stories, and there is nothing more rewarding for an oncologist than to be able to share in them." ■
---