A Lifetime of Accomplishments in Oncology Brings Knighthood to Sir Murray F. Brennan, MD, FACS
Sir Murray F. Brennan, MD, FACS


Sir Murray F. Brennan, MD, FACS
NAME
Sir Murray F. Brennan, MD, FACS
TITLE
Vice President of International Programs and Director of the Bobst International Center, Memorial Sloan Kettering Cancer Center, New York, New York
MEDICAL DEGREE
MD, University of Otago, Dunedin, New Zealand
NOTABLE HONORS
Generosity, Integrity, Action, Nobility, Truthfulness, and Service (GIANTS) International Achievements Award (2016)
Knight Grand Companion of the New Zealand Order of Merit (2015)
Establishment of Murray F. Brennan, MD, FACS, International Guest Scholarship, American College of Surgeons (2012)
Lifetime Achievement Award, European Society of Surgical Oncology (2010)
Member, Breast Cancer Task Force Steering Committee, National Cancer Institute (1975–1978)
President, Society of Clinical Surgery (1992–1994)
Sir Murray F. Brennan, MD, FACS, was born on April 2, 1940, in Auckland, New Zealand, which lies on and around an isthmus surrounded by the sparkling azure waters of the Hauraki Gulf. "I was born at the beginning of World War II. Fortunately, my father was too old to be drafted into the army. I was too young to remember the war, but as the world was being torn apart, my childhood was idyllic—plenty of creature comforts and a father at home," said Dr. Brennan.
Dr. Brennan's father encouraged his son, who was a standout student in mathematics, to pursue a career in engineering. "I actually entered the University of Auckland in 1958 with the full intention of becoming an engineer. I did a lot of physics and rigorous measurement analyses, but after a year, I decided I wanted to go to medical school. I attended the University of New Zealand and completed a degree in mathematics during my 6 years of medical school at the University of Otago," said Dr. Brennan. He added: "In retrospect, having a mathematics background helped my career working with comprehensive prospective databases. It helped me lead the change in surgical philosophy from being numerator doctors into numerator doctors divided by denominator doctors!" 
Student Leader and Athlete
Along with completing a mathematics degree during medical school, Dr. Brennan competed at high-level rugby, playing Provincial Rugby, which is one level below the national team. He was President of the University's Student Union and his school's nominee for a Rhodes scholarship.
It is an amazing privilege to perform surgery on people who trust you with their lives.

— Sir Murray F. Brennan, MD, FACS




Tweet this quote



"There were two nominees from the entire country, and although I didn't win the Rhodes scholarship, I received a consolation prize, sponsored by the U.S. State Department called the Foreign Students Leadership Award. It was a 3-month tour of the United States, and there were 13 of us from all across the Pacific—Korea, Japan, Malaysia, Indonesia, Australia, and so on. We toured the United States together, and it was an extraordinary experience," Dr. Brennan shared.
The tour took place in the mid-1960s, when the Vietnam War was in full rage, and Dr. Brennan explained there was a political motive attached to the largess of the U.S. State Department. "We were chosen and brought to the United States to be convinced that the Vietnam War was a worthy cause. So, as we traveled around to colleges in Chicago or Denver or met with the Peace Corps, we would be randomly split into two teams and debate the war. When I returned home, I was invited to give a talk and offer my view on the war. That's when I realized I really didn't have one: I had been part of a mechanism to promote the war, and it made me rather cynical about dogma. However, I turned cynicism into analysis in my approach to surgery and medicine in general, which has served me well," said Dr. Brennan.
On to America
During the time that Dr. Brennan completed medical school, most doctors in the Commonwealth migrated to the United Kingdom to begin their careers. However, Dr. Brennan's experience during his 3-month tour convinced him that better opportunities existed in the United States. After completing medical school and doing his internship and residency at the University of Otago, Dunedin, New Zealand, Dr. Brennan stayed on for a year serving as Assistant Lecturer in Physiology and Surgery.
Looking back, one of the greatest, if not the greatest, rewards I've had so far in my career is training surgical fellows.

— Sir Murray F. Brennan, MD, FACS




Tweet this quote



"In 1969, I had a potential job in San Francisco, when I met a distinguished visiting professor from Harvard, Dr. Francis Moore. He asked what I was planning to do with my life. I said research in San Francisco, and he told me that would be a mistake; I should instead come to Harvard Medical School, and he would give me a job. All I needed was a Fulbright Scholarship," said Dr. Brennan.
"So I got the Fulbright Scholarship and went to Harvard Medical School as a clinical research fellow in surgery and subsequently a resident in surgery at the Peter Bent Brigham Hospital," he continued. "It was a life-changing move. During my residency, I met extraordinary doctors, who became lifelong friends and many of whom became leaders in their fields. I also met my future wife, Susan Chambers, who was also a surgical resident at Brigham, which as a woman was extremely rare during the early 1970s," said Dr. Brennan.
'Remarkable Stint' at NCI
Dr. Brennan revisited the era before laws existed to regulate resident hours, a time of brutal, sleep-deprived 100-hour workweeks. "But at the time, as a single guy, it was just what you did. We didn't complain; we just marched ahead. That said, I think the trend toward a balanced civilized existence for residents is a good thing. If we cannot train people in 80 hours, that's our fault. But for me personally, it was a wonderful time. I did my residency with Steven Rosenberg, MD, who as readers of The ASCOPost know went on to an illustrious career at the National Cancer Institute (NCI)."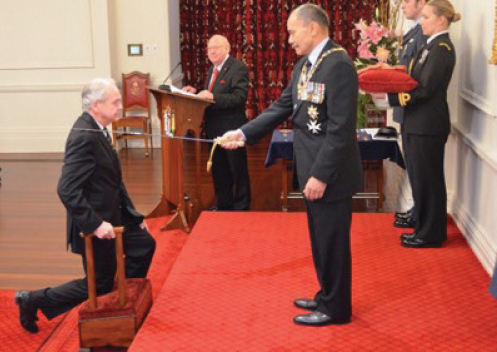 Dr. Brennan during his knighthood ceremony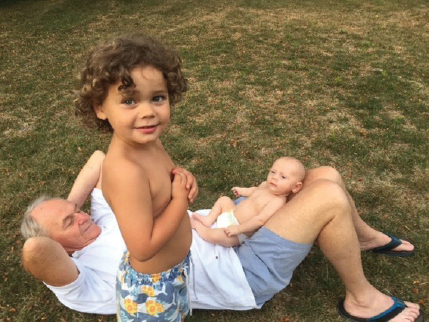 Dr. Brennan with his grandsons, Finn and Jude
Once at the NCI, Dr. Rosenberg lobbied Dr. Brennan to join him. "It took me a while to cut the umbilical cord from the good Dr. Moore at Harvard, but I finally got up my courage and joined Steve at NCI. I had a remarkable stint there, running my own lab and working with Steve on some of his innovative research in cancer immunology. It was a remarkably explosive time in cancer research, and I learned things that truly accelerated my own career," he added.
At the NCI, Dr. Brennan began establishing his career in evidence-based surgery, keeping meticulous records of each surgery's variables and conflating those records in such a way as to detect patterns that emerged organically or to try systemic variations. After 6 years, Dr. Brennan left NCI and moved to New York, where he accepted a position at Memorial Sloan Kettering Cancer Center. "It really worked out on many levels. I was running a division and had my own grants. My wife was originally from New York, and we were able to take over her old family home, which was great because our kids were between the ages of 1 and 6."
Chairman of Department of Surgery
After 3 years, Dr. Brennan's Chairman of the Department of Surgery resigned, and he was offered the job. "As you know, you take jobs for two reasons: you either want the job yourself, or you don't want anyone else to have it. I was 45 at the time, things were going well, and I didn't want anyone else to be my chairman, so I accepted the offer. It turned out to be a great decision. It was a time where you could have a large clinical practice, a great fellowship program, run your own lab, and set up your own studies. Things weren't as complicated by administrative strictures as they are now," said Dr. Brennan.
"During my time as Chairman, I was offered positions at the nation's most prestigious institutions, but I realized I had the best job in American surgery and never seriously looked to leave."
"Looking back, one of the greatest, if not the greatest, rewards I have had in my career is to be involved in the training of surgical fellows. They are bright, hard working, talented, dedicated, but even more important, they are outstanding people, and it is a privilege to be involved in their maturation," said Dr. Brennan.
During his 21 years as Chairman of the Department of Surgery, Dr. Brennan has trained more than 300 surgical oncologists. Many of those fellows have gone on to become leaders at hospitals and institutions across the United States and around the world—a legacy that continues to give him great pride and satisfaction.
Honored by the Queen
Since 1917, the British government has been awarding notable citizens with spots in the Most Excellent Order of the British Empire. Although the Order was originally meant to honor meritorious behavior during war, it was quickly expanded to include meritorious peacetime achievements as well. On January 1, 2015, internationally renowned oncology surgeon Sir Murray F. Brennan, MD, FACS, was named a Knight Grand Companion of the New Zealand Order of Merit for his service to medicine as part of the Queen's New Year Honors. Dr. Brennan's knighthood added to a noted list of professional awards as a cancer surgeon. In 2000, he received the American College of Surgeons' highest honor—the Distinguished Service Award.
When asked about his knighthood, Dr. Brennan replied: "Because I grew up in the Commonwealth, I was able to be given a knighthood by the Queen. I think that wonderful honor was best capsulized by New Zealand's main newspaper in the following headline: "The Most Famous Kiwi You've Never Heard of." During the nomination process, you need to provide notable people to vouch on your behalf. That part was easy, as I have operated on numerous people such as Supreme Court Justice Ruth Bader Ginsburg and international leaders," he said. He also noted the award he received was the highest of several knighthoods, and only nine other living New Zealanders have been so honored.
A Day in the Life and a Near-Death Accident
Dr. Brennan is a self-described workaholic—a trait he says he is not proud of because of the strain it put on his family life. "From the time I came to Memorial to the time I decided to stop operating, I never came to work or left when the sun was shining. I went home in the dark, no matter what time of the year it was. I thought the sun only came out on weekends, and that takes a toll on your family. I am fantastically grateful for the wonderful relationship I now have with my kids and have every right to believe it should not be. I just loved the work; it's part of me," Dr. Brennan revealed.
A Few of Dr. Brennan's Many Accomplishments
Internationally recognized for enhancing our understanding of tumor biology and evaluating the proper role of surgery and other therapies
Designed and conducted numerous clinical trials that have produced significant findings in the management of soft-tissue sarcomas and pancreatic cancer
Created the world's largest database for patients with sarcoma, which includes more than 10,000 individuals treated at Memorial Sloan Kettering Cancer Center since 1982
Worked with colleagues to utilize the sarcoma database to develop computer programs to predict local recurrence and survival for individual patients
Honored with the Distinguished Service Award from the American College of Surgeons in 2000
Appointed Knight Grand Companion of the New Zealand Order of Merit by Her Majesty the Queen and named a member of the Institute of Medicine of the National Academy of Sciences
A serious hand accident almost ended not only Dr. Brennan's career, but also his life. "I was trying to repair the cut-off switch on a big tractor lawnmower, and my hand slipped into the transmission's cooling fan, severing a finger. I nearly died at one stage, but an all-star cast of surgeons assembled in New York reattached the finger. However, I developed reflex dystrophy with chronic severe pain and did not sleep more than a few minutes at a time for more than 2 months. And the typical macho surgical team admired my ability to deal with the pain, even though I was a closet basket case," he admitted.
True to his character, Dr. Brennan charged back into the operating room, albeit too quickly. "Halfway through my first case, I realized I was a danger to the patient. I brought in someone to help me finish up and cancelled the rest of my cases. So I had the damaged finger amputated and promised everyone I would slow down and leave work at 4:00 PM each day. But, of course, 3 days after the amputation, I was back working just as hard as ever. This was before today's era when physician burnout is front and center in the community. Although I agree with the need to monitor burnout, the incredible satisfaction a doctor gets from caring for people, to me at least, has balanced out the potential burnout," said Dr. Brennan. He added: "It is an amazing privilege to perform surgery on people who trust you with their lives."
When to Stop Operating
According to Dr. Brennan, most surgeons claim they are at peak performance between the ages of 40 and 60. To that end, he has written a powerful and important document called Mentorship for Those for Whom the Operating Room Is No Longer Their Theater.
So when is it time to stop operating or chairing a department? Dr. Brennan explained: "It has to be 2 years before someone tells you to. Having used that mantra as a department chairman, I was faced with playing by my own rules. But as it is hard to define when to stop, it is even harder to know when the 2-year time clock has begun to tick. Having in my own case made a firm decision in my late 50s to stop being a chairman at the age of 65, I needed to do as I had previously declared. For me, that was a good decision, and I would strongly encourage the concept of setting dates and times ahead of such major decisions."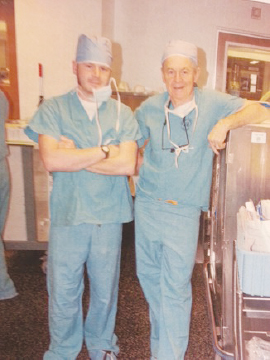 Dr. Brennan with his son, Paddy, at Memorial Sloan Kettering Cancer Center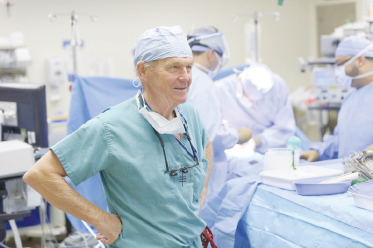 Dr. Brennan at Memorial Sloan Kettering Cancer Center Photo credit: MSK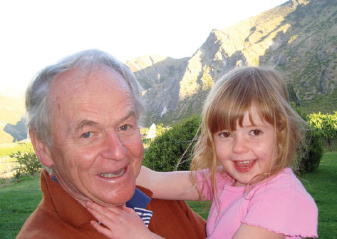 Dr. Brennan with his granddaughter, Grace
How Does a Workaholic Surgeon Decompress?
"I still love to work and am here by 6:00 AM every morning, but now I go home while it's still light. I play squash at least twice a week and truly enjoy having control over my time. I attend the theater and the opera. My son, who grew up in New York, has a boutique vineyard in Queenstown, New Zealand, and it is nice to have more time so I can visit. I have had a wonderful life, have been privileged to care for wonderful courageous patients, and have been involved in stimulating and nurturing some of the future generations of young oncologic surgeons. I consider myself most fortunate," stated Dr. Brennan. ■
---