Nancy L. Bartlett, MD, Moved From Engineering to Medicine After a Stint in the ER
Nancy L. Bartlett, MD


Nancy L. Bartlett, MD
NAME
Nancy L. Bartlett, MD
TITLE
Professor, Koman Chair in Medical Oncology, Department of Medicine, Oncology Division, Washington University School of Medicine, St. Louis, Missouri
MEDICAL DEGREE
MD, Washington University School of Medicine, St. Louis, Missouri
NOTABLE HONORS
Richard L. Schilsky CALGB Achievement Award (2014)
Washington University Medical School Alumni Achievement Award (2016)
Nationally recognized oncologist Nancy L. Bartlett, MD, had an early love for mathematics and a swooning aversion to the sight of blood. "I was born and reared in Kansas City, Missouri and am a Midwesterner at heart. No one in the family was involved in medicine. My mom was an elementary school teacher, and my dad was an insurance salesman. I grew up in a middle-class neighborhood, and as I recall, things were a lot simpler then and there. Family was the center of things, and I remember spending a lot of time with my grandparents, aunts, uncles, and cousins," she shared.
Math: Her First Love
Asked if there was an early interest in math or medicine, Dr. Bartlett replied: "Actually, math was my passion during grade and high schools. My experience with doctors was so limited. I hardly remember going to a doctor other than for the school physicals and routine vaccinations. As a matter of fact, I was terrified of blood. I recall having a vasovagal syncope episode after I fell and scraped my knees and saw blood running down my shins. So medicine never crossed my mind."
After graduating from high school, Dr. Bartlett's love of math took her to Stanford University, to pursue a career in engineering. After attaining her BS in chemical engineering from Stanford, Dr. Bartlett attended the Massachusetts Institute of Technology (MIT), where she attained an MS in chemical engineering. "After graduating from MIT, I took a job with Exxon, working in New Jersey in its environmental department. I was designing wastewater and air pollution control equipment for chemical plants. I had pretty much settled in to what I thought was my career: a chemical engineer in the oil industry."
Dr. Bartlett's dramatic career change to medicine came as an aha moment inspired while working for Exxon. "I know people find it difficult to conceive that Exxon encouraged its employees to do community service, but it really did have a great volunteer outreach program in that regard, constantly providing us with lists of volunteer opportunities. One was in a nearby community hospital. I called and offered to volunteer as long as it didn't entail being near blood. Luckily, they had a receptionist position open at the front desk. So I volunteered on Monday evenings at the front desk of Morristown Memorial Hospital," she revealed.
ER Proves Serendipitous
Everything was going as expected, and Dr. Bartlett enjoyed her volunteer work at the busy reception area, dispensing information and answering questions. Then destiny stepped in. "One night, we got a call at the front desk saying the ER volunteer hadn't shown up for her shift. They were very busy and asked me to come down to help. I was extremely nervous but thought I'd give it a go. It was really a transforming experience. The first thing the doctor had me do was hold a baby who was having a gash sutured. I was afraid I was going to faint, so I held the baby and looked away," said Dr. Bartlett.
It took many years to get here, but I'm very proud the Washington University Oncology Division is a leader in basic science and clinical research.

— Nancy L. Bartlett, MD




Tweet this quote



After that, one of the residents took Dr. Bartlett under his wing, showing her through the different ER departments and services. "I found the hands-on work exciting and switched my volunteering time from admin to the ER; after a few months, I decided that medicine was what I really wanted to do. So I began investigating how to make the move."
She continued: "I'd never taken any biology classes as an undergrad, so I took a few bio courses at night while still working for Exxon. After finishing the prerequisite course work, I took the MCATs and was accepted to Washington University School of Medicine in St. Louis. I can't tell you how fortunate I feel to have had that serendipitous experience in the ER, and I've never looked back; I've had a wonderful career in oncology," said Dr. Bartlett. "I was really glad to get back to the Midwest, close to my family, so it was a win-win for me."
Career Decision Time
During rotations in Dr. Bartlett's third year of medical school, she was undecided whether to specialize in internal medicine or pediatrics. "I eventually chose internal medicine and decided to do my internal medicine internship and residency at the University of California, San Francisco [UCSF]. I made that decision because it was at the peak of the initial AIDS epidemic, and the human immunodeficiency virus (HIV) had not yet been identified, so I thought it would be very interesting and motivating to work in that challenging environment," she shared.
Dr. Bartlett continued: "I became very interested in infectious diseases while working with patients with AIDS. It was such a mystery back then; I remember the vast majority of patients were gay men, and it was remarkable the support they received from one another in that community. But then I did a rotation on the UCSF oncology ward with solid tumor and leukemia and bone marrow transplant patients, so I got to see all of oncology in one setting. It was remarkable, and within a week I realized that was my calling."
Supportive Attendings
Dr. Bartlett noted she was fortunate enough to have a great group of supportive attendings, who helped motivate her plan to pursue oncology. "Sue Desmond was a fellow at UCSF at the time of my oncology rotation and was a terrific source of encouragement. The collegial environment really swept me in, made me want to be part of the exciting field," said Dr. Bartlett.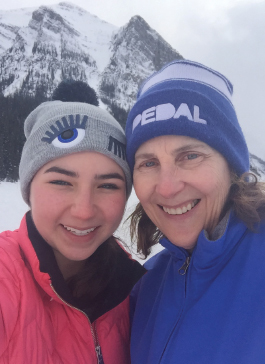 Dr. Bartlett with her daughter, Audrey, at a conference in Lake Louise, Alberta, Canada
After completing her internal medicine residency at UCSF, during which she served as Chief Resident, Dr. Bartlett entered her postdoctoral fellowship in medical oncology at Stanford University. "I initially leaned toward breast cancer, probably because that was the time when all the first studies about adjuvant breast cancer therapy were coming out, and I found that very exciting. However, in my first year of fellowship, I had a full day in the breast and the lymphoma clinics. Sandra Horning was my attending in the lymphoma clinic and very graciously let me get involved in her phase II study of the regimen called Stanford V for patients with Hodgkin lymphoma. She was very encouraging and mentored me through multiple lymphoma projects, both retrospective and prospective, which eventually changed my mind; I decided to pursue a career in blood cancers, specializing in lymphomas and chronic lymphocytic leukemia. Dr. Horning was a terrific mentor, who was instrumental in my career path," she declared.
Starting at the Ground Level
As Dr. Bartlett's fellowship at Stanford University drew to a close, she felt the tug of her Midwest roots. As luck would have it, there was an opening in the oncology department at Washington University in St. Louis.
"I was glad to get back close to my family. When I joined the faculty at Washington University, the oncology division had a staff of only six physicians. Most were generalists, and they were in the midst of breaking the staff into specialists seeing a more select group of patients and hired me specifically to start a lymphoma program. It was slow going at first, to say the least. But Washington University was in the process of hiring top-level researchers and clinicians, and it was exciting being part of that organic growth process," said Dr. Bartlett.
After beginning the oncology program at Washington University with a staff of 6, the program now has 60 faculty members. "I'm very proud the Washington University Oncology Division is now a leader in both basic science and clinical research. Early in my career, I became involved in the cooperative groups. Washington University was a member of CALGB [Cancer and Leukemia Group B], which is now the Alliance of Clinical Trials in Oncology. I began going to the CALGB meetings, and Bruce Peterson headed the lymphoma committee at the time. He was very welcoming and gave me a couple of small phase II studies to work on. That experience was how I got my foot in the door in the lymphoma community, which really helped build my career," said Dr. Bartlett. 
A Day in the Life
Along with her administrative work and research, Dr. Bartlett sees patients 2 and a half days a week. "We start clinic early, about 7:30 AM. I see about 40 to 50 patients each day, all of whom have lymphoma. It's a real smattering of patients, many of whom I've been following for decades and others are just starting their lymphoma journey. Many of my patients are like family," she shared.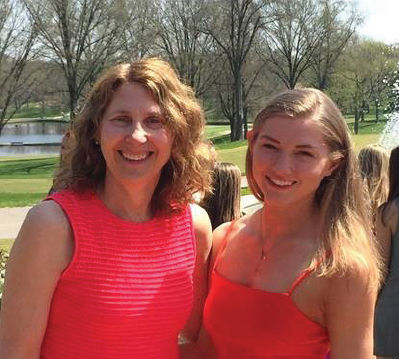 Dr. Bartlett with her daughter, Sophie
Asked to reflect on her career and the way forward, Dr. Bartlett stated: "When I began in the field, we were still figuring out how to mix different combinations of chemotherapy drugs that had been around for a couple of decades. Now, I often feel like a medical student again, continually learning about the new, extremely active, often targeted therapies coming along so quickly. Current therapies seem much more science- and logic-driven. I feel privileged to be part of it and to have new therapies and multiple clinical trial options to offer patients who have failed to respond to standard treatments. It is still not clear how the new era led by genomic profiling and the search for actionable mutations will impact treatment and outcomes for patients with lymphoma. That said, the future is brighter than ever."
What does a super-busy oncology leader do to decompress? "I read a lot. My favorite genre is historical fiction. I don't have any fascinating hobbies. I just love what I do." ■
---