International Oncologist Nagi S. El Saghir, MD, FACP, Returned Home to Make a Difference in Lebanon and Worldwide

Internationally renowned expert on the early detection, prevention, and treatment of younger women with breast cancer, Nagi S. El Saghir, MD, FACP, FASCO, was born on January 5, 1953, in Bint Jbeil, a village in southern Lebanon. His parents moved to Beirut in 1948, at the height of the Israeli-Palestinian war, and settled just outside the city in a suburban town called Bourj Hammoud, a mixed residential and commercial area, which is one of the most densely populated districts in Lebanon. 

Nagi S. El Saghir, MD, FACP, FASCO
"Beirut is truly a melting pot, and at that time, there wasn't any tension among Muslims, Christians, and Jews. For the most part, everyone worked hard and got along. My father was in the shoe retail business. I have five brothers and two sisters. My parents were determined that we get a good education and career, and they always stressed the importance of studying hard and learning," said Dr. El Saghir. 
International Education 
Dr. El Saghir originally thought of becoming an engineer, but after graduating from high school, he went to Europe to pursue his studies. "I remember on the morning I was leaving for France, my father walked with me on the tarmac toward the plane and told me he thought medicine would be a more important career than engineering. At that time in Lebanon, we tried very hard to please and honor our fathers, so I decided to become a doctor instead of an engineer." 
Dr. El Saghir first lived and traveled in Lyon, France, learning the language, and then went to Belgium, where he had the opportunity to attend a 7-year program at the Free University of Brussels that incorporated college and medical school. As Dr. El Saghir explained, the university was established in 1834 and founded on the principles of secularism and freethinking. 
NAME: Nagi S. El Saghir, MD, FACP, FASCO
TITLE: Professor of Medicine and Director of Breast Center of Excellence, Naef K. Basile Cancer Institute, American University of Beirut Medical Center
MEDICAL DEGREE: MD, Université Libre de Bruxelles, Brussels, Belgium
NOTABLE HONORS
Excellence in Cancer Research in the Arab World (AMAAC: 2018)
CNRS Excellence in Cancer Research Award (National Center for Scientific Research of Lebanon; 2015)
Cedar Medal of Honor, Rank Officer (President of Lebanon, 2014)
Lebanese Society of Medical Oncology (2014)
Medal of Honor for Achievements (President of Lebanon; 2002)
Lebanese Order of Physicians (2002)
League of Lebanese Women's Rights (2002)
"It was a very demanding education. Many of my professors had additional training in the United States, and they brought the highest levels of science into the lecture halls and clinics. After attaining my MD, my goal was to go to the United Sates, but before that, I did some electives in Canada and Ireland. Then I matched in New York City and did my residency in internal medicine at The Brooklyn Hospital with the State University of New York Downstate Medical Center." 
He continued: "While I was doing my internal medicine residency, I lived on the Upper West Side of Manhattan, on 72nd Street and Central Park West. I'd take the D train downtown to the hospital. The work schedule during my residency was brutal, but I loved it. I was on call every third night and on call every third weekend. I'd start my shift at 7:00 AM and go home the next day at 7:00 PM. I remember some weekends starting work on Friday evening and not going home until Monday night, catching only 1 or 2 hours of sleep." 
War Alters Career Move 
In 1983, Dr. El Saghir completed his fellowship in hematology-oncology at St. Luke's-Roosevelt Hospital Center, Columbia University College of Physicians and Surgeons, New York. Asked if there were any particular incidents that helped steer his path to oncology, Dr. El Saghir replied: "I really enjoyed working with cancer patients in the clinic, helping them cope with the psychological needs as well as treating their cancers. In fact, St. Luke's had one of the first ever hospice wards in the country. I also had two friends who had cancer: one in Brussels with melanoma and one in Brooklyn who had leukemia. Maybe experiencing the effects of cancer on a personal level along with the intellectual challenges in oncology helped shape my career." 
Although Dr. El Saghir had planned to return home so he could give back to his native land, Lebanon was embroiled in a bitter civil war, which ignited in 1975 and raged for 16 years until 1990, costing more than 100,000 Lebanese lives. During that difficult period, Dr. El Saghir made the best of the situation, traveling, learning and practicing oncology, and getting a world's worth of life experience. 
"The personal relationships I've created with my patients over the years sustain me through the tough clinical times."

— Nagi S. El Saghir, MD, FACP, FASCO




Tweet this quote



"After a few years at Long Island College Hospital and Brooklyn Hospital, SUNY Downstate, I went to Saudi Arabia and worked at King Khalid University Hospital for a few years, then moved to Michigan, where I had family members. I worked at Oakwood Hospital and was also on the clinical staff of Wayne State University," noted Dr. El Saghir. 
In 1993, several years after the end of the civil war, Dr. El Saghir decided to return to Lebanon. "Traveling and studying in Europe, and living and working in the United Sates was a great experience, which helped broaden my understanding of medicine and the different human conditions. But I love my home country and always planned to return and accept a position at the American University of Beirut," he shared. 
Returning Home to Lebanon 
Shortly after returning home to Lebanon, Dr. El Saghir became aware of the multitude of unmet health-care needs. For one, there wasn't a defined network to facilitate collaboration among Lebanese oncologists, and there were also troubling shortcomings in cancer prevention and early detection programs.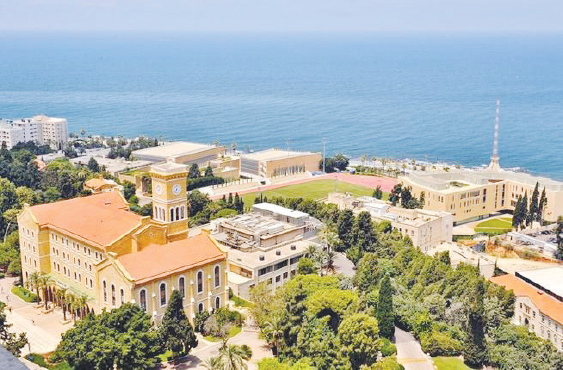 The American University of Beirut is located in Ras Beirut, with the main campus overlooking the Mediterranean Sea.
Dr. El Saghir described his early years at the American University of Beirut as an amalgam of academia and private practice, in which his busy days were filled with clinical care, administrative work, and patient outreach endeavors to ensure underserved populations received quality cancer care. In 1997, Dr. El Saghir became the founding President of the Lebanese Society of Medical Oncology (LSMO). At that time, Lebanon had just 30 oncologists to care for its roughly 4 million people. "We created collaborations and CME programs. Although an estimated 5% to 10% of its population are quite wealthy, for the most part, Lebanon is a mix of a low- and middle-income country, but people place high value on education, so that also helped build the ranks of various professionals, including oncologists; we now have more than 100, which is not enough but surely an improvement," he said. 
High Smoking Rates 
Dr. El Saghir continued: "One of the greatest unmet needs was in the area of smoking cessation. We have a very high percentage of smokers, almost 60%, and it is very high in women also. Other colleagues and I were determined to find ways to reduce smoking. I went to every TV and newspaper outlet I could, spreading the message that smoking caused lung cancer, cardiovascular and other diseases, and that we have interventions to help people quit. I realized messaging about health needed constant repetition to make change."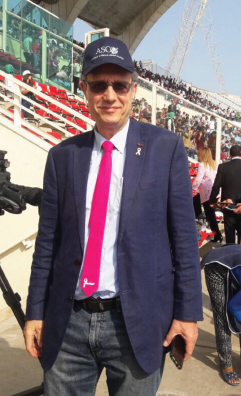 Dr. El Saghir at October Breast Cancer Awareness Campaign in Beirut Sports City
"In those days, TV news anchors smoked on the air, which I publicly objected to. I remember one time an anchor was interviewing a politician who went to light a cigarette and the anchor said, 'No, no, don't smoke! Dr. El Saghir will call and reprimand us,'" Dr. El Saghir said with a laugh. He added: "In 2012, Lebanon introduced legislation prohibiting smoking in indoor public places, and hefty fines were mandated for individuals and businesses that flout the law. The American University of Beirut became a smoke-free campus in January 2018, along with others. It is a work in progress, but between political and awareness campaigns, we are making a difference." 
Dr. El Saghir noted that in LSMO's inaugural year in 1997, they held their first ASCO Highlights Meeting. "I presented a summary of that year's ASCO Annual Meeting, which was held in Denver. It was a very exciting way to launch LSMO's activities. After ASCO began licensing overseas Best of ASCO meetings, Lebanon became one of the first countries to host one. I'm proud to say it has become an annual tradition. It's been a great success, and we've been attracting more than 400 attendees from our country and neighboring Arab and Middle Eastern countries," he said. 
"[Smoking cessation in Lebanon] is a work in progress, but between political and awareness campaigns, we are making a difference."

— Nagi S. El Saghir, MD, FACP, FASCO




Tweet this quote



Breast Cancer Advocate 
Dr. El Saghir noted another underserved population in Lebanon that caught his attention: the increased rate of locally advanced breast cancer in younger women. "Our research found that around 50% of our breast cancer patients in Lebanon were below the age of 50, a far greater rate of younger patients than I saw in New York or Michigan. Our data also showed that between 40% and 60% of women in Lebanon and Arab countries presented with locally advanced or metastatic disease. So, building on my experience from my smoking cessation campaign, I replicated a breast cancer screening and awareness program, reaching out to all available media to help me get momentum," he explained. "In 2002, we also started a nationwide awareness and screening campaign with the Ministry of Health." 
" In 2011, I established the Lebanese Breast Cancer Foundation with a group of volunteers and breast cancer survivors. The Lebanese Breast Cancer Foundation, in partnership with the American University of Beirut Breast Center of Excellence, organizes awareness lectures at schools, universities, large corporations, banks, women associations, social events, marathons, pink October campaigns, as well as patient support groups and fundraising dinners to help needy breast cancer patients. Those activities have led to a significant change in people's attitudes toward cancer; people have stopped calling it 'that other disease.' We published data and spread the word that discovering breast cancer at early stages means that women would survive it without even losing their breasts. We were able to downstage breast cancer in Lebanon and produce survival rates over 90%." 
To further the much-needed work in breast cancer, both in clinical and prevention methodologies, as well as research and international clinical trials, Dr. El Saghir and his associates established the American University of Beirut Breast Cancer Conference. "For the sixth year in a row, we have organized the Annual Beirut Breast Cancer Conference (BBCC-6). Along with our meeting faculty, we attracted more than 200 attendees from all over Lebanon, Syria, Jordan, and Egypt, as well as Belgium, Switzerland, and the United States. In addition to didactic sessions, we held nursing, pharmacy, and nongovernmental organization workshops, new oral presentations and awards for young oncologists for best abstracts, as well as three multidisciplinary tumor board sessions with case presentations and discussions. Those have become very popular and good learning forums," he shared.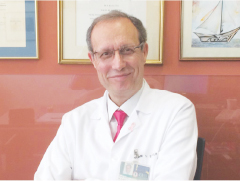 Dr. El Saghir at work in his office
Asked about the current state of oncology care in Lebanon, Dr. El Saghir responded: "Although we are a limited-resource country, we do our best to deliver care to all of our cancer patients. The health insurance infrastructure is divided among private insurance, self-payers, and the government. Even as we try to provide equitable care, there are holes in the system. It is important to note that Lebanon has highly literate people, and so we demand the most advanced therapies, which, of course, are expensive. The Ministry of Health apportions its budget to provide for those who don't have insurance, but, again, we still have work to do. In effect, our problems with delivering high-quality cancer care center on the same issues as in the United States: providing full access to care while determining value and ensuring cost-effectiveness of that care." 
"In effect, our problems with delivering high-quality cancer care centers on the same issues as in the United States—access to care, value, and cost-effectiveness."

— Nagi S. El Saghir, MD, FACP, FASCO




Tweet this quote



ASCO, ESMO, and Global Oncology 
Dr. El Saghir proudly said that his involvement with ASCO has been a great enrichment to him as a person and as a global oncologist. "I have worked very closely and learned a lot from ASCO presidents, leadership, and staff. I am proud to have been Chair of the ASCO International Affairs Committee (IAC), initiated and co-chaired the Research Stratified Guidelines Advisory Group committee, among other functions." ASCO IAC has been instrumental in various ASCO initiatives to improve oncology exchanges and education, multidisciplinary management, advance global oncology, and reduce disparities in cancer patients' outcome. "I am proud to have been part of the team that produced ESMO [European Society for Medical Oncology]/ASCO Global Curriculum, which will ensure more standard and better oncology training worldwide," he added. 
"Building on my experience from my smoking cessation campaign, I replicated a breast cancer screening and awareness program, reaching out to all available media to help me get momentum."

— Nagi S. El Saghir, MD, FACP, FASCO




Tweet this quote



Breast Cancer Guidelines 
Another topic dear to his heart is the development and dissemination of management guidelines. In addition to Breast Health Global Initiative and ASCO Resource-Stratified Guidelines, "I pride myself on being on the panel of experts that produced ESMO/European School of Oncology consensus guidelines for Advanced Breast Cancer, and I traveled the world lecturing about and advocating for the implementation of those guidelines for the benefit of all our patients," Dr. El Saghir added. 
Closing Thoughts 
What does a super-busy internationally renowned oncologist do to unwind? "I love to sing and dance. I have never taken any formal lesson; in fact, I usually make up my own steps. I've sang and danced at cancer-related events, and you should see the positive impact this shared experience has on other people. And I love to sing when driving in my car. I find it very relaxing. People say I have a good voice." I'm also an amateur but good photographer! I love taking pictures at our meetings, and my European friends call me the Paparazzi of Oncology."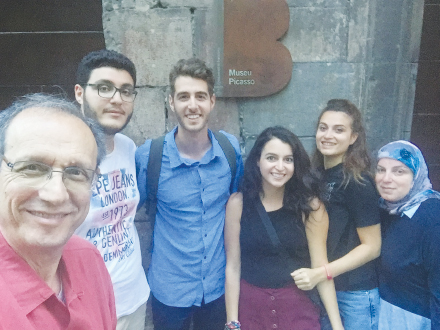 Dr. El Saghir with his wife, Safaa, and their children at the Picasso Museum in Barcelona
A last thought from the arc of a remarkable career: "Oncology is a great profession, and I practice it as an art and a science. Oncologists develop unique relationships with their patients, something that makes it a special medical discipline. And the personal caring relationships I've created with my patients over the years sustain me through the tough clinical times. Most important, despite ongoing challenges, we are making significant progress in the battle against cancer, and it is great to be part of that progress." ■
---