Monica M. Bertagnolli, MD, FASCO, a Cattle Rancher's Daughter, Becomes ASCO President
Monica M. Bertagnolli, MD, FASCO


Monica M. Bertagnolli, MD, FASCO
NAME
Monica M. Bertagnolli, MD, FASCO
TITLE
Chief, Division of Surgical Oncology, Dana-Farber/Brigham and Women's Cancer Center; Professor of Surgery, Harvard Medical School, Boston
MEDICAL DEGREE
MD, University of Utah School of Medicine, Salt Lake City, Utah
NOTABLE HONOR
Richard E. Wilson Professor of Surgery in the Field of Surgical Oncology at Harvard Medical School (2015)
ASCO President-Elect Monica M. Bertagnolli, MD, FASCO, was born and reared in Wyoming, where her family ran a cattle ranch in the foothills of the snow-topped peaks of the Wind River Range (or "Winds" for short), a place of breathtakingly uncluttered vistas where the chief feature is the air itself. Dr. Bertagnolli spent summers on the ranch, and during the school year, she lived and went to school in Rock Springs, a town in the southwestern part of the state.
Do-It-Yourself Ethos
"When I was a kid, we raised sheep, but it later became a working cattle ranch and remains one to this day. It was a wonderful way to grow up; the state itself is simply gorgeous. We were 60 miles away from the nearest town, so we had to be independent and resourceful. If something broke you needed to fix it yourself, and when it came time to make dinner, you had to make do with whatever was available. I have two brothers and a sister, and we're all pretty good at preparing and planning ahead, largely due to growing up on an isolated ranch," shared Dr. Bertagnolli.
After graduating high school, Dr. Bertagnolli went to Princeton University, planning on becoming an engineer. She experienced more than a little culture shock, going from a cattle ranch in Wyoming, the nation's least populated state, to an elite Eastern environment. "I really loved math and science and wanted to build things. I was studying chemical engineering but became interested in biology and how an engineering approach could help solve certain problems in biology. It was in the 1970s, before the field of bioengineering was an established discipline. About halfway through college, I still loved engineering but did not want to work in an oil field or in manufacturing; I wanted to apply engineering to human biology, so the logical step was to go to medical school," she said.
Shift in Career Focus
In 1981, Dr. Bertagnolli graduated from Princeton University with a Bachelor of Engineering degree and entered the University of Utah School of Medicine in Salt Lake City. "My favorite subject in medical school was immunology. During my first 2 years in medical school, I intended to go into internal medicine and focus on immunology. I signed up for surgery as my very first clinical rotation, just because I wanted to get it out of the way. I still vividly remember my first day in an operating room because I immediately knew that's where I belonged," she commented.
Surgery is a team sport, and it allows me close interaction with my colleagues in other oncology disciplines, which is immensely rewarding.

— Monica M. Bertagnolli, MD, FASCO




Tweet this quote



It was the early 1980s, and despite her love at first sight with surgery, Dr. Bertagnolli was hesitant to commit to a surgical residency. "Back then surgery was a fairly hostile environment for women: the hours were brutally demanding, and it took many years to finish. I was concerned that I would have to give up too many other aspects of my life that I enjoyed, but ultimately the love of surgery won over, and I made the commitment," said Dr. Bertagnolli. She added: "I came from a ranching background, so I wasn't about to let a male culture intimidate me. I was also very fortunate to be accepted to a surgical residency at Brigham and Women's Hospital, which was an incredible experience."
Regarding the period when being a female surgeon was especially challenging, Dr. Bertagnolli mentioned an inspirational female surgeon, Patricia K. Donahoe, MD, a renowned pediatric surgeon and researcher. "Pat trained as a surgeon and as a basic science researcher in the late 1960s and early 1970s, when there were very few women in the field. She had formidable challenges and became an incredible mentor and role model for women who followed in her footsteps."
Mentors in Immunology
Dr. Bertagnolli recalled one of her mentors, John Mannick, MD, Chief of Surgery at Brigham and Women's Hospital (BWH) when she was doing her residency. "Dr. Mannick is the best possible example of a surgeon-scientist. He was a master vascular surgeon whose research examined immunologic response to trauma, a shared interest of mine. Another influence was Steven Rosenberg, MD, PhD, who was a graduate of the BWH surgery residency program. Steve was at the National Cancer Institute (NCI) at that time, ramping up his work in tumor immunology and conducting the first clinical trials of cytokine therapy for advanced malignant melanoma and renal cell carcinoma. The work done by Drs. Mannick and Rosenberg assured me that my interest in immunology wasn't in conflict with my surgical career," commented Dr. Bertagnolli.
My particular theme, Caring for Every Patient, Learning From Every Patient, recognizes that ASCO must work on behalf of every single patient with cancer, no matter what his or her geographic location, socioeconomic status, age, or ethnicity.

— Monica M. Bertagnolli, MD, FASCO




Tweet this quote



She continued: "Dr. Mannick's surgery department was fully supportive of basic science research for surgeons, and as a resident I was able to spend 3 full years doing research in tumor immunology at Dana-Farber. After that, it was easier for me to focus on surgical oncology."
Asked about the reaction of her parents to a career path that took her a world away from Wyoming, Dr. Bertagnolli said, "They were just thrilled I was doing something I was passionate about in such a prestigious institution. Education was very important in my family, but I do think my parents wished I had chosen someplace a bit closer to home."
First NIH Grant
Following residency, her career was shaped by her involvement in clinical trial research. "The hypothesis of my first National Institutes of Health (NIH) grant proposal was that T cells mediated immune response to tumors and that these cells were active in the surveillance process that prevented initial tumor formation. The goal of the project was to develop strategies to prevent cancer development by activating antitumor T cells to eliminate aberrant cells that could produce a tumor," explained Dr. Bertagnolli.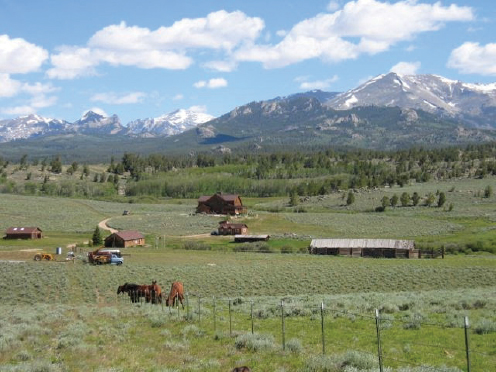 Dr. Bertagnolli's family ranch in Wyoming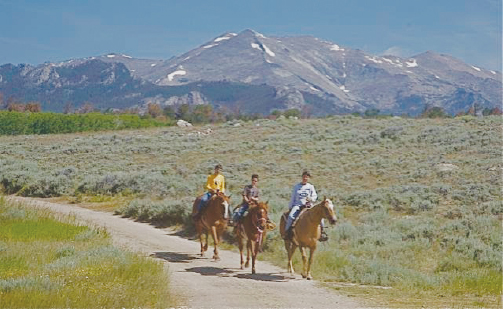 Dr. Bertagnolli on the ranch
She continued: "That grant was written in 1992, and unfortunately there was a lot we didn't know about the immune system at the time. The original aims of identifying tumor antigens and stimulating T cells with cytokines were far too simplistic. However, we also knew that the enzyme prostaglandin E2 (PGE2) inhibited the immune system's function. A surgeon named William Waddell published a paper in the 1980s showing that blocking PGE2 with a nonsteroidal anti-inflammatory drug could induce regression of tumors in patients with the genetic predisposition syndrome, familial adenomatous polyposis (FAP), which is linked to colon cancer. I worked with several other researchers to identify the mechanism for this, and we showed it was possible to block the formation of colon tumors using a class of drugs that selectively inhibit COX-2, which is the enzyme responsible for PGE2 production in epithelial tissue. This work eventually led to a large colon cancer prevention trial using a selective COX-2 inhibitor. This study was conducted as a partnership between the NIH and industry, which was an incredible learning experience for me."
Dr. Bertagnolli explained that the trial yielded paradigm-changing results, not only in cancer prevention, but also for fully understanding the risks of selective COX-2 inhibitors for patients who are at risk for cardiovascular disease. She continued: "Years later, I corresponded with Dr. Waddell, asking him to describe what led him to be the first to study prostaglandin inhibition as a chemopreventive approach. He was practicing in Denver at the time of his first clinical observations, and he told me that the family of patients with FAP reported in his initial manuscript was from a small town in central Wyoming, approximately 80 miles from the ranch where I grew up. Sometimes the world really is a small place." 
In 2008, Dr. Bertagnolli was selected to chair the Cancer and Leukemia Group B (CALGB) Cooperative Group, now known as the Alliance for Clinical Trials in Oncology (Alliance). "Over the years, it has been a very rewarding experience working with so many dedicated and brilliant clinical researchers. Now 25 years since my first NCI proposal, it is thrilling to see how far the field of tumor immunology has come. We are now finally learning how to take the 'brakes off' the immune system when we need to do this to treat a cancer. "What is really exciting is that we now have the knowledge and tools to direct the immune response to produce effective treatments for our patients."
Still a Passionate Surgeon
Asked how she balances her busy schedule, Dr. Bertagnolli said, "Before I became ASCO President, my schedule was split between the practice of surgery and research conducted by the Alliance. Much of my day-to-day activity in the Alliance is directed toward supporting the many researchers who develop the scientific agenda for the group and toward improving the operational aspects of cancer clinical trials, so we can streamline the process and get treatments to our patients faster and with less expense. A particular goal of mine is to create better access to trials for populations that have not been adequately represented in our knowledge base.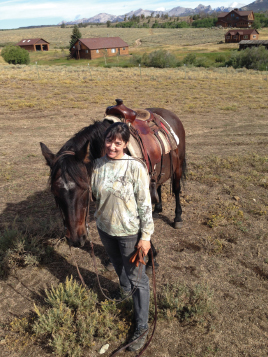 Dr. Bertagnolli with Janie
I still love being in the operating room and hope I don't have to stop any time soon. Surgery is a team sport, and it allows me close interaction with my colleagues in other oncology disciplines, which is immensely rewarding. Surgery also allows me to concentrate on getting the best possible result for a single patient during a focused period, with immediate results. This type of activity is a rewarding counterpoint to clinical trials research, which is much more complex and takes quite a long time to see a result."
Goals as ASCO President
What does it mean to be the ASCO President-Elect, the first, in fact, to serve a 4-year term in ASCO leadership? "It is an honor to serve the oncology community in this way. My goal as President is to make the very best of this opportunity on behalf of my colleagues and all of our patients with cancer. ASCO is a very big ship. It is solid and stable and is going in an important direction: a world where cancer is prevented or cured and every survivor is healthy. ASCO doesn't need a president to be a dramatic change agent; it needs a president to complement its mission by bringing passion and a unique perspective. My particular theme, 'Caring for Every Patient, Learning From Every Patient', recognizes that ASCO must work on behalf of every single patient with cancer, no matter what his or her geographic location, socioeconomic status, age, or ethnicity. I also want to help establish a culture in our health system that considers it of highest priority to provide access to clinical research for all cancer patients."
What does the ASCO President-Elect do to decompress? "The cattle ranch is still operating, and we travel to Wyoming during the summer and work on the ranch, which keeps me grounded," said Dr. Bertagnolli. "When I am in Boston, a perfect weekend begins with shopping in a large fresh food market on Saturday morning, then cooking and having dinner with family and friends in the evening. One of the blessings of oncology as a profession is that our work reminds us, every day, to remember to enjoy life. In this, I consider myself among the very luckiest." ■
---