Former Chair of ASCO's Health Disparities Committee, Karen M. Winkfield, MD, PhD, Faced Her Own Barriers
Karen M. Winkfield, MD, PhD


Karen M. Winkfield, MD, PhD
Nationally regarded radiation oncologist Karen M. Winkfield, MD, PhD, was born and reared in Wheatley Heights, a suburban hamlet on Long Island, New York, that shares borders with the prosperous community of Dix Hills and one of the Island's lowest-income towns, Wyandanch. "I was fortunate to live a few blocks east of the border; otherwise, I would have been zoned in the Wyandanch school district, which has very limited educational resources. Instead, I attended Half Hollow Hills, which is a far better school district, and that experience was a formative part of my life moving forward," said Dr. Winkfield. 
On Her Own 
NAME: Karen M. Winkfield, MD, PhD
TITLE: Associate Director, Cancer Health Equity, Wake Forest Baptist Comprehensive Cancer Center, Wake Forest, North Carolina
MEDICAL DEGREES: MD and PhD, Duke University School of Medicine, Durham, North Carolina
NOTABLE HONORS
The Duke Medical Alumni Association Emerging Leader Award (2017)
Sojourner Truth Award, National Association of Negro Business and Professional Women's Club, Inc. (2016)
April 30, 2016—declared Dr. Karen Winkfield Day in Boston Mayor Marty Walsh
Women Leading the Way to Wellness Award, American Cancer Society (2015)
The One Hundred Award, Massachusetts General Hospital (2014)
American Medical Association Foundation Leadership Award (2009)
"I was the youngest of seven kids. My oldest brother passed away before I was born, so technically we were a family of eight. My parents became Jehovah's Witnesses when I was 5 years old. Back then, the organization opposed secondary education, and therefore none of my siblings went to college, although they were all bright," Dr. Winkfield shared. 
Dr. Winkfield was naturally competitive and drawn to the challenges of academics, but since college "wasn't in her future," she began to pull back and rebel against the system. A teacher, seeing one of her top students begin to slip away, stepped in. 
"I had a wonderful English teacher, Ms. Miller, who confronted me about missing class and assignments. When I explained the situation at home with my parent's religious obligations and told her I wouldn't be going to college, she said that wasn't acceptable. She got together with a guidance counselor and music teacher, and they rallied around me, guiding me toward college. It was a very important step in my life," said Dr. Winkfield. 
A Career Decision 
Despite her parents' vehement admonition against her attending college, Dr. Winkfield enrolled in Binghamton University in 1988. "When I left for college, medicine wasn't even on the radar. I'd never known anyone who went to college, let alone become a doctor. I majored in music, and it wasn't until I took a break from college to work at a law firm that I realized my love for science. I went back to Binghamton in 1994 and received my Bachelor's degree in biochemistry. By that time, I'd decided to pursue a career in medicine," she added. 
Asked about her parents' reaction to her defiant educational journey, Dr. Winkfield replied: "My parents made it quite clear that if I went to college, they'd disown me, and they did. In fact, I only recently reconnected with my family, fueled in part by my brother's untimely passing and my father being diagnosed with renal cell carcinoma. It was challenging—especially coming from such a large family—to branch out on my own, but it worked out."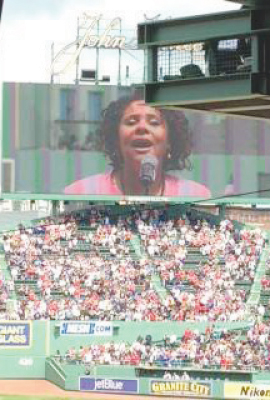 Dr. Winkfield sings at a Red Sox game
Although she had been fortunate to be in a high school that expected its students to continue on to college, Dr. Winkfield noted that countless others in her situation fall through the cracks, many of whom are from minority and economically challenged populations. Dr. Winkfield's own education was untraditional in that after her sophomore year at Binghamton, she left college and spent 4 years working at a law firm in Washington, DC. 
"I think it's important to follow your own path and experience life along the way because it broadens you as a person, which is important for a doctor who needs to relate to a wide range of patients. At that time, I was a single parent and wanted to be a strong role model for my daughter, which was part of my motivation for returning to college," she said. 
Focus on Radiation Oncology 
After graduating Binghamton with a Bachelor of Science degree, Dr. Winkfield entered Duke University School of Medicine. However, her initial focus was on pure science, not on becoming a doctor. 
"Duke had a very innovative approach to the curriculum. The first year was dedicated to course work, and year 2 was spent on clinical rotations, actually seeing patients. It was important for me to synergize what I was doing in the lab with patient care, and during my rotations, I fell in love with oncology and women's health issues. So I decided to focus my laboratory research on understanding and ameliorating breast cancer," said Dr. Winkfield. 
At that time, the potential curative and palliative potential of radiation oncology was not nearly as well understood as it is today. Except for her work in the research laboratory, irradiating in vitro breast cancer cell lines, Dr. Winkfield's understanding of the therapeutic potential of radiation in breast cancer was limited at the time. 
"ASCO's strategic plan to increase racial and ethnic diversity in the oncology workforce is one workable solution to the disparity problem."

— Karen M. Winkfield, MD, PhD




Tweet this quote



"I arranged a meeting with Edward Halperin, MD, then Chairman of Duke's Radiation Department. After speaking with him, I was confident that radiation oncology would provide me the opportunity to pursue my research and work in the clinic treating patients. So that really sparked my interest in a career in radiation oncology," she explained. 
Work in Disparities of Care 
"As I was wrapping up my PhD, I glommed onto a gynecologic radiation oncologist named Ellen Jones, MD, who was an absolute force of nature—an amazing mentor—and that solidified my decision to pursue radiation oncology," continued Dr. Winkfield. "After my internship at Duke, I completed a residency at the Harvard Radiation Oncology Program in Boston." 
"It was a great experience, and one of the things I truly enjoyed was that I got to rotate to the various hospitals—Massachusetts General, Dana-Farber, and others. It gave me the opportunity to evaluate the health-care systems. Boston is a very diverse city with a large minority population of African Americans and Latino Americans, but the patient population at Harvard did not reflect that. During my second year of training, I went to the Boston City Hospital, and lo and behold, I saw patients of color in numbers that reflected the city's makeup. I wondered why they weren't accessing the wonderful medical resources at Harvard. And that was what began the other part of my career focused on health equity and access to care," she revealed. 
"There are so many ways to equalize cancer care among underserved communities, as long as we're willing to partner with them and not be seen as an outside entity."

— Karen M. Winkfield, MD, PhD




Tweet this quote



Dr. Winkfield was on staff at Massachusetts General Hospital for several years, during which she was instrumental in developing the institution's first comprehensive program in hematologic radiation oncology. "Along with that work, I felt it was important to engage the underserved minority communities and try to develop ways to improve access to quality care. I helped Mass General establish a program that explored methods to improve access to clinical trials and reduce disparities of care," she declared. 
"Because of that outreach work, I became active in ASCO's Health Disparities Committee, serving as the Committee's Chair, to try to address health disparities in underserved populations, particularly parts of the African American community," Dr. Winkfield continued. "That work was described in ASCO's 2015 State of Cancer Care in America report." 
'Beginning to Break Down Barriers'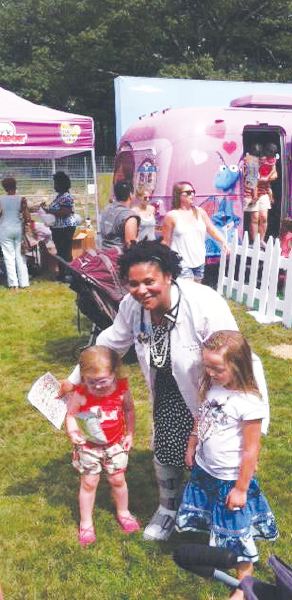 Dr. Winkfield on a Doc McStuffins tour
Her work with ASCO led to her recruitment to the Comprehensive Cancer Center at Wake Forest Baptist Health. "There was a new position opening at the cancer center that focused on reducing cancer care disparities, and they needed someone who had a vision about how to engage underserved communities. In 2016, I moved to Winston-Salem, North Carolina, and became the cancer center's Associate Director for Cancer Health Equity and Director of the Office of Cancer Health Equity," she said. 
"My job as Director of the cancer health equity program is to make sure that everybody, no matter his or her race or financial status, has the same opportunity to be treated and cured of cancer. There are so many ways to improve cancer care among underserved communities, as long as we're willing to partner with them and not be seen as an outside entity," said Dr. Winkfield. 
Asked about whether we are making progress in delivering high-quality cancer care to underserved minority populations, she commented: "We are beginning to break down barriers to cancer problem is the first step, and we've done that. It's exciting and rewarding to be part of the solution moving forward." ■
---