Husband and Wife Leave a Giant Legacy in Oncology
A Tribute to the Lives of Drs. Jimmie and James Holland

The remarkable careers of Jimmie C. Holland, MD, and James F. Holland, MD, spanned collectively for more than a century, leaving an indelible footprint in oncology clinical care and research. Synonymous with cancer care itself, the Hollands were a living documentary of the rich and dramatic history of oncology. And although they practiced in far different fields, they were united in their relentless commitment to curing and bettering the lives of people with cancer.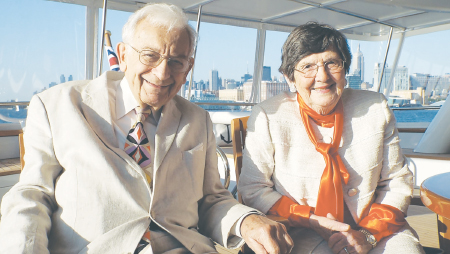 Drs. James and Jimmie Holland
Sadly, Jimmie Holland, MD, died suddenly on December 24, 2017, at the age of 89. She was home and surrounded by family, preparing to celebrate Christmas Eve together. Her husband, James F. Holland, MD, FASCO, died just months later, on March 22, 2018, at the age of 92. The Hollands are survived by their six children and many grandchildren, and countless more family members, colleagues, friends, and patients whose lives are better for having been touched by the Hollands. 
Small-Town Roots 
Dr. Jimmie Holland was born on April 9, 1928, in Nevada, Texas, a small, dusty town that reached its height of population in 1927, at 822, a year before she was born and the same year that a half-mile-wide F4 tornado ripped through the town, leaving death and devastation. As a child, Dr. Jimmie Holland was fascinated with science and medicine, and during high school she dreamed of becoming a doctor. But given the times and circumstances, the odds of that were against her. World War II was raging, and life in Nevada was lean. After graduating Nevada Community High School, she did her undergraduate studies at Baylor University in Waco, Texas. 
During college, the war came to an end, and with the encouragement of the hometown family doctor and the support of her family and teachers, Jimmie enrolled at Baylor Medical School. It's worth noting that at the time she was striving to become a doctor, she was 1 of only 3 women accepted into a class of more than 90 men, many of whom were older war veterans. Nationally, just 5% of medical school enrollees were women. Despite the many challenges, Jimmie remained focused and excelled in her course work, emerging from Baylor and heading for a lifelong career in medicine. 
Eastern Elite 
Across the country and a huge cultural divide, James Holland was born in Morristown, New Jersey, on May 16, 1925. His father, Albert H. Holland, Sr, who was from New York City, served as a county judge for 20 years, and his mother, Mary Louise Layer Holland, was a homemaker who later went on to become a nurse. James Holland was also attracted to science and medicine as a youth, excelling in high school. He graduated from Princeton University in 1944 and decided to attend Columbia University College of Physicians and Surgeons. 
During his youth, Dr. Holland's father had suffered from heart disease for 20 years, which inspired him first to pursue a career in cardiology. After attaining his medical degree in 1947, he served as a U.S. Army Medical Corps Captain from 1949 to 1951, spending time overseas in the Korean War. 
A New World of Possibilities 
After attaining her medical degree from Baylor, Dr. Jimmie Holland intended on returning to her small-town roots to practice pediatrics or family medicine. Yet those plans began to reshape during her internship at St. Louis City Hospital. She recalled that the experience of monthly rotations opened up a new world of exciting possibilities, things she wanted to explore. After a rotation on the surgical and ob/ gyn wards, her plans of returning home became less sure. Her indecision about a career path became lessened during her rotation in psychiatry, a field she immediately embraced. Her fascination with psychiatry further bloomed into a possible career path during her residency at Malcolm Bliss Hospital and Washington University in St. Louis. 
Back From War 
"An experience early on had a significant effect on Dr. James Holland's career. He had a young leukemia patient, Jennifer, who died under his care. 'I remember distinctly the great trauma to her mother, father, and to me, when this child relapsed.'"

— James F. Holland, MD




Tweet this quote



Before the end of the Korean War, Dr. James Holland had secured a position at Presbyterian Hospital in New York City, but his tour of duty was unexpectedly delayed and Presbyterian Hospital was not able to hold the position for him. This early-career disappointment proved propitious, as he instead ended up at Francis Delafield Hospital, which had recently opened as a cancer center. Dr. Holland said that at first he had planned on staying at the cancer center only until another position opened at Presbyterian, but he found he preferred to work at the specialty cancer center. An experience early on had a significant effect on his career. As an assisting attending, he had a young leukemia patient, Jennifer, who died under his care. In a past interview, Dr. Holland said: "I remember distinctly the great trauma to her mother, father, and to me, when this child relapsed." 
It was at Francis Delafield Hospital where he met one of his lifelong mentors, the late Alfred Gellhorn, MD. They connected after Dr. Gellhorn reviewed an impressive thesis that Dr. James Holland had written on the prostate, which followed the work of Charles B. Huggins, MD, postulating that castration could be used as a treatment for prostate cancer. Dr. Holland's reputation as a freethinking and creative researcher grew, and in 1953 he was offered a senior attending physician's position at the National Cancer Institute (NCI) in Bethesda, Maryland. 
Up until then, the NCI had locations across the country, but when it was centralized on the National Institutes of Health campus, it generated an intense atmosphere of collaborative scientific research. Dr. Holland stressed that being in the lab next to other equally enthusiastic researchers inspired many groundbreaking ventures that advanced the course of oncology. 
When he arrived at the NCI, G. Burroughs Mider, MD, the acting Clinical Director, introduced Dr. Holland to Lloyd Law, PhD, whose research had shown that a combination of drugs given simultaneously in leukemic mice had better results than given in sequence. The two young researchers quickly became lab partners and great friends. Dr. Holland noted he learned a lot about the scientific method from Dr. Law, and as he continued his research, it became clear to him that mercaptopurine and methotrexate were two clinical drugs that were active in childhood leukemia. "I put together a protocol with Dr. Law's approbation," said Dr. Holland. He and William Newton, MD, of the Children's Hospital in Columbus, Ohio, were the first researchers to use those two drugs in combination. 
"The strategy was based on the concept that about one-third of patients responded to methotrexate and about one-third responded to mercaptopurine; so theoretically, one in nine might be sensitive to both and conceivably a cure. It was the beginning of a new era in chemotherapy," said Dr. Holland. 
After a fruitful period at the NCI, C. Gordon Zubrod, MD, recruited Dr. Holland to Roswell Park Memorial Institute (Roswell Park) to work along with Emil Frei, MD. Dr. Holland was only 28 when he became Chief of Medicine at Roswell Park. This new scientific partnership proved to be another giant leap in his career, as he and his colleagues would go on to publish the first collaborative oncology paper in the United States. "Largely due to the motivation of Mary Lasker, a network of cooperative clinical trial groups evolved across the country under the auspices of the NCI. The cooperative group was born," said Dr. Holland. 
An Epidemic Plants the Seed 
The seed of Dr. Jimmie Holland's eventual calling to her life's work was planted during a psychiatry rotation at Massachusetts General Hospital (Mass General) in Boston. The nation was gripped in a raging polio epidemic, and Boston was among the hardest-hit areas. The afflicted, some carried in already paralyzed from the neck down, streamed into Mass General. 
Jimmie recalled how panicked families overwhelmed the emergency room, forcing doctors to triage people in their cars. She recounted the direct human drama that sparked her interest in researching how humans deal with the emotional trauma of catastrophic illness, noting her career was born in the midst of one of our country's gravest health-care periods. "I was fascinated by the stress response and by emotional states and what was going on in someone's brain that distorted [his or her] view of what was happening around them," she noted in an interview.
After her residency, Dr. Jimmie Holland accepted a teaching position in the Department of Psychiatry at the State University of New York, Buffalo. Soon after settling in at her new position, she met and married Dr. James Holland. The young couple had children, which put her career on hold for several years. However, during her child-rearing years, she was closely engaged in her husband's clinical trial work. By then, he and a researcher from the NCI had formed the Acute Leukemia Group B (which later became the Cancer and Leukemia Group B, now part of the Alliance for Clinical Trials in Oncology). During this time, the group expanded its scope to include pediatric neoplasms other than leukemia, studies of metastatic carcinoma in adults, and trials assessing adjuvant chemotherapy for breast cancer. 
"Jim and his associates were engaged in the big problem of finding cures... . But I was around when we saw the first Hodgkin survivors, and treating their emotional trauma was paramount."

— Jimmie C. Holland, MD




Tweet this quote



Following her instincts and training in psychiatry, Dr. Holland asked her husband whether he and his associates ever queried and documented how their patients on trial felt about the experience. It would be the start of her quest to measure and treat the psychological effects of cancer, and it would also be the start of a long uphill battle. 
In a past interview, Jimmie recollected: "Jim and his associates were too engaged in the big problem of finding cures and thought my concerns about psychosocial care were just temporary stopgaps. But I was around when we saw the first Hodgkin survivors. In the 1960s, we suddenly began to see people surviving, and treating their emotional trauma was "paramount." But she persisted and together the Hollands would conduct the first-ever quality-of-life study on clinical cancer trial participants. 
Groundbreaking Work at Roswell Park 
At Roswell Park, James Holland's work with other early pioneers in oncology, including Drs. Emil Frei, Emil J. Freireich, and Jean Bernard, among others, transformed childhood acute lymphoblastic leukemia (ALL) from an incurable disease into one with more than an 80% survival rate and ushered in the modern age of chemotherapy. Dr. Holland and his colleagues developed the "7 + 3" regimen of three daily injections of daunorubicin and 7 days of intravenous cytarbine in the treatment of acute myelocytic leukemia, which is now the standard of care worldwide. He was also the first researcher to identify cisplatin as an effective treatment in testicular cancer and doxorubicin as an effective therapy for osteosarcoma. 
In 1972, James Holland received the Lasker Award. "About 18 of us who had made major progress in cancer won the award. Tom Frei won for Hodgkin disease, and I won for acute leukemia. It was a $2,000 prize, which was big-time money back then," he recalled. "Actually, I wasn't there to accept the prize. It was during the Cold War, and remarkably the United States and the Soviet Union leaders decided finding cures for cancer was a better idea than dropping atomic bombs on each other. So they sent a scientist from the Soviet Union and I was sent from the United States. Naturally, I asked Jimmie what she thought, and she said sure, so we packed up our six kids and flew off to Moscow. I missed the Lasker ceremony, but we had an extraordinary time in the Soviet Union." 
In the early 1970s, James Holland established the Department of Neoplastic Disease at the Tisch Cancer Institute, Icahn School of Medicine, later serving as its Chairman, where he saw patients several days a week and pursued research he'd begun 20 years prior in the human mouse mammary tumor virus (present in 40% of American women's breast cancers). He was known as a tireless worker and champion for dedicated laboratory researchers who kept curing patients as the mantra behind their work. In addition, James Holland served as President of ASCO from 1976 to 1977. 
The passion of Dr. James Holland was captured during one of his last interviews: "Time is of the essence in any of this…. If I can get a few more years, I sincerely believe I can help find a cure for other cancers. It's always a race, you see." 
Career Blooms at MSK 
After their children got a bit older, the Hollands moved to New York City. Jimmie accepted an opportunity at Memorial Sloan Kettering Cancer Center (MSK), where she and two psychiatric fellows initiated the first Psychiatric Service. She conducted some of the first epidemiologic studies on the psychological effect of cancer on patients and their caregivers, putting the field of psycho-oncology on the medical map. Jimmie matured into a masterful clinician, researcher, educator, and mentor. Against skepticism, she led the effort to establish the American Psychosocial Oncology Society as an interdisciplinary organization, one that stressed the "whole-person" approach to cancer care. 
"Time is of the essence,...if I can get a few more years, I sincerely believe I can help find a cure for other cancers. It's always a race, you see."

— James F. Holland, MD, FASCO




Tweet this quote



It was a difficult, incremental process, building the field one component at a time, even the field's name. There had originally been an issue whether it should be called onco-psychiatry or psycho-oncology, but Jimmie landed on psycho-oncology, feeling funding would be easier as part of oncology instead of psychiatry. "So I made a judgment call along with others that it should be psycho-oncology. The term further evolved into psychosocial, as it also included social work, behavior, prevention, and disparities among other disciplines," she said during an interview. 
Jimmie admitted she'd never really been interested in practicing traditional psychiatry with patients suffering from mental illness but preferred to focus on how otherwise mentally healthy patients reacted to catastrophic illness, which she termed "the psychological care of the medically ill." 
As she forged ahead, building the field of psycho-oncology, Jimmie co-edited the authoritative book in the field, Handbook of Psychooncology: Psychological Care of the Patient With Cancer, and co-edited the seminal journal Psycho-Oncology. A member of The ASCO Post Editorial Board, she also chaired the Distress Management Panel for the National Comprehensive Cancer Network® (NCCN®), which created the Distress Thermometer and Problem List—the most widely used distress-screening tools in the world. 
Dr. Holland's work centered on studying and treating the most difficult symptom patients with cancer often face: a frail and vulnerable psyche. Her early work, often criticized as "soft science," has become an integral part of the cancer care continuum, and for her efforts, countless patients with cancer have been relieved of unnecessary suffering. 
Over the course of her illustrious career, Dr. Holland won numerous awards, including the Medal of Honor for Clinical Research from the American Cancer Society and the Presidential Commendation from the American Psychiatric Association. Her assistant of more than 26 years, Ivelisse Belardo, MSW, shared: "Everything was possible in Jimmie's world, and there was no room for excuses. When I saw the light go on in her office each morning, there was work to be done, and not a minute to waste…. ." 
Dr. Holland's life's work left an enormous and lasting imprint on the practice of oncology—one that will continue to grow more important over time. She had a profound effect on the lives she touched, patients, colleagues, family, and friends, and she is remembered not only as a great doctor, but also as a beautiful individual. 
A Profound Loss 
When the Hollands died, the oncology community and society at large lost remarkable doctors and humanists, influencers of a stature that is rare in one individual, let alone a pair. Despite the worldwide recognition, they remained humble, because the lofty goals they set were humbling themselves. Jimmie and James Holland fought the good fight against the unnecessary suffering and death of cancer, and the only regret one can possibly find in lives so rich is they still had work to do. ■
---