A Love of Science Leads to an Esteemed Career in Cancer Research for Razelle Kurzrock, MD
Razelle Kurzrock, MD

Razelle Kurzrock, MD
Razelle Kurzrock, MD, regarded internationally for her work in translational science, was born and reared in Toronto, Canada. "My parents were immigrants from Eastern Europe. My father, who was Jewish, was a Holocaust survivor. My parents put a strong emphasis on education," she said. 
'The Scientist' 
After graduating high school, Dr. Kurzrock entered the University of Toronto, where she attained a Bachelor's degree in science—a subject she'd loved since grade school. In fact, her well-known aptitude in science earned her the nickname "The Scientist," one she admits was not used affectionately but more as a kid's taunt. 
NAME: Razelle Kurzrock, MD
TITLE: Chief, Division of Hematology & Oncology; Senior Deputy Director, Clinical Science; Director, Center for Personalized Cancer Therapy & Clinical Trials Office
MEDICAL DEGREE: MD, University of Toronto Medical School, Toronto, Ontario, Canada
NOTABLE HONORS
Federa Award "Healthy Science: Increasing Value, Reducing Waste" (2016)
Elected as a member of The University of Texas Academy of Health Science Education (Distinguished Teaching Professor; 2008)
Dr. Robert D. and Alma W. Moreton Original Research Award (2005)
The Otis W. and Pearl L. Walters Faculty Achievement Award in Clinical Research (2003)
Elected to American Society of Clinical Investigation (2000)
Third Annual Emil J Freireich Award (1999)
BPW/Texas Past State President's Award (1995)
Asked what factors influenced her decision to pursue a career in medicine, Dr. Kurzrock said: "First was my parent's emphasis on education. Then there was my passion for science, but perhaps most important was the death of my mother when I was 12. As a child, my mother had rheumatic fever that damaged her heart's mitral valve, which led to heart failure. Today, that same condition is routinely treated. So those factors actually helped reaffirm what I'd known since I was 6: I wanted to be a scientist who discovered new medical treatments for patients with serious illnesses." 
After receiving her Bachelor's degree from the University of Toronto, Dr. Kurzrock entered the University of Toronto Medical School. She noted that at that time, it was only a mere 2 or 3 years since women were admitted to medical school in Canada in reasonable numbers. "I realized things had changed in a way that allowed me to get into medicine and pursue my dream of becoming a doctor," said Dr. Kurzrock. She added: "Medical school in Canada was very competitive, but I had an aptitude and had also won a scholarship for having the highest science grades in college. The Toronto Medical School was the best in all of Canada at that time, and I didn't apply anywhere else." 
"In most ways, the medical school experience was wonderful. I loved the science and the idea of becoming a physician," continued Dr. Kurzrock. "However, at that time, I was aware of the biases toward women in medical schools in Canada. There were fields that women were essentially barred from entering, such as surgery. I wasn't interested in surgery, but it bothered me that as a woman, it was absolutely not an option." 
Overcoming Gender Biases 
One incident during Dr. Kurzrock's internship was particularly revealing about the overt sexism of the time. "I saw the nurses were always helping the male interns, and they absolutely wouldn't have anything to do with us. One day I had a patient with a difficult problem for whom I had to perform a procedure. I was fairly new at the procedure, and the nurse left me on my own. Because of that, there was a fair amount of blood on the bed, so the nurse had to change the sheets. She actually yelled at me for making the bloody mess, saying none of the male interns 'botch up.' I told her that if she'd helped me, there wouldn't have been a problem. We had quite an altercation, and I remember it as if it were yesterday," said Dr. Kurzrock. "But the biases aside, I remember loving medical school and internship." 
"Within 5 years, that phase I study department became the largest of its type in the world, and by the time I left, we were putting about 1,300 patients on study per year."

— Razelle Kurzrock, MD




Tweet this quote



After completing her internship, Dr. Kurzrock began her internal medicine residency at Tulane University Affiliated Hospitals in New Orleans. She chose Tulane because she wanted to trade the long bitterly cold Canadian winters for the warm southern climate and also because Tulane offered better opportunities in clinical care of serious illnesses than did Toronto. "Someone from my medical class had gone to Tulane and spoke highly of the clinical experience opportunities. And, in addition, it had become apparent to me that I wanted to do clinical research and that clinical research in the United States was on the cutting edge, whereas in Canada, at the time, the approach was more conservative," revealed Dr. Kurzrock. 
Differences Between Tulane and Toronto 
Asked to contrast the differences between her experience in Toronto and Tulane, Dr. Kurzrock responded: "Toronto was a place of very strong academics, but for the most part, people's health care was pretty good. You rarely saw patients with chronic conditions such as diabetes that had been ignored, creating health traumas. But at Tulane, there was a more economically challenged patient population, and I really learned medicine by getting into the mix and providing care." 
Dr. Kurzrock shared another major difference between Toronto and Tulane. "The bias against women I saw in Toronto did not seem to exist at Tulane. Yet there was a different, perhaps even more striking, bias between African Americans and Caucasians. One of my close friends during my residency at Tulane was an African American woman. I remember going to the cafeteria with her when we were going to write the residency exam and an older African American woman who was behind the counter emotionally stating that it was about time that African American women were given real opportunities to become physician specialists." 
Choosing Oncology 
By then, Dr. Kurzrock had decided to pursue oncology, drawn to the scientific challenges and exciting opportunities in the nascent field. "When I told people I wanted to specialize in oncology, the general reaction was negative, almost as if I'd decided to become a mortician. At that time, cancer was still considered a death sentence; there were so few treatments available. When people asked why in the world I wanted to become an oncologist, I told them I really felt I'd see huge changes in cancer in my lifetime and wanted to be part of that transformation," she stated. 
After finishing her residency, Dr. Kurzrock wanted to do her fellowship in a place that was truly integrating discoveries in the laboratory into actual treatments in the clinic. "I wanted to stay in the south, because I didn't like the cold weather, and it became obvious that MD Anderson was what I was looking for. I was fortunate enough to be accepted for a fellowship there, and when I arrived, it was clear I was in the place that was leading clinical research," she said. 
"When people asked why in the world I wanted to become an oncologist, I told them I really felt I'd see huge changes in cancer in my lifetime and wanted to be part of that transformation."

— Razelle Kurzrock, MD




Tweet this quote



Leading Phase I Clinical Trials Department 
After completing her fellowship at MD Anderson, Dr. Kurzrock eventually obtained a faculty position. "I was on faculty for quite a while, and in 2004, I was asked to build a new department, which was the phase I clinical trials program. A central theme of that program was the personalized medicine strategy, which matched patients with targeted cancer treatments that optimized chances for response," said Dr. Kurzrock. She added: "Within 5 years, that phase I study department became the largest of its type in the world, and by the time I left, we were putting about 1,300 patients on study per year." 
In 2012, Dr. Kurzrock was recruited to the Moores Cancer Center at University of California San Diego Health to grow the Center's clinical trials program and head the newly established Center for Personalized Cancer Therapy. Dr. Kurzrock described her current work as a mixture of internal administrative and collaborative scientific projects.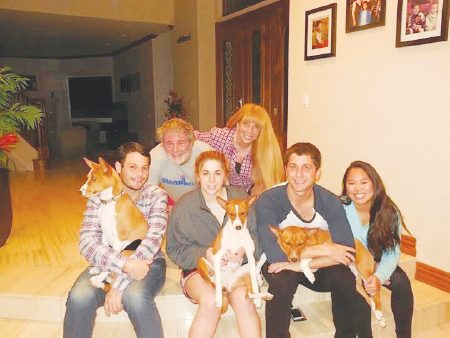 From left to right: (back row): Dr. Philip Cohen and Dr. Kurzrock. ( front row): Benjamin, Rena, Jonathan, and Tali, along with their three dogs, David, Lady, and Pebbles
"The cancer world has become a small place, which is a good thing. Along with my work in the broader field of personalized cancer therapies, I see patients in the clinic. I also, contrary to a lot of people, believe in the importance of the administrative part of my job, because it is crucial to create an environment that fosters discovery and great patient care," she added. 
What does a busy clinician-scientist do to decompress? "Well, first off, I have four grown children, and a lot of my time has been spent raising them. But now that they are off on their own, my main way to decompress is running and spending time with my husband, other family, and friends." ■
---